Local
2 Boston students asked Marianne Williamson how she'd address discarded needles from the opioid crisis. Here's how it went.
"I wanted her to tell me how can she change it."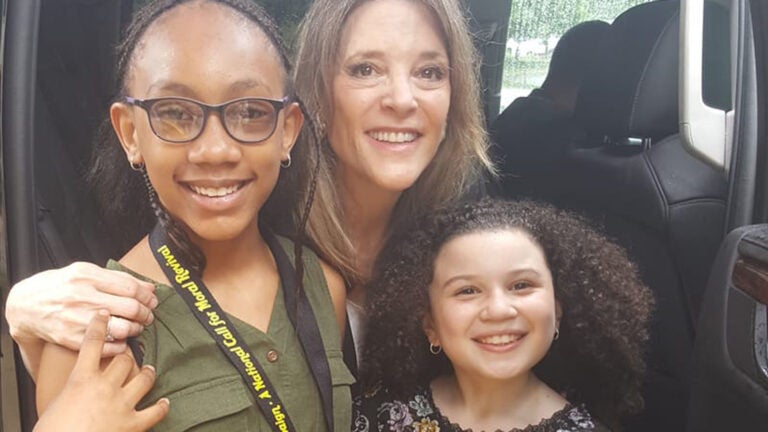 Two students from a Boston school stood side by side in a crowded auditorium in Washington, D.C., last week and asked a presidential candidate — what would she do to keep them safe from the syringes discarded around their school?
Azariah Harley Long, 9, and Jay'dha Rackard, 10, traveled down to the nation's capital where they joined leaders and activists from across the country participating in a presidential candidates forum organized by the Poor People's Campaign. 
The two students from the Orchard Gardens Pilot School were invited to the microphone to ask Democratic presidential candidate Marianne Williamson about an issue they have both been vocal about in Boston — the improper disposal of used needles in the neighborhood around their school. 
There was an immediate public outcry in the fall of 2018, when a student at the school was pricked by a needle on the playground during recess. And parents, students, and community members say they are concerned about how witnessing the effects of the opioid crisis — from coming across the syringes to seeing people overdosing near the school — is impacting the mental health of the children.
"Why are the needles all around our school?" Harley Long asked Williamson on June 18. 
The candidate said that to address the issue of the needles she would make sure the people suffering with addiction issues were given "justice and jobs and all the things that make their lives meaningful" in order to make them happy and prevent them from using. 
"Needles are around your school because there are people doing things that are very, very bad for them," she told the 9-year-old. "And they're doing things that are very bad for them because life is so hard for them, and the pain is so great, they don't even want to be here anymore. And our job — and it will be your job when you grow up and all of us are going to do it now — is to create a society in which more people are happy and more people aren't desperate and more people just want to do happy, peaceful things."
When Rackard took the microphone, she asked Williamson how she would fight for her classmates and herself who are demanding a safe school and learning environment in Boston.
"This last year has been tough for me, not because my schoolwork is challenging or I'm worrying about my grades," the 10-year-old said. "I didn't have a tough year because I was worried about MCAS or failing a test. I wasn't even worried about being teased by other kids and making new friends. I went to school every day worried about getting pricked by a needle on school grounds. I worried about my friends who were not as fortunate as me to be able to be dropped off to school daily."
In response, Williamson said "wraparound services" and trauma informed education is needed for students like Rackard. 
"Millions of American children live in what's called 'America's domestic war zones,'" the candidate said. "They are in every 50 states. Psychologists say that the PTSD of a returning veteran from Afghanistan and Iraq is no more horrific than the PTSD of these children."
Both the Orchard Gardens students told Boston.com they weren't satisfied by the responses to their questions.
"I didn't like that she told us a sad story about it," Harley Long said. "I wanted her to tell me how can she change it."
Rackard said she felt like she's gotten a better response from officials in Boston about the needles than in D.C. Her favorite part of the event was when she got to ask presidential candidate and Vermont Sen. Bernie Sanders why it was important to him to attend the event. 
"He gave a good response, and I feel like that's a good thing because then there will be a change," she said. 
The students said they aren't done advocating for themselves and their classmates.
"I just want to keep fighting if they don't change something," Rackard said. " I'm just going to keep going, and I'm not going to stop until the change happens."
Next, Harley Long said with her grandmother, Soraya Harley, she will be speaking with the new Boston Public Schools Superintendent Brenda Cassellius about the issue and she hopes more people will get involved. 
"It's just not fair," the 9-year-old said. "Kids shouldn't have to worry about the needles every time they go outside to play. And it's just sad that they need to watch where they're going."