Local News
The Boston Marathon bombing memorial is coming together on Boylston Street
Bronze spires were installed at one of the blast sites Wednesday morning.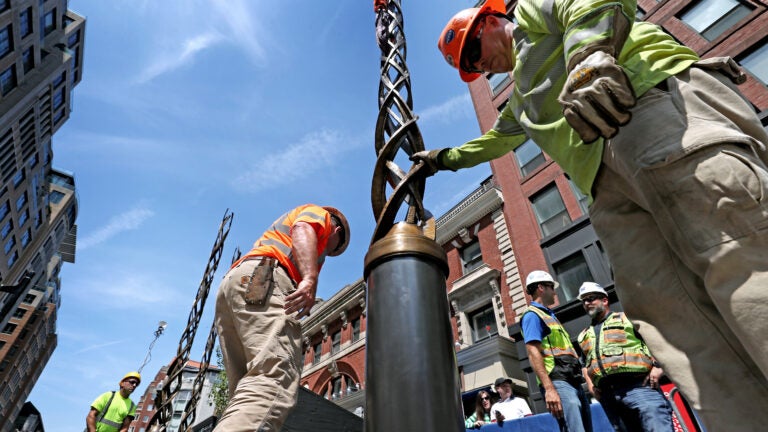 Four bronze spires now rise to the sky at 755 Boylston St. in memory of the 2013 Boston Marathon bombing.
This is just the beginning of the installation process for the memorials that will mark the two places pressure-cooker bombs exploded on April 15, 2013, killing three people and injuring hundreds more.
The memorials, which will feature light pillars, metal, and stone, are expected to be completed by the end of the summer, according to The Boston Globe.
Years in the making, one of the two marker memorials to the victims of the Boston Marathon bombing is taking shape. @boston25 pic.twitter.com/qh3Lhk4ZaP

— Michael Henrich (@MichaelHenrich) July 10, 2019
Memorial for the Boston Marathan Bombing is going up today. Artist Pablo Eduardo says he wants it to be a monument of "peace and reflection" pic.twitter.com/8KxbdoVExV

— Quincy J. Walters (@quincy_walters) July 10, 2019
The last of the wrench work, on the final bronze spire at 755 Boylston Street. That makes 4! pic.twitter.com/rpN1JRvmj8

— Chris Fama (@CFamaWBZ) July 10, 2019
The Marathon Markers will be a testament to the spirit and resiliency of the people of Boston, and a way to honor those we have lost, and those who are still healing.

As part of that work, today, bronze spires and glasswork are being installed on Boylston Street.#BostonStrong pic.twitter.com/R4LWZK4w3z

— Mayor Marty Walsh (@marty_walsh) July 10, 2019