Local
3 fake wooden legs left at shark attack victim's memorial in Wellfleet, police say
"It's hard for us to make any type of educated decision or guesses."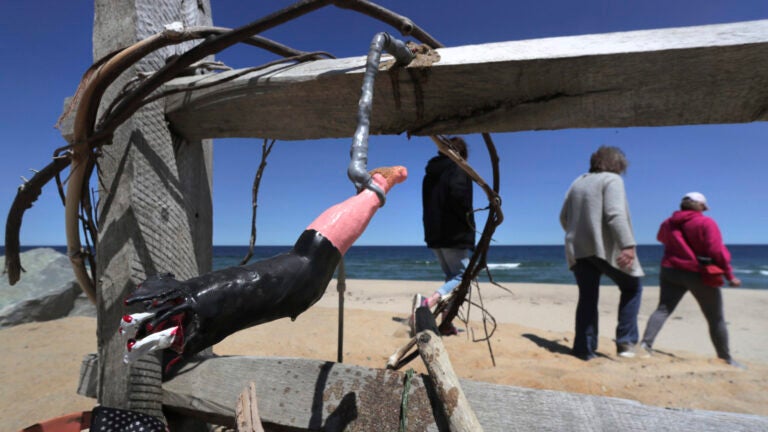 Fake wooden legs have been intermittently left at the beachside memorial stone for Arthur Medici, the Revere man who died in a shark attack at Newcomb Hollow Beach in Wellfleet on Cape Cod last September.
While police say they're investigating three separate incidents — one each in March, June, and just last Saturday — they don't know the intention of the person or persons responsible.
"It's hard for us to make any type of educated decision or guesses," Lt. Michael Hurley of the Wellfleet department said.
Medici, 26, was killed on Sept. 15 of last year. He was riding a boogie board about 30 yards off shore when the attack occurred. Medici was dragged to shore where his friend tied a makeshift tourniquet around his leg, according to The Boston Globe. He was then brought to a hospital where he was pronounced dead. It was the first fatal shark attack in Massachusetts since 1936.
The first fake leg was removed by the town's public works department, Hurley said. The second leg was attached to the fence near the memorial stone, according to the Cape Cod Times. The wooden leg had on a pair of torn jeans. A note reading "RIP" was attached.
The third leg, another thigh and knee wearing jeans, had what appears to be red paint on it made to look like a deep, bloody gash running along the thigh with more "blood" trickling down toward the foot, photos the Times took show. It was reportedly attached to a cooler that appeared to be filled with cement, the Times reports.
Police looking into who placed fake limbs at memorial for shark attack victim in Wellfleet https://t.co/zVdCbrwxLx #CapeCod @MaryAnnBraggCCT

— Cape Cod Times (@capecodtimes) July 18, 2019
A suspect has yet to be identified, Hurley said. Police have the last two legs; the first was thrown away by public works, according to the Times.
"To be honest, what criminal charge would even be there at the moment?" he questioned, noting that there wasn't vandalism involved.