Local
Photos: Firefighters battle 8-alarm fire in downtown Natick
The fire department responded to the building, which houses several businesses, around 1:22 a.m. Monday.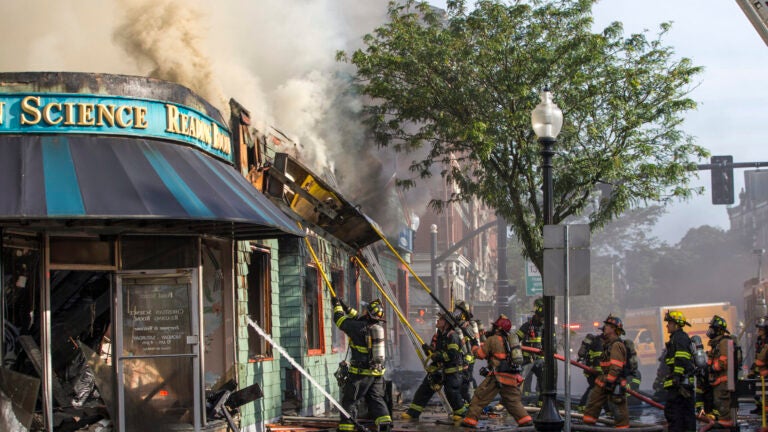 Firefighters battled an 8-alarm fire in downtown Natick that broke out in the pre-dawn hours Monday morning.
Acting Natick Fire Chief Daniel Dow told reporters at the scene that firefighters responded to the block of businesses at 7 South Main St. around 1:22 a.m. where the blaze was found in the basement. The building across from the Natick Common was built in 1900 and has undergone many renovations over the years, which presented a challenge for firefighters looking for the source of the fire, he said.
No civilians were injured, but one firefighter was taken to the hospital with an arm injury.
"The heat has been a challenge today, too," Dow said just before 7 a.m.
Firefighters were continuing to attack the fire from outside at the time.
"This is still a very active scene," Natick police Lt. Cara Rossi told reporters.
Rossi said pedestrian traffic would be limited downtown and vehicles wouldn't be able to get into the area until "well into" the evening commute. Police were asking drivers to avoid Routes 27 and 135.
8 Alarm Fire in Downtown Natick. Please avoid rte 27 and rte 135. Seek alternate route.

— Natick Police (@NATICKPOLICE) July 22, 2019
"It's going to be a very difficult day to do business downtown," Rossi said.
Dow said the roof collapsed and the building — which housed several businesses, including a Chinese restaurant, a Christian Science reading room, and a print shop — would have to be taken apart.
State fire officials were on scene, and the cause of the fire will be under investigation.
"It's too early to tell where the fire originated," Dow said.