Local
TripAdvisor trolls organizers of Boston 'straight pride' parade in cease-and-desist letter
The Needham-based company's letter was laden with references to gay anthems and LGBTQ icons.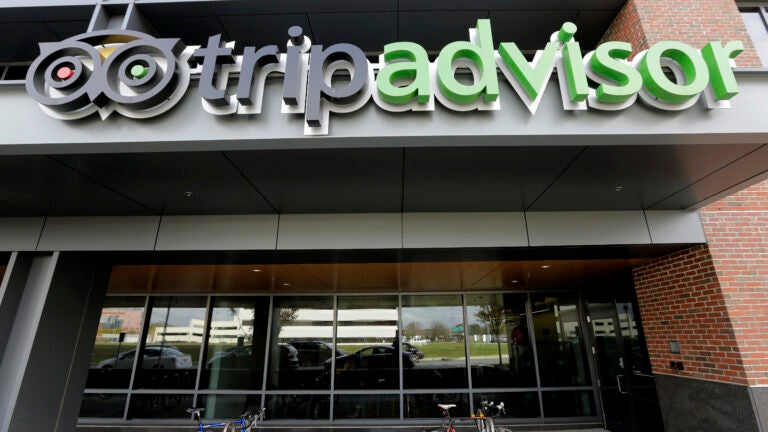 TripAdvisor is calling on organizers of a "straight pride" parade next month in Boston to stop using their logo without permission — and having some fun in the process.
The Needham-based travel company sent a cease-and-desist letter Friday to John Hugo, a Woburn resident and president of Super Happy Fun America, after their logo was included on a webpage of the group's "prospective corporate sponsors" for the planned Aug. 31 parade.
The letter, sent by TripAdvisor lawyer Bradford Young, threatened potential legal action if Super Happy Fun America didn't stop using the company's imagery within 24 hours. It was also riddled with the names of more than a dozen LGBTQ anthems.
"I'm Coming Out and saying this clearly: you are infringing upon TripAdvisor's intellectual property rights," Young wrote in a nod to Diana Ross's 1980 song.
From Lady Gaga's song "Born This Way" to Gloria Gaynor's "I Will Survive," the letter went on from there.
"TripAdvisor's trademarks are protected in many countries around the world and Over The Rainbow, including in the United States under Registration Nos. 2727627, 3171193, 4612678 and 4454774," Young wrote. "We have become a well-known brand for our reviews of hotels, restaurants, experiences and even the occasional YMCA, but we weren't Born This Way – we obtained that recognition through significant advertising and promotion since as early as 2000."
TripAdvisor was among 25 companies with "reputations for being both progressive and socially conscious" whose logos were included in a July 9 blog post on Super Happy Fun America's website. The group claimed that they were "in negotiations" with the companies to be sponsors of their "straight pride" parade. However, Young said the suggestion that the company is in any way associated with the parade is "completely false."
"These inaccurate statements, which I trust do not show your True Colors, infringe on TripAdvisor's rights under the Lanham Act, and impinge upon our Freedom! to decide with what organizations we want to associate our brand," he wrote. "Have A Little Respect and remove those statements. TripAdvisor and I Will Survive without being associated with your event."
In an email Friday sharing the letter, TripAdvisor spokesman Brian Hoyt said the company's lawyers spent "all night" crafting the reference-laden response. Hoyt said the company learned about the parade last week and was "sad to see our logo on their site with lies about us potentially 'partnering' with them."
"To add to the points raised by our legal department in this cease & desist letter, TripAdvisor is a proud and inclusive workplace," he wrote, going on to channel Elton John. "We believe the organizers of this event owe the LGBTQ+ community an apology – even if SORRY SEEMS TO BE THE HARDEST WORD to say."
Hugo did not respond to a request for comment Monday afternoon.
Organizers of the"straight pride" parade have said the event was planned in response to the city of Boston's unfair celebration of gay pride and insist that straight people have become an "oppressed majority." After it was announced last month, the parade was widely mocked by those noting that the heterosexual community has not faced the same level of discrimination and harassment.
Several other companies, including Lyft, Netflix, and the Boston-based financial firm State Street, have also rejected Super Happy Fun America's attempts to link them to the parade (though State Street did extend their "best wishes" for the event). The group has put an "X" over several companies who they say have declined to sponsor the parade.
However, TripAdvisor's logo still appeared Monday afternoon without an "X." In an email Monday afternoon, Hoyt said the company is aware that the organization "continues to wrongly use our trademark to insinuate that they are affiliated with TripAdvisor." He said that the company's legal team has given the group until Tuesday morning to update their website.
In his cease-and-desist letter, Young said TripAdvisor was willing to "resolve this matter amicably" on Friday, but — "if you Don't Stop Me Now by taking the requisite actions" — reserves the right to take potential legal action against Super Happy Fun America and its members.
"There is nothing Vogue or acceptable about making false claims about others merely to support your own cause," he wrote. "If I Could Turn Back Time, I would tell you not to use our name in the first place. But now that you have, TripAdvisor demands that you remove all uses of our name, mark and logo from your website (and anywhere else you might use it) within 24 hours and not use them again. In other words, Black Me Out with an "X" on the above webpage. You Make Me Feel (Mighty Real) disappointment that you thought this might be an acceptable way to do business."
Read the full letter below:
Dear Mr. Hugo,

I am writing on behalf of TripAdvisor LLC concerning Super Fun Happy America's unauthorized use of TripAdvisor's logo, as displayed on your website at superhappyfunamerica.com/2019/07/09/corporate-sponsors/. I'm Coming Out and saying this clearly: you are infringing upon TripAdvisor's intellectual property rights. Further, your statement that you are "in negotiations" with TripAdvisor as a "potential sponsor" is completely false.

To be precise, your use of the TripAdvisor trademark and our Beautiful logo infringes TripAdvisor's trademark and trade name rights. TripAdvisor's trademarks are protected in many countries around the world and Over The Rainbow, including in the United States under Registration Nos. 2727627, 3171193, 4612678 and 4454774. We have become a well-known brand for our reviews of hotels, restaurants, experiences and even the occasional YMCA, but we weren't Born This Way – we obtained that recognition through significant advertising and promotion since as early as 2000. As a result of the breadth of the services it provides and its widespread renown, TripAdvisor enjoys substantial rights in its mark and name.

Contrary to your claims, TripAdvisor is not "in negotiations" with your organization for sponsorship of its "Straight Pride Parade." Similarly, we have not authorized you to use our name or logo in any way. You Need To Calm Down – you are not sponsored by, associated or affiliated with TripAdvisor in any way, and thus, your use of our marks could confuse the public as to an affiliation with TripAdvisor. These inaccurate statements, which I trust do not show your True Colors, infringe on TripAdvisor's rights under the Lanham Act, and impinge upon our Freedom! to decide with what organizations we want to associate our brand. Have A Little Respect and remove those statements. TripAdvisor and I Will Survive without being associated with your event.

There is nothing Vogue or acceptable about making false claims about others merely to support your own cause. If I Could Turn Back Time, I would tell you not to use our name in the first place. But now that you have, TripAdvisor demands that you remove all uses of our name, mark and logo from your website (and anywhere else you might use it) within 24 hours and not use them again. In other words, Black Me Out with an "X" on the above webpage. You Make Me Feel (Mighty Real) disappointment that you thought this might be an acceptable way to do business.

TripAdvisor is willing to resolve this matter amicably, today, on the above terms. That said, if you Don't Stop Me Now by taking the requisite actions, TripAdvisor reserves all rights to take whatever enforcement actions it deems appropriate, including – if necessary – taking legal action against Super Fun Happy America, its principals, affiliates, or those acting in concert with you. Finally, I likely am not Dancing On My Own here, as I suspect the above arguments apply to most or all of the companies listed on the above webpage.

Please know and Believe that we take this matter seriously and look forward to your prompt compliance.

Sincerely,

Bradford Young
Vice President, Associate General Counsel