Local
Had a fish stolen off your line by a shark? This researcher wants to know.
A Ph.D. student at UMass Amherst is studying how sharks interact with saltwater anglers.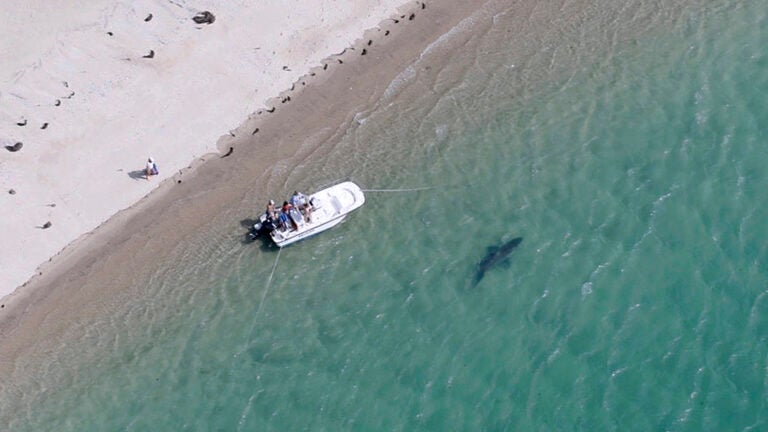 Attention anglers — you may have information researchers need in order to learn more about sharks. 
Grace Casselberry, a Ph.D. student at UMass Amherst, is examining how sharks interact with fishermen and launched a survey on Monday to gather feedback on what people are experiencing on the water. 
Casselberry told Boston.com the survey is part of her dissertation, which focuses on shark conservation and the ocean predator's interactions with recreational fisheries. She said she wants to hear from any anglers targeting saltwater fish in North America. 
"It doesn't matter what species you fish for regularly, it doesn't matter what species of shark you maybe interacted with while you were fishing, we just want to hear all of your experiences," Casselberry said. "It's really, really broad. We want to understand who's seeing sharks, who's maybe losing their catch to sharks, and how that maybe varies across different regions." 
In addition to potentially learning if sharks are stealing catch more frequently in particular regions — such as comparing New England to the Gulf of Mexico, Casselberry said she's hoping to see it happens more often in certain fisheries. For example, researchers could learn if it happens more regularly for people fishing for tarpon or bonefish or striped bass. 
"The public is the expert in this aspect," Casselberry said. "The recreational fishermen know what's happening and we want to hear from them about what's happening. And we want to hear from a wide range of experience levels, so if you're a charter fishing guide, we want to hear from you. If you are a really casual saltwater angler and you only go out once a year with friends, we also want to hear from you. Not only are we looking broad in terms of region and species, we also really want broad experience levels. Because your interactions with sharks might be different depending on how often you're out on the water."  
The idea for the survey came from the work she's done already, tagging and tracking sharks in the study of their movement ecology and examining the interactions of great hammerheads with Atlantic tarpon in the Florida Keys. 
It was also sparked by learning of the interactions between anglers of Atlantic striped bass and great whites off Cape Cod from Greg Skomal, the senior fisheries scientist for the state Department of Fish and Game who leads the Massachusetts Shark Research program. Skomal is one of her advisors and is conducting his own shark research in Massachusetts waters, working with the Atlantic White Shark Conservancy. 
One such interaction in Cape Cod Bay went viral in recent weeks when footage was shared of a great white leaping out of the water to steal a fish from a line, startling passengers on the nearby boat.
Incredible footage today from Doug Nelson of Franklin, MA fishing aboard the Columbia out of Rock Harbor in Orleans. @MA_Sharks pic.twitter.com/rK3yk5j6SG

— Atlantic White Shark Conservancy (@A_WhiteShark) July 20, 2019
So far, it appears that recreational anglers are having more and more interactions with sharks across the United States, Casselberry said. 
"It's important because sharks are a really important part of our ecosystem, but it's also a somewhat unnatural predation event for them to be coming up and stealing someone else's fish," Casselberry said of learning more about the interactions. "It makes sense because it's an easy way for them to get food, but it's certainly not the most natural behavior ecologically and it could have some economic impacts as well, if you're a fishing guide and your clients are losing a lot of their fish. So we just want to try and get an idea of where the predation is happening, and that will give baseline for where we can take that research from there."
https://twitter.com/GCasselberry/status/1155848928484646912