Local News
A local artist put the Make Way for Ducklings statues in cages to protest the treatment of child migrants
"The Mallards are Boston's quintessential immigrant family."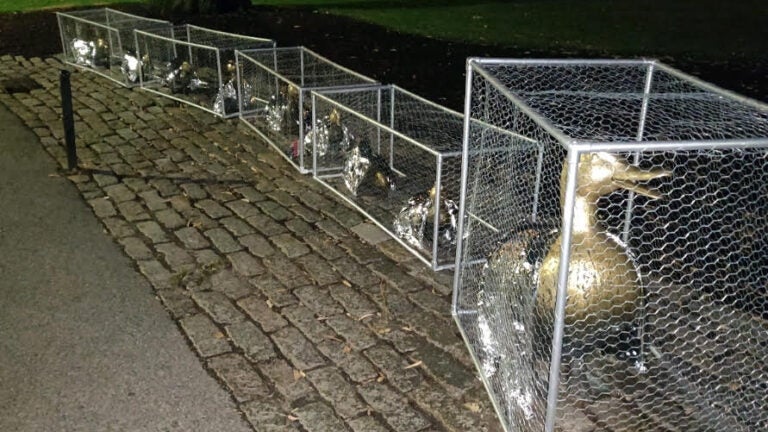 The Make Way for Ducklings statues in the Boston Public Garden have been dressed up in everything from Patriots jerseys to adorable knit hats and scarves.
Karyn Alzayer thought it was time for a different take.
Citing a general lack of empathy for migrants amid the ongoing crisis at the southern border, the Malden artist decided to see how local residents would react to seeing the treasured statuettes treated in a manner similar to the way that the United States government has handled some asylum seekers. So in the early hours of Friday morning, Alzayer took small cages made of PVC pipe and chicken wire to the Public Garden and installed them around the eight ducklings and their mother, Mrs. Mallard.
"I thought this might drive the point home in a different way," she told Boston.com in an email Friday afternoon.
Referring to the plot of Robert McCloskey's award-winning 1941 book, she said that "the Mallards are Boston's quintessential immigrant family."
"In the book, they moved here for a better life, they were looking for a place to stay," she said. "And if that were to happen during this climate today, this would be their fate."
According to a government report last month, roughly 1,350 children have been separated from their parents under President Donald Trump's administration and have often been kept in crowded, chain-link pens (there's a semantic debate over the use of the word "cages"). Seven children have died in border patrol custody since last year.
Alzayer even cut up two Mylar blankets — the same type that border patrol officials have given to migrant children — to fit and drape around each of the statues. She said that holding the crinkling, silver blankets, which "provide warmth yet without comfort," made the circumstances faced by migrant children separated from their parents feel "real to me."
Alzayer, who has been a practicing henna tattoo artist in the Boston area since 2012, has been actively involved in the local public art scene. She's the chair of the Everett Cultural Council and founded Integral Arts Everett, a nonprofit art group.
However, it's unclear how many people actually got to see her work of protest. Alzayer says she found that her installation had already been removed when she checked on it early Friday morning. A park employee told WGBH, which first reported Alzayer's work, that the cages had been removed by 6:30 a.m. by a homeless man, who lives in the park and often helps clean statues.
"I think it's interesting that the ducks can wear Easter bonnets, Red Sox hats, and Pats jerseys, but when it comes to what their real fate might be in this country as immigrants, it's erased pretty quickly rather than opening up a conversation about that," she said.