Local News
Trash has increasingly littered South End streets. Residents may have found a solution.
"There's just a very thin piece of plastic that lies between a contained piece of trash and disaster."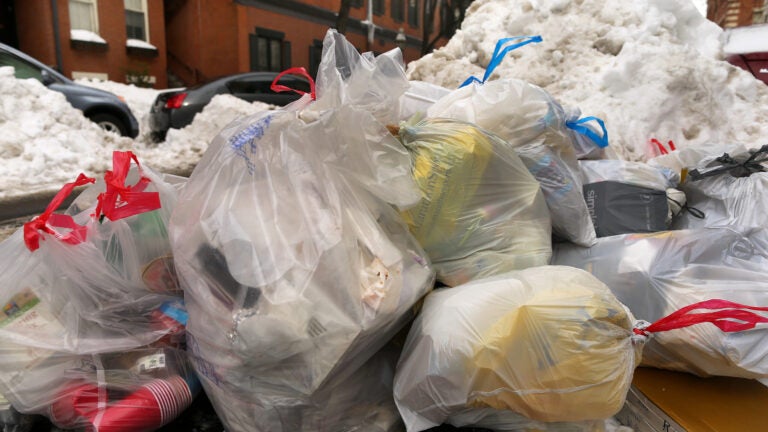 A now-familiar sight on the streets of the South End this summer is not a welcomed one.
It's trash — and more of it.
Residents say that changes to the city's trash pickup schedule, which took hold in July, have exacerbated issues with garbage removal that the neighborhood has experienced for years.
Pickup times have been pushed up an hour, from 7 to 6 a.m., and, to handle the difference, more residents have apparently put their waste out overnight, according to Steve Fox, chairman of the South End Forum.
Many South End residences also lack the storage space required for garbage cans, so the flimsy trash bags left out overnight are a welcome sight for scavengers, rodents, or even acts of Mother Nature to pick apart, Fox said.
And whatever scraps are not wanted by the nighttime visitors is left behind, often scattered across sidewalks and curbs.
"There's just a very thin piece of plastic that lies between a contained piece of trash and disaster," Fox recently told Boston.com.
'A dramatic increase'
The no-garbage-can issue has been a longstanding problem in the South End, but residents say it's gotten noticeably worse this summer.
In June, city officials announced the changes to the trash, recycling, and yard waste pickup schedule as it began a five-year contract with a new collector on July 1. Officials hoped an earlier start to the day would allow for a more efficient pickup while also reducing street traffic.
For the most part, they say, it's been working.
Citywide collection has wrapped up before the evening commute — a noticeable improvement since the days when trucks were still making the rounds well after 5 p.m., according to officials. In some areas, garbage is being swept up by sanitation workers a full two hours earlier than before, they say.
But in the South End, the change has had a different impact, residents say.
It's not uncommon to find food scraps, bottles, and pieces of boxes strewn about the sidewalk on trash day.
South End residents are not enjoying the new 6 a.m. trash pick-up time. Stephen Fox, chair of South End Forum, says more are leaving garbage & trash bins out overnight, increasing the volume of trash on the street that are subject to rats, raccoons & others. @wbznewsradio pic.twitter.com/iW44dzKH0M

— James Rojas (@JamesRojasWBZ) July 30, 2019
"I've seen a dramatic increase in the residual stuff left basically because people are putting it out when it's bed time or before bed time, and it's sitting out there," said Jim Hood, 35-plus-year neighborhood resident who lives on Appleton Street.
Every Tuesday and Friday residents "deal with debris fields from Berkeley Street to Massachusetts Avenue," according to Fox.
But the South End apparently is not alone in its plight.
Beacon Hill and Bay Village residents have reportedly taken to putting their garbage out earlier — as much as 12 hours before it's picked up in the latter neighborhood.
"Every time I've mentioned it, people tell me, 'I'm not getting up at 5:45 (a.m.) to put trash out,'" said Robert Whitney, president of the Beacon Hill Civic Association.
Arturo Gossage said he has seen similar issues in Chinatown.
"Leaving trash out the night before, and having to store trash for a very busy downtown neighborhood has led to an increased presence of rodents," Gossage, treasurer of the Boston Chinatown Resident Association, told Boston.com in an email.
Hood said the volume of what's been left behind in the South End seems to have increased immediately after the schedule shift.
"I can see it in the evening; now there are just many more people putting their stuff out," he said.
A potential solution
Part of solving the problem should be ensuring trash pickup times are more predictable so residents have a better understanding of when they can bring their bags to the street without missing the truck, Fox said.
Brian Coughlin, the city's superintendent of waste reduction said that while pickup times may have changed between contractors, the new times are becoming more reliable as crews settle into their routes.
Some residents have wondered about whether city officials could publish pickup times by neighborhood to get a sense of when a truck is coming by their homes, but Coughlin said that with so many factors in play, pinning down specific timeframes is not easily done.
"We've thought about it, but it's something really difficult to predict," Coughlin said in an interview. "Something can always happen."
In the meantime, a potential grassroots solution the community has been mulling over the last three years is on the cusp of coming to fruition: A pilot program for collapsible garbage containers is slated to launch next week, an idea championed by the South End Forum, an umbrella organization of 17 independent neighborhood associations.
Two models of the trash bins will be tested.
"I personally must have bought 15 different models online from everyone from Amazon to Walmart to kind of test how good they were, how durable, how flimsy they were," Fox said with a chuckle.
With the city's support, the initial run will start Tuesday with approximately 20 residences on East Brookline Street for six to eight weeks, according to Fox. Depending on its success, the effort may grow into other areas, he said.
Coughlin was surprised by how durable the bins are, he said, adding that the program was an easy proposal for the city to get behind.
"We all want clean streets. We all want a clean neighborhood," he said. "We were very receptive to that."
City Councilor Ed Flynn, whose district covers parts of the South End, said the program is a great example of how people can come together to solve neighborhood problems. He hopes the pilot will succeed so it can be expanded into other downtown neighborhoods, he said.
"It's about the residents and the city working together, treating each other with respect, and that's how quality-of-life issues are addressed: by ongoing constant communication," Flynn told Boston.com. "And I think it's working."
The city is eyeing a similar program for Beacon Hill, but the specifics have not been finalized, according to Coughlin.
Whitney said the neighborhood is open to testing the program. Pointing to the 6 a.m. pick-up time, however, he said he's skeptical about whether it will succeed.
"We're willing to try anything, but for me, you're addressing the underlying problem with a Band-Aid," he said.
While Fox knows the new bins will likely not eliminate all of the problems, he said South End residents are hopeful the new pickup time is not the only change they'll see to their trash this year.
"We're hoping that [the pilot program] will prove that containerization and a container that can be stored in our limited storage space can work in the South End," Fox said.