Local News
'Massachusettsan?' Bay Staters and Massholes are perplexed by this word for Mass. natives
"I love language and I love proper grammar. I do not love 'Massachusettsan.'"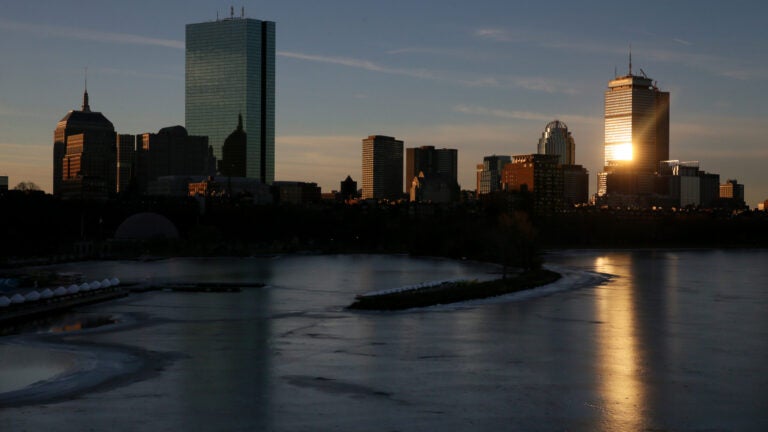 If you hail from Massachusetts, you may consider yourself a few things.
A Bay Stater.
A Bostonian, perhaps.
Maybe even a Masshole.
But what about a "Massachusettsan?"
The term, while rarely uttered in New England, is apparently the demonym of choice by the U.S. Government Publishing Office (GPO), the agency tasked with producing publications for Congress and other federal departments.
The obscure word appears as the official one to identify Massachusetts natives in the GPO's longstanding style guide.
While it's been in the manual for decades, talk over the government's preferred word choice recently broke out on Twitter after Natalie Jackson, research director for the nonprofit Public Religion Research Institute, posted a snippet of the style guide.
"After about a dozen arguments about what to call residents of certain states, I finally googled and found the U.S. Government Publishing Office Style Manual," Jackson wrote. "Have fun with this, twitter."
After about a dozen arguments about what to call residents of certain states, I finally googled and found the U.S. Government Publishing Office Style Manual. Have fun with this, twitter. pic.twitter.com/H8bugwOH2j

— Natalie Jackson (@nataliemj10) July 31, 2019
And plenty of Massachusettsans did.
"I love language and I love proper grammar," Boston City Councilor Matt O'Malley wrote in a tweet. "I do not love 'Massachusettsan.'"
Others were quick to offer up replacements for what they said was a mouthful of a term.
"We can call ourselves whatever we like, but we remain Massholes," one Twitter user wrote.
"I'll be in my grave by the time I finish sounding out Massachusettsan," quipped another.
So where did 'Massachusettsan' come from?
Apparently it's a question Bay Staters have pondered before.
An Oct. 13, 1977 article published in The Boston Globe indicates Sinclair Lewis, the famous novelist, shares some of the blame.
Lewis, onetime a Williamstown resident, used the term in his 1934 book, "Work of Art," as a derivative of earlier, similar demonyms, the newspaper reported.
Allen Walker Read, then a professor emeritus of English at Columbia University, told the Globe that Massachusettsan was "clearly coined on the basis of analogy."
It appears in Sinclair's book in the description of a character: "Virginians said he came from a fine old family in Massachusetts and Massachusettsans said he came from a fine old family in Virginia."
Just over a decade later, the term made its way into the GPO's manual in 1945.
But the name rarely makes appearances elsewhere in the written word, although it occasionally has a passing reference in news stories.
A search of the Globe archives shows the newspaper has only printed it a handful of times, including one report from September 1906 — decades before Lewis used it. Another was in a 1979 letter to the editor.
"If I did (know it), it was long forgotten, but I'm not even sure if I ever knew it to forget it," Peter Drummey, librarian of the Massachusetts Historical Society told Boston.com.
Drummey, whose tenure at the society extends over 40 years, confirmed the word's usage has been few and far between over the centuries, at least on paper.
Perhaps not surprisingly, the term made the most appearances in government documents and bureaucratic language, he said.
According to the Globe report, Massachusettsan is one of several variants of the Massachusetts demonym dating back to 1650.
For "Massachusettsan" specifically, some mentions date to the mid-1800s, around the time leading up to the Civil War, according to Drummey.
Similar to Sinclair's novel, the word was used to balance a sentence when describing the citizens of Virginia and Massachusetts — a comparison made to illustrate differences between life in the North and life in the South using emblematic states from each region, he said.
Citizens of Virginia, after all, are Virginians. That may be another explanation for the logic behind tacking "an" onto Massachusetts, according to Drummey.
But that doesn't make it any easier on the tongue.
"Until I looked for this, I have literally never seen this usage, and I clearly don't know how to pronounce it," he said.
Where do Bay Stater and Masshole fit in?
Although the federal government has its preferred style, those who are perturbed by being considered a Massachusettsan — or even overwhelmed by its pronunciation — may find some comfort from the state government.
Under Massachusetts law, citizens are known, officially, as Bay Staters.
Drummey personally likes the nickname for its historical nod to when the Commonwealth was the Massachusetts Bay Colony.
"God bless the General Court," he said.
Bay Stater is also included in the Merriam-Webster Dictionary, defined as "a native or resident of Massachusetts — used as a nickname." Massachusettsan is not.
And of course, there's always "Masshole," which, as of 2015, is recognized by the Oxford English Dictionary.
While it may roll off the tongue, it is not necessarily positive.
The dictionary, referring to Masshole as "coarse slang," describes the word as "a term of contempt for a native or inhabitant of the state of Massachusetts."
Demonyms in the GPO's style guide are rather straightforward for most of the Massachusetts's nearest neighbors: Vermonter, Mainer, Rhode Islander. The manual lists "New Hampshirite" as the chosen word to designate a New Hampshire native.
Bay Staters aren't the only New Englanders puzzled the government's style guide, though. Connecticut does not have an official nickname, but the reaction to the GPO's preference on theirs — "Connecticuter" — was similar.
"I'm going to have a little chat (with) the good folks over at the Publishing office…," Sen. Chris Murphy wrote in a tweet.
https://twitter.com/ChrisMurphyCT/status/1156984676441083910