Local
Wayward moose gets stuck in swimming pool in New Hampshire
"It's one of those, 'When you think you've seen it all-type stories.'"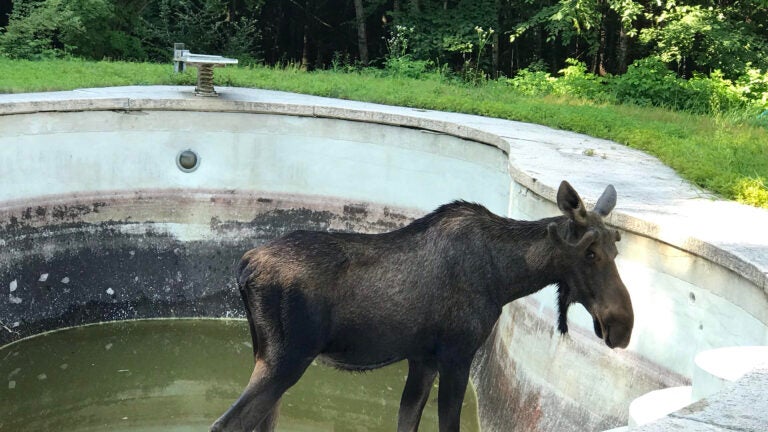 Police in Farmington, New Hampshire, were presented with a rare call Tuesday morning — a moose was stuck in an in-ground swimming pool.
"It's one of those, 'When you think you've seen it all-type stories,'" Farmington Police Chief John Drury told Boston.com.
A neighbor was house sitting for some residents that were out of town when she heard the chickens "making quite a racket," according to the chief. She went to check on them, and that's when she spotted the large, usually elusive mammal.
Police went to the scene after a call at 9:02 a.m.,  according to Drury. The in-ground pool was pretty much drained. The moose appeared to be a young bull, his antlers just coming in, the chief described.
"The animal was not injured," Drury said.
The New Hampshire Fish and Game Department was called, but, before authorities from there arrived, the moose simply used the cement steps within the pool to clamber out, and made its way into the woods.
When asked how the moose would've been removed from the pool if it hadn't decided to climb out, Drury said, "That is a very good question."
"We're very happy that the moose left of its own accord," he said.
There was a time awhile ago that a couple of moose "ran through downtown," but, otherwise, Drury said he's only occasionally seen them.
"It was actually kind of nice to see it because it had been a few years since I'd seen one," he said.