Local News
Feds delay environmental statement for offshore wind project
The company, Vineyard Wind, called the move called a "surprise and disappointment."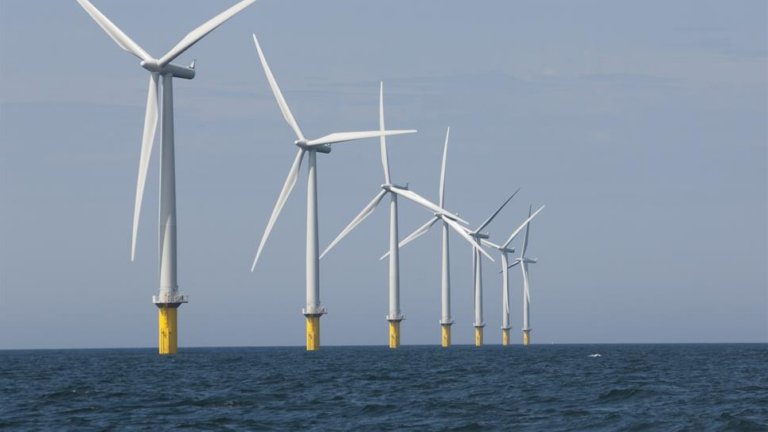 NEW BEDFORD, Mass. (AP) — Federal regulators are holding off on issuing a key environmental impact statement for Vineyard Wind, a proposed major wind farm planned off the Massachusetts coast — a move the company called a "surprise and disappointment."
Connie Gillette, chief of public affairs for the Bureau of Ocean Energy Management, said Friday the agency took the action after receiving comments "from stakeholders and cooperating agencies" requesting a more robust cumulative analysis that would include projects that have been awarded power purchase agreements, but may not have submitted construction and operations plans.
"Because BOEM has determined that a greater build out of offshore wind capacity is reasonably foreseeable than was analyzed in the initial draft EIS, BOEM has decided to supplement the Draft EIS and solicit comments on its revised cumulative impacts analysis," Gillette said in a statement.
Vineyard Wind urged the federal government to complete the project's review as quickly as possible. The company said the project remains viable.
"While we appreciate that the discussion on cumulative impacts is driven by rapid growth of the industry beyond our project, we urge the federal government to complete the review of Vineyard Wind 1 as quickly as possible," the company said in statement. "The project is poised to kickstart a new offshore wind industry that promises industrial growth along with new manufacturing and blue-collar employment across the United States."
An aide to Republican Gov. Charlie Baker called the announcement a step in the wrong direction. The aide said the Baker administration is also urging the federal government to move quickly to approve Vineyard Wind.
Democratic Rep. William Keating, whose district includes Martha's Vineyard, said the Trump administration was trying to stymie the renewable energy project just as it was coming to fruition.
"Taking this action, at this late stage, is another example of this Administration's hostility toward those seeking to combat climate change, as well as its overall rejection of basic environmental values," Keating said in a statement. "I believe that the Trump Administration has not dealt fairly with Vineyard Wind."
The 84-turbine, 800-megawatt wind farm is key to a 2016 Massachusetts renewable energy law.
Planners are hoping the project will begin producing power in 2021.
The company said the wind farm will reduce Massachusetts' carbon emissions by over 1.6 million tons per year — the equivalent of removing 325,000 cars from state roads.