Local
This map helps families share remembrances of loved ones lost to opioids. Here are 3 of their stories.
"If we can spare some other family this kind of loss and pain, we want to do that."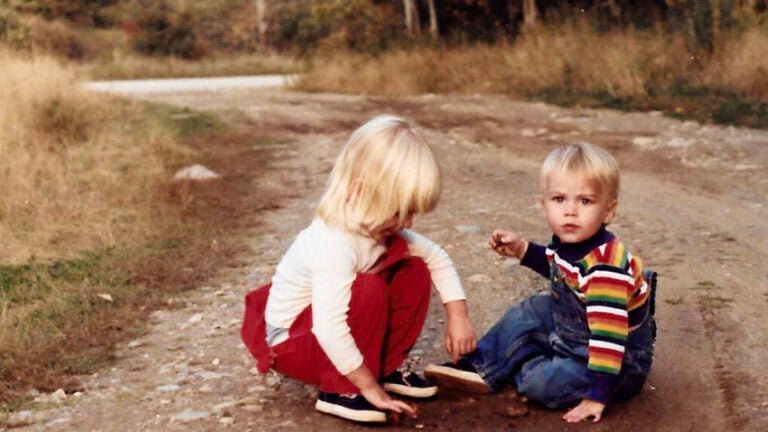 "She truly cared about others and so badly wanted to get better."
"He was a friend. He was a father. His life mattered."
"She was worth so much more than an overdose."
No two entries on the map are the same.
Yet, by the thousands, they are connected, each marking a life ended by opioids. Some choose to remember their friend, their mother or father, their brother or sister, their child with just the date of their death. Others commemorate their loved one with memories of who they were before addiction took hold, or who they were — their loves and their hopes — despite the disease that ended their life.
More than 2,000 lives are documented on the interactive map, Celebrating Lost Loved Ones, which is hosted by the National Safety Council. The map was started in 2015 by Jeremiah Lindemann. He created the first entry on it for his younger brother, J.T., who died in 2007 at the age of 22.
Lindemann told Boston.com that in the years after J.T. died, he was "very quiet" about the circumstances of his brother's death and his struggle with addiction.
"There was so much stigma around it," he said. "I didn't want to talk about how I had lost my brother for a long time."
But as opioid addiction and overdose deaths gained more coverage in the news, Lindemann got involved with advocacy groups in his Colorado town and started to meet more and more families whose lives had been forever changed by the growing opioid epidemic.
It became clear to him that there was a need to break the stigma around addiction. He started the map, and it grew over the years as it was shared on social media, with person after person adding loved ones to it.
In March 2018, the National Safety Council took over the maintenance and hosting of the map.
Lindemann said it's been humbling to see the national platform his project now has, but that it remains heartbreaking to have so many people listed on it.
As of mid-July, there were more than 2,100 entries on the map.
According to the Centers for Disease Control and Prevention, between 1999 and 2017, more than 700,000 people died from drug overdoses in the United States. As the number of deaths continue to rise, the agency estimates that an average of 130 Americans die every day from an opioid overdose.
"It's overwhelming looking at all the stories," Lindemann said of the map. "But at the same time, I'm glad that people are talking about it and making the real connection behind just the pure numbers that you see on the news."
If the epidemic is going to get better, if the stigma around addiction is going to be lessened, Lindemann said he believes it's essential to make a human connection. In that way, the map serves to both help grieving families, but also to show the vast scope of the epidemic.
"There's a lot of people that have gone through recovery  [who have] talked about their process and how hesitant they are to go to recovery just because of that stigma," he said. "So all the deaths are just, in many ways, the tip of the iceberg. If there are people out there who are struggling and want to get help, we have to recognize that they're real people and break down that stigma."
Below, three Massachusetts families explain why they added their loved ones to the map and share what they hope the public learns about the epidemic.
Alyssa Dunn was the kind of kid who loved the feeling of the wind in her face.
"She was always up for a challenge," Michelle Dunn said of her first born.
Alyssa was a protective older sister, who was so "all about family" that she once created a family tree just for fun.
A "huge" snowboarder, Alyssa enjoyed hitting the slopes at Wachusett Mountain and loved country music. Though Dunn said there was a running joke in the family that dogs would start to howl when her daughter sang.
"She couldn't sing to save her life," she said with a laugh.
Alyssa stood up for what she believed in and wanted to be a teacher, to work with the "naughty" kids who got in trouble in class and were sent to the principal's office.
Her mother believes she related to them, the kids who were the "underdogs."
"Looking back now, it's probably because she knew what that felt like, to be labeled," Dunn said.
When Alyssa was a freshman in high school, she began to experiment with alcohol and marijuana, but nothing jumped out to Dunn as anything out of the ordinary. In her junior year, she started to have some trouble with teachers, which was somewhat new. But still, Dunn said it wasn't anything alarming. She wasn't skipping school or failing — it seemed just like typical teenage drama.
But by the fall of Alyssa's senior year, it was clear that something was wrong.
"She worked part time at Market Basket and she was really tight with her money and all of a sudden she had no money — like she got paid on Thursday and had no money on Monday for gas," Dunn said. "And I was like, 'Alyssa, what's going on?'"
Her daughter always had an excuse — she'd leant it to someone, or it had been stolen. Dunn took her to a psychiatrist, thinking she might be depressed. And things seemed to get better for a little while.
But then Dunn said she and her husband heard from one of Alyssa's friends that she was misusing oxycodone.
"She got [it] from a friend and all of her money was going towards what now was a dependance," Dunn said. "And I had no idea. They didn't tell us signs and symptoms of opioid abuse way back then — that was in 2011."
Alyssa went to her first detox program just after her 18th birthday.
"Honestly, I was like, 'OK, she did the detox… Back to high school we go, we're going to graduate, we're going to Framingham State in the fall,'" Dunn said. "I just didn't know. And, honestly, not a lot of people knew. I felt like after Alyssa passed, one of the things was that there was so much stigma — we were so afraid to talk about it because we heard people judging us in the community."
Alyssa died in 2013, at the age of 20.
"We were a regular family — two parents, two kids, dog, cat," Dunn said. "That was really, really hard — knowing that it wasn't a moral failing on her part. At the time we didn't really understand that, but, after she passed, we were like, 'You know what, our kid was a good kid. And if it can happen to our kid, it can happen to anybody.' It doesn't matter if you're educated, it doesn't matter how smart you are or how intact your family is. There are so many other factors involved."
Dunn and her family started a foundation named for Alyssa, the A.E.D. Foundation, in 2014 to offer resources to those in recovery and raise awareness about substance use disorder to "defeat the stigma" associated with addiction. Dunn also switched career areas, from working in human services focused on developmental disabilities to working for programs focused on substance use.
"We wanted to educate the community that this is in fact a disease and nobody chooses this life," Dunn said. "There's no way somebody wants to grow up and be a heroin addict. And I knew that it certainly was not what my kid had planned for her future."
That's why they shared Alyssa's story on the map, created by Lindemann.
"My goal is to honor her — and not just her, but all the children that are lost, especially from our area, by speaking out and having a voice," Dunn said of why she's shared her daughter's story. "Because our children don't have a voice anymore. And if we can spare some other family this kind of loss and pain, we want to do that."
Mark McManus could hear a song on the radio, pick up his guitar, and play it a moment later.
He was athletic, a baseball and football player, and he loved the outdoors. In the winter, he would ski and snowboard, and he started surfing at a young age during summers on Cape Cod.
"He was a great kid," his mother, Denise, said. "He was very fun-loving, very happy, always smiling."
Mark was kind and sweet — always sensitive and popular, his sister, Mara Rhodes, said.
"He had a presence about him that people were attracted to," his father, Joseph, said. "Later on, when he was in the working world, he gravitated towards sales. Just before he died, he was doing quite well in a sales position at a regional Honda dealer in the area and enjoyed taking care of his customers."
October will be the five-year anniversary of his death at the age of 33.
Mark's parents said it isn't clear when their son's addiction fully began. He experimented with marijuana and alcohol in high school, but, to his family, it didn't seem to be anything out of the ordinary.
But he was introduced to opioids through a prescription when he dislocated his shoulder in high school. His parents explained to him at the time how addictive they were, they said. But "somewhere along the line" he got reattracted to them.
"I think that most kids go into it as, 'This will be fun, I'll try this, this is cool'," Denise said. "No one I think goes into it wanting to end up on the other end as an addict."
It wasn't until he was toward the end of his time at Whittier College in California that his parents said they noticed that something had changed in his personality. By the time he graduated, having majored in business, his parents said they'd been told he was using pills. They insisted that he go to a five-day rehab program.
He would go on to five programs in the years leading to his death as his addiction progressed. And when he died in 2014, from cocaine that was laced with fentanyl, he'd been sober for a year and a half, his mother said.
"Our whole family knew and some of my close friends knew that Mark was struggling with addiction," Denise said. "But I think that a lot of people don't want to tell anyone. This was 10, 15 years ago when he started struggling with addiction. To say something aloud was not something most people would do. I'm glad that it's come to the forefront now. And I really feel that we were one of the lucky ones — we had a lot of support. But still. It took our son."
After Mark's death, Rhodes decided she wanted to get involved with a local organization in her Colorado town that was working to address the stigma around addiction — only to find that there were no such groups. So she and others in the community started a coalition — Rx Task Force — and Rhodes created the Mark McManus Foundation to provide community outreach and education about the risks of prescription drugs, their misuse, and addiction.
She sees her brother's legacy as helping people find ways to avoid potential exposure to legal, powerful medications they might not need. The Celebrating Lost Loved Ones map, to which she added her brother with her parent's blessing, provides a way for people in the community to connect, she said.
"There's a lot of empathy and compassion when you lose somebody, especially a young person, to a tragedy like death at an early age," Rhodes said. "But when it's drug related, it's different. It's not the same. People are quiet. They don't reach out. They don't necessarily send cards. They don't really want to know what happened. Because they kind of think they know — there's a picture in your mind of what it looks like to be a drug addict. And unfortunately for those of us who know what that picture is, it's totally the opposite."
Both Mark's parents said they think the stigma around addiction has gotten better, both with the general public and in the field of health care as well, but more work remains, which is why they decided to share their son's story ahead of the anniversary of his death.
"There's the benefit of having anyone realize that there are so many families that are affected," Joseph said of the map created by Lindemann. "Being able to read the story of people whose stories are posted by the family on the map, I think is a way of extending empathy across the community and across the region and across the country. Having people extend their stories as an expression of empathy for other families that had a similar death — but a life that's unique and wonderful."
At a young age, Julie Ann Price was always "a little bit ahead of the curve," her mother said. She made the National Juniors Honor Society in junior high.
"She got through high school just fine but I could see changes slowly starting to happen, but I wasn't alarmed," Doreen LoPardo said. "I thought it was normal teenage behavior."
Some partying and boyfriends. But Julie went on to graduate and attend the Boston location of what was then known as Katherine Gibbs College, where she received her associate degree in secretarial sciences.
When she graduated, she got good jobs, but wasn't able to stick with any one. Her mother said she later learned that she'd been introduced to using cocaine by a boyfriend.
"It was one job and one boyfriend after another," LoPardo said. "At some point, I don't know when, she graduated to heroin and prescription pills."
At one point, LoPardo said her daughter was taking nine prescriptions, which she was legally prescribed, but which she was misusing.
"She was ashamed of all this and would keep it hidden from me, but her friends dropped little pieces on me throughout the years and then even more after she passed, unfortunately," she said.
LoPardo estimated her daughter went to rehab programs about five or six times. And when she became pregnant, her family became hopeful that it might be a turning point. She was sober throughout the pregnancy.
"She had the baby," LoPardo said. "She was just so wonderful, being a mother."
It was only later that LoPardo said she found out her daughter overdosed and had to be revived with the overdose reversal drug Narcan when the baby was 3 months old.
On June 1, 2016, LoPardo met her daughter to help her get a car. They were supposed to meet with a particular used car dealer, but the appointment was rescheduled.
LoPardo had a doctor's appointment, and the mother and daughter planned to meet again later in the day.
They said goodbye around 10:30 a.m. Around 2:30 p.m., LoPardo got a call that Julie was in the hospital.
"Over the years, I had committed her through the courts, she had been arrested, she had been in Framingham State Prison for women for a couple days — she'd just run the racquet of all the different scenarios that can happen with this disease," LoPardo said. "So I really didn't know she was gone at the time."
When she arrived at the hospital, she learned her daughter had fatally overdosed on heroin and cocaine laced with fentanyl while her 1-year-old baby was napping.
LoPardo said she participates in several online support groups for parents who have lost children to the opioid epidemic and hopes that by sharing her daughter's story, she may be able to help others. That's why she added Julie to the map.
She said she knows her daughter did the best she could, so it's difficult for her to hear people still use the word "junkie" to describe her daughter or others struggling with substance use disorder. Though she said she does think a corner is being turned, "very slowly," with how addiction is viewed.
"We all need to get together and let folks know that are struggling, don't be ashamed of yourself," LoPardo said. "It's OK to ask for help. It's OK to say, 'I used heroin, I used a needle, I snorted coke, or I shot coke.' It sounds horrible, I know, but you don't have to be ashamed to say it. Because I know as a parent, I would rather hear it. Let's deal with it. Let's put this fire out. Hopefully earlier than when it's too late."
LoPardo said a whole generation is being lost, and she remains fearful for the next generation because of the flood of fentanyl — and the even more deadly carfentanil — on the streets.
"Today's young folks, they don't stand a chance," LoPardo said. "It might be your first time you try it. It might be after 6 months or a year of sobriety that you try it again. You might get straight fentanyl or carfentanil and then it's too late. Because nobody can withstand that."
It could happen to anyone, she said.