Local
Maine teen who drowned after jumping from a rope swing remembered as lacrosse star
"Everybody loved that kid."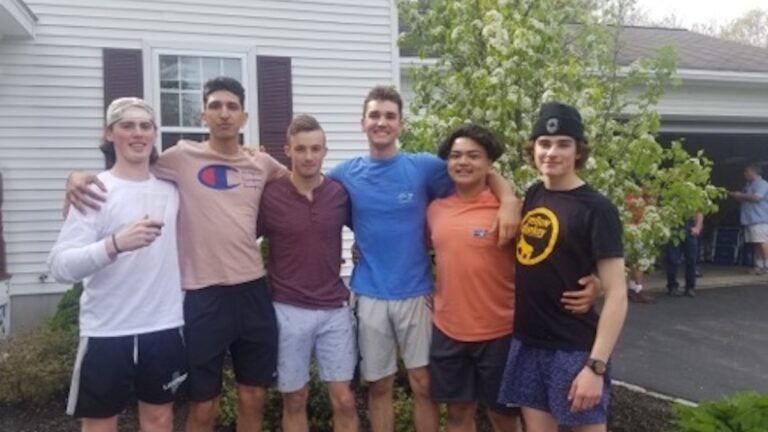 Steel Crawford of Freeport, Maine, drowned Friday after jumping from a rope swing into a river. He was 17.
Crawford "landed awkwardly in deep water" after letting go of the swing and never came back up, officials said. He would have started his senior year of high school in three weeks.
A spokesperson for the Maine Department of Inland Fisheries and Wildlife said Crawford was swimming with friends at Pleasant Point Park in Buxton at the time of the incident. A marine game warden pulled his body from the Saco River.
Crawford was a devoted lacrosse player who also loved to fish, according to friends and family. His father, Ben Crawford, told the Portland Press Herald that Steel was "good, clean, happy fun."
"Everybody loved that kid," Crawford's friend Ryan Baker said. "He was a great guy, all around."
Baker started off as a rival of Crawford in lacrosse a few years ago, but the two ended up friends. He said he wishes they had more time together.
"It's just tough because I didn't really get to have a summer with him," Baker said.
Crawford was captain of the Freeport High School varsity team last year, and he hoped to play in college. Freeport High principal Jennifer Gulko said in a statement that she was shocked and saddened by the news of his death.
"Steel was often seen cheering on other FHS athletic teams along with his friends," she said. "We will remember Steel's zest for life, his smile and his loyalty to his friends and teammates. He will be deeply missed by all."
Asked to share his hopes for senior year in the yearbook, Crawford said "I want to make it deep into the playoffs for lacrosse."
As a tribute to Crawford's prowess at and love for the sport, friends are organizing a charity game in his honor.
Baker said he woke up around 3 a.m. Sunday with the idea for the game. He had been sleeping on a friend's couch because he didn't want to be alone.
"I was like, 'I need to do something,'" he said.
He initially hoped to raise about $500 and have a 30-man lacrosse game branded #SteelStrong in Crawford's honor. As of Tuesday afternoon, the event had raised more than $12,000, and Baker had to cap the game at 100 players.
Baker said he and the other organizers are expecting about 1,000 people to show up to play in or support the game at 5 p.m. Sunday at Freeport High School. T-shirts, decals, food, and more have been donated to support the event. A group is even filming the game professionally to make a video for Crawford's parents, Baker said.
The money raised will cover the cost of Crawford's funeral and any extra funds will be used to set up a scholarship in his honor.