Local
Shark sightings have prompted numerous beach closures on Cape Cod. That doesn't mean there are more great whites in the water.
"There's a greater level of effort out there looking for sharks and that has resulted in more information and more communication and more closures of swimming waters."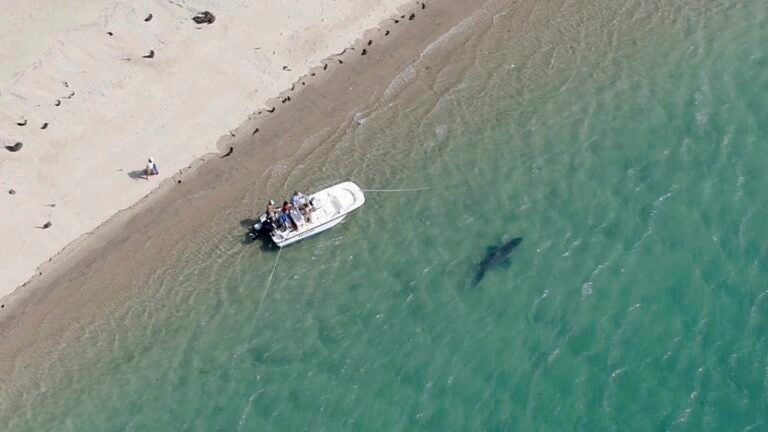 Beaches have been closed dozens of times this summer on Cape Cod, prompted by nearby sightings of great white sharks. But researchers say the rising number of closures and sightings is "definitely not" reflective of a "boom" or sudden increase in the shark population.
Headed into the 2019 beach season, state and local officials pushed for new measures to increase awareness about sharks in Massachusetts and improve safety on the beaches after the Bay State saw its first fatal shark attack in more than 80 years last September. The death of 26-year-old Arthur Medici of Revere, who was bitten and killed while boogie boarding at Wellfleet's Newcomb Hollow Beach, followed an attack the previous month in Truro that seriously injured a New York man.
Greg Skomal, the program manager and senior scientist for the Massachusetts Shark Research Program, said this year's shark season has so far been "pretty standard" compared to previous years.
"There's a greater level of effort out there looking for sharks and that has resulted in more information and more communication and more closures of swimming waters," he told Boston.com. "And that's what this perceived increase in sightings and beach closures can be attributed to."
Skomal's colleague, Megan Winton, a research scientist for the Atlantic White Shark Conservancy, said they aren't drawing any immediate conclusions based on the number of sightings this season, which have garnered nationwide attention.
Rather, she said it's important for the public to remember that the number of sightings is "effort driven."
"There was a day a couple of weeks ago where we had a pilot up in the air and a tour company who was out looking for sharks also had a pilot up in the air," she said. "Our pilot was sending sightings in to us, and we were reporting them to the beaches and via the Sharktivity app and the other pilot was also doing that. So we had more eyes, we had more effort out there, we had two pilots out there, and because of that we were reporting a higher number of sightings. And people were freaking out. They were like, 'Oh my gosh, what happened today?' But really it was the fact that there were two pilots up in the air who were both sending us sightings and we were then able to report them."
Skomal pointed out that this year not only are scientists and their spotter pilot headed out onto the water once or twice a week, other companies — including the Chatham Bars Inn and Monomoy Sportfishing — are hiring their own planes to look for great whites for what they term "White Shark Ecotourism."
The extra eyes in the air and on the water make a big difference, he said.
"In previous years, basically we saw lots of shark reports and some beach closures on days where we were on the water because we had a plane in the air and for the most part we were the only ones out there," Skomal said. "And that tended to happen on Mondays and Thursdays, which were the days when we were out on the water."
The sharks would be out there, whether or not they were seen, Winton said.
"There are a lot of sharks out there," she said. "This is definitely an aggregation site for white sharks in the summer and the fall."
That goes for the sightings and beach closures on Martha's Vineyard and Nantucket, too.
Winton said there are sightings off the islands — not just of white sharks — every year.
"We've been tracking them, as well as reports of bitten seals, and the Division of Marine Fisheries has been monitoring for the presence of tagged white sharks using acoustic receivers," she said.
The same technology used to listen for tagged sharks along the Cape has been deployed off both islands since 2012 with coverage varying year-to-year, she said.
But the scientists said there is one way that this year stands out from seasons past.
Researchers have tagged 19 sharks so far this season over the course of nine trips — five along the Outer Cape and four in Cape Cod Bay.
By the same time last year, they had only tagged nine, and in 2017 by the same date they had tagged 10.
Skomal pointed to two factors as possible drivers behind the increased number of tags.
The frequency of the tagging can depend on how often researchers are going out on the water, but it can also depend on the objective of the study.
 Last year, Skomal and his team completed their final year of field research for a five-year study aimed at estimating the population of white sharks in Massachusetts waters, which they hope to conclude work on in the next six months.
"In previous years we would spend quite a bit of time with each shark making sure we had good identification footage," Skomal said. "And if you spend a tremendous amount of time with a single shark, it will tend to move away from you and it will limit your ability to tag them. What we're doing this year, as we completed the field component of the population study last year, we're now moving on to getting as many tags out as we can."
They still will take video footage of the great white, but they don't need the volume of media they did in previous years for the population study.
"We make a couple of sweeps with the camera, we determine if its a male or female, we listen to hear if it's been previously tagged, and then we put a tag in it," he said. "So we've been able to do it much more quickly and that allows for us to have the time to tag the individuals without spooking them away, which is what we've done in the past."
This year, researchers also saw more shark activity in the early part of the season than has been witnessed in previous years.
"Most of the time things don't begin happening in terms of numbers of white sharks really until mid-to-late July, and we had a lot of white sharks around in early July this year," Skomal said. "So that gave us a couple to three weeks more of tagging as well. So that's clearly the case where we had far more sharks, in our opinion, around in July than we had in previous years."
Things slowed down near the end of July, but Skomal and Winton agreed that the activity appears to be picking back up again.
The peak time for shark sightings and activity off Cape Cod is August through October.
"We have peak number of sightings and activity from August through October, but really the sharks are there all summer," Winton said. "Whether we're out with our pilot or not. So we really want people to know that and be aware that those animals are there, even when we're not out looking for them."
She said beachgoers should continue to utilize the Sharktivity app to see where researchers and other members of the public have spotted sharks and reach out to the conservancy on social media if they have any questions.
But Winton advised against using the app to pick which beach you should visit.
"It doesn't necessarily mean there aren't sharks there, if there weren't sightings there recently," she said. "It just means either the research team wasn't there or somebody wasn't there to report them. We know from the research that's been conducted over the past couple of years that as a whole, white sharks really do patrol the whole outer coast of the Cape. There isn't anywhere along the outer coast of the Cape that we haven't seen a white shark during the course of our survey over the past five years."