Local
Julia West was on a late-night walk when a car hit her in Portsmouth, N.H. The driver took off, leaving her unconscious in the street.
"She was almost home. She was almost home."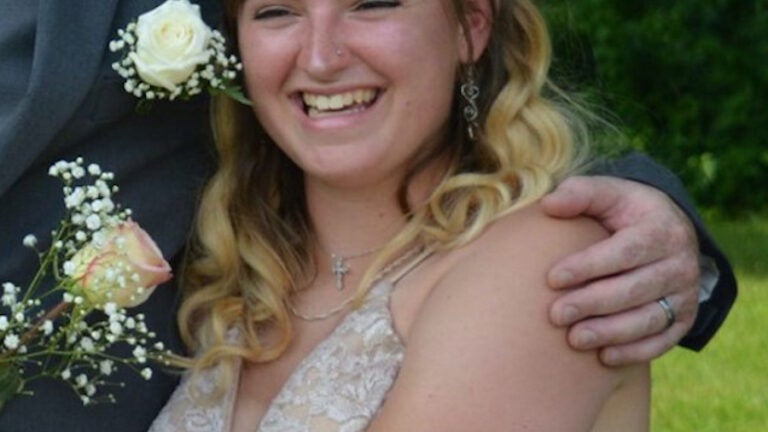 Julia West's family is not angry right now. They say she wouldn't want them to be.
But the 19-year-old's parents and sisters want the driver who hit her and drove away early Friday morning, leaving her unconscious for days, to come forward.
Julia was only a quarter-mile away from her home when she was struck by the car. She was on a late-night walk in her hometown of Portsmouth, New Hampshire, something her father David said she does to clear her head at the end of the day.
"She was almost home," her 21-year-old sister Lauren said quietly. "She was almost home."
Julia was found unconscious around 1 a.m. in the roadway on Woodbury Avenue.
The Portsmouth Police Department listed her condition as life-threatening in an initial press release. Family members say Julia has been in the Intensive Care Unit at Portsmouth Regional Hospital since then.
She has multiple broken bones, bleeding on her brain, a cut on her stomach that required many stitches, and a gash on her forehead in the shape of a "V," her father said. He said she lost a lot of blood.
One of Julia's stepsisters started a GoFundMe campaign to help pay for her medical bills.
"We love you Julia!" the fundraising page reads. "Keep fighting!"
As of Tuesday afternoon, the campaign had already raised more than $4,000 of its $25,000 goal.
"The only thing I want is honestly for someone to come forward and just take responsibility for what happened to her so we can just focus on her," Julia's mother Chris Sargent said.
The family has been spending all of their time at her bedside, even sleeping at the hospital.
Lauren, who calls Julia her best friend, said multiple people have reached out to tell her that Julia was the only person who was kind to them in high school. She graduated last year.
Julia loves music, her sister said. She latched on to her father's love of old music —the Beatles, Tom Petty, the Rolling Stones — and even taught herself how to play the piano and ukulele.
Lauren went with Julia to her first concert last summer, where she sang along to every word and talked to everybody she could. Julia danced like she was all by herself, she said.
"We were buzzing for days after," the older sister remembered.
Julia is always outside, Lauren said. She goes to the beach nearly every day and enjoys hiking and camping. Her father said Julia has been working with her uncle as a landscaper, and she loves it. Lauren said that's no surprise since Julia has always liked plants and bugs.
"She's just such a bright person to be around," David said.
Sargent said her daughter always knows how to calm her down. Julia, she said, likes to think about things in a positive light.
"She doesn't like people to be judgmental or to handle things with anger," Sargent said.
She and her daughter spent every morning and night together, drinking coffee and talking about their days.
"I miss my mornings," she said.
Police are investigating the incident, and anyone with any information about the hit-and-run is asked to contact Det. Peter Sheldon at 603-610-7609 or submit information anonymously through Seacoast Crime Stoppers.
Lauren said it's important that anyone who saw anything come forward, even if they think what they know is insignificant. She also said it could be worthwhile to contact police if someone in your life has been acting strange.
"Even if you think it's silly, just come forward," she said.