Local
'Unbelievably unifying': Targeted by anti-Semitism, Mass. Jewish leaders double down on love
"This is how you combat this garbage."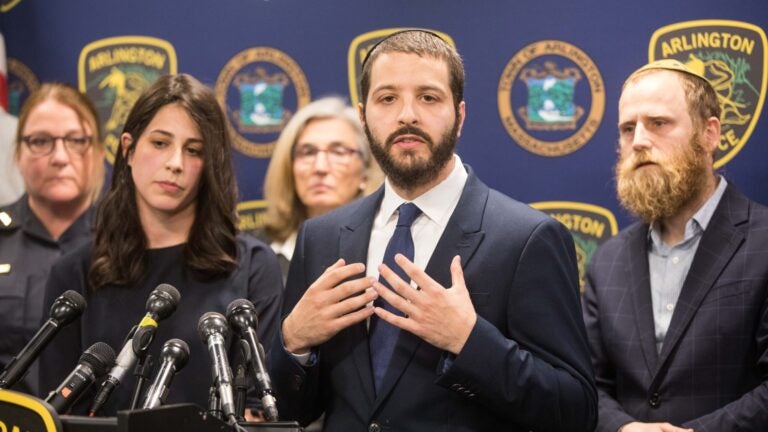 After an arsonist lit two fires at the Chabad Center for Jewish Life of Arlington-Belmont in May, Rabbi Avi Bukiet talks about what's come out of the surreal months since with optimism.
The fires were shocking. The first, late at night on May 11, jolted the Bukiets out of the center, which is also their home. Firefighters found shingles on the side of the house ablaze. Five days later it happened again.
But the response Bukiet, his family, and his congregants have received amid the aftermath has been remarkable in its own way.
"It has been unbelievably unifying what happened," he told Boston.com recently. "I'll be honest, we felt very embraced."
Long after the Arlington community came together in its initial shock, acts of positive reenforcement, change, and hope continue to reverberate.
Volunteers within the center lined up to keep watch out front during its Hebrew school classes and events. The Arlington Police Department continues to swing by.
And, next month, the Chabad center will start an initiative to dole out kindness across town, according to Bukiet.
"This has really galvanized our center and us as a community," he said. "We really hope everyone will jump on board because this is how you combat this garbage."
In Massachusetts, the number anti-Semitic incidents reported has risen exponentially in recent years, statistics from the Anti-Defamation League show.
In 2018, the Commonwealth saw 144 cases, from vandalism and harassment to assault — notably higher than a mere three years ago when 50 incidents were recorded in 2015.
Last year's numbers made up the second highest annual total on record for the state. Massachusetts was ranked fourth out of the states with the highest totals, behind New Jersey, New York, and California, where the 341 incidents recorded topped all other states.
So far this year, the Bay State has seen at least three cases of arson — the two fires at the Bukiets' home, and another similar incident at the Chabad Jewish Center in Needham the same night of the second fire in Arlington on May 16.
Earlier this month, the FBI announced a $20,000 reward for information that leads investigators to identifying and arresting the individual or group allegedly responsible. The ADL is also offering a $15,000 reward.
And more recently, in Marblehead, police have called for the public's help in finding the person responsible for posting flyers at Temple Emanu-El last month denying the existence of the Holocaust and referencing Neo-Nazi book clubs.
But rabbis at the targeted congregations have a message of their own to spread.
"The different things that we're doing (are) to try to raise awareness and foster Jewish pride and Jewish involvement as a reaction and a response," Rabbi Mendy Krinsky, of the Chabad Jewish Center in Needham, said in an interview. "They tried to harm us or get us to be afraid or whatever, put fear in our hearts … we're going to be stronger. We're going to grow. It's a general attitude … and I think the community is behind that tremendously."
We're going to bring more goodness, more kindness.
The attacks have done little, if anything at all, to rattle their commitments, they say. Instead, the congregations have reaffirmed their pride in their faith, while underscoring a renewed emphasis on loving thy neighbor.
In Arlington, the Chabad Center for Jewish Life will soon launch what Bukiet calls "the Mitzah Club," — Mitzah or "a good deed" — a volunteer group dedicated to serving the town wherever help is needed, from soup kitchens to senior centers.
"We don't just talk the talk, but we walk the walk," Bukiet said. "We want to show the community that we're here and that we're going to bring more goodness, more kindness."
It's one of several new efforts underway at the center, according to Bukiet, who said the synagogue is now also much more vocal about its security needs.
The center has already installed more cameras and motion sensors around the property. The congregation is also collecting donations for other safeguards, he said.
When someone asks what they can do to help, his answer is simple: get involved.
"I always tell people our response to something negative happening is to double our efforts in positive actions," he said. "That's the biggest response you can do to hate: to double down on love. That's what we do."
The affirmation goes both ways.
After the arsons in Arlington in Needham, both centers saw turnout in the hundreds at services.
The Chabad Center for Jewish Life observed Shabbat on the Saturday after the second fire, where the crowd of attendees flowed out of the home. And over 600 people went to a support gathering at Arlington Town Hall the following Monday.
In Needham, Krinsky's congregation performed Havdalah to mark the end of the Shabbat the week of the fire, which drove hundreds of his neighbors to his home's lawn to join in.
"It was incredible," Krinsky said of the immediate support his center received. "There were people bringing flowers and all kinds of gifts and cards. It was an amazing show of community and love, and it was really beautiful. It shows that the love is much stronger than the hate."
In Marblehead, Rabbi David Meyer said the local response was just as supportive. The temple was "filled to capacity" for services after the incident.
"Looking forward, we're going to continue working with experts in public safety and to stay one step ahead the best we can, to provide the best possible security while maintaining our hospitality and openness as a community of faith," Meyer said.
Robert Trestan, regional director for the Anti-Defamation League's New England branch, said each incident the league responds to is unique, but ensuring safety is the first and foremost priority in its initial response to all.
The ADL always then encourages communities to have transparent conversations about bigotry and hatred, according to Trestan.
These days, the league is hosting more and more of those town hall speaking engagements, he said.
"I don't think we should underestimate the fact that, you know, people (that) normally would be home during the week are coming out to have a discussion," Trestan told Boston.com.
"That is action in and of itself. The fact that people want to come out and have a conversation … they are making a statement just by the virtue of showing up."
Still, amid the uptick in hate crimes nationally in recent years, Trestan said it's clear that perpetrators have become increasingly more empowered to act out.
"One of the outcomes of these incidents is that people of all faiths realize that we're all really vulnerable, and it's not exclusive to any one faith," he said.
White supremacist propaganda the likes of that found at Temple Emanu-El in Marblehead — and similarly at a Salem church — last month has appeared more frequently in Massachusetts, so much so that the number of incidents reported this year so far have surpassed last year's total, according to Trestan.
Statistics provided by the ADL show 48 cases were recorded for 2019 as of July 23. In 2018, the Commonwealth recorded 26 incidents and only two for the entirety of 2017.
In June, the ADL reported propaganda distribution on college campuses rose for the third year in a row, up 7 percent over the previous school year.
"Given the alarming increase of these incidents, words alone are not enough — it must be followed by action," Jonathan Greenblatt, the ADL's CEO and national director, said in a statement at the time. "Educating faculty and students on the values of diversity and inclusion, along with improving training for campus officials charged with responding to bias incidents and hate crimes, are just a few of the ways campuses can fight back against this scourge of hate targeting our youth."
According to Trestan, the ADL's New England branch is adding 28 middle and high schools to its anti-bias peer training program next month, which means the initiative will soon be in place in nearly 120 local schools in Massachusetts, Vermont, and Maine.
The curriculum, offered to students in grades seven through 12, teaches how to respond in cases of bullying and cyberbullying while also working to instill in students a sense of responsibility to take action and speak out.
"We need to be teaching teenagers today those skills, and we have to make sure they have the confidence to teach others," Trestan said.
It's not exclusive to any one faith.
In Arlington, Bukiet said he's hopeful more people will continue to get involved at the Chabad center — that what happened "will translate into more people wanting to wear their Judaism proudly and defiantly."
"We're proud, our neighborhoods are proud with us," he said. "And we're not going to be cowed by lone voices that nobody condones in America. That's part of our ideals."
Krinsky said attendance grew at his Chabad house in the wake of the fire, although turnout has diminished slightly as people head out of town over the summer.
But he too is hopeful for the crowds to grow once again this fall — that they will find strength by being proud to be Jewish.
"Being a Jew, or being whatever you are, do it all the way, but at the same time, you can love and be peaceful with any other person… it's not a contradiction to be distinct and get along," Krinsky said.