Local
A rally in response to the 'Straight Pride Parade' is happening in Boston. Here's what you need to know.
"I think we have an obligation to stand up and fight, so that's what I plan to do."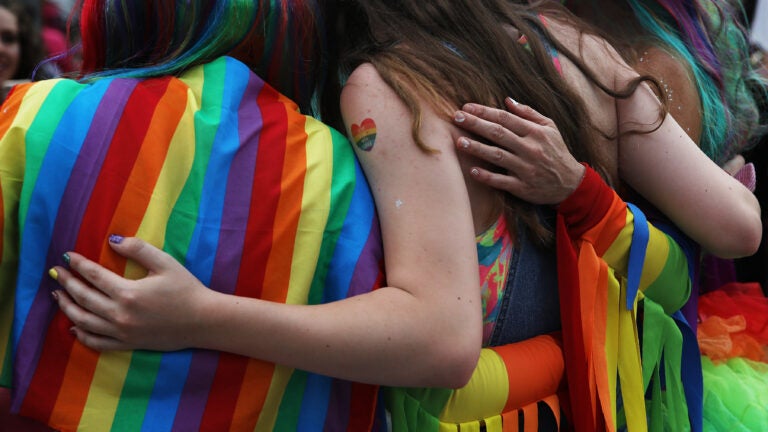 When news broke in early June that a "Straight Pride Parade" was being organized in Boston, Monica Cannon-Grant thought it was a joke.
"Every day is 'straight pride' day, right?" she told Boston.com of what went through her mind. "I think it's this notion that somehow their rights are being jeopardized — when that's false. Nobody is killing anybody for being straight. They're not being discriminated against for being straight. They're not being murdered for being straight."
Organizers with Super Happy Fun America, the group behind the parade, have issued statements insisting straight people are the "oppressed majority." The group has come under fire by companies, including TripAdvisor, Lyft, and Netflix, for attempts to link the businesses to the parade, which is expected to take place Saturday from noon to 3 p.m. An application for the event, a step in the permitting process that also includes approvals from the police department and licensing board, was approved by the City of Boston in June. The mayor's office, when reached for comment on Wednesday, did not provide an update on the event's status.
When it became clear that the "straight pride" event was moving forward, despite the moral objections voiced by city officials and celebrities alike, Cannon-Grant decided to organize a counter-rally in response.
A community activist and the founder of Violence in Boston, Cannon-Grant was one of the organizers behind the 2017 counter-march that drew an estimated 40,000 participants to demonstrate against the "free speech" rally on Boston Common.
Cannon-Grant said that while she doesn't identify as LGBTQIA, she considers herself an ally for the community.
"It's harmful. It's dangerous," she said of the message the parade sends. "There are literally black trans women dying just because they're living their truth. There are non-binary folks dying and being discriminated against with housing and employment, just for being who they are. So the thought that we need a 'straight pride' parade is disrespectful and arrogant."
In 2018 alone there were at least 26 deaths of transgender people due to fatal violence, the majority of which were women of color, according to the Human Rights Campaign.
"While the details of these cases differ, it is clear that fatal violence disproportionately affects transgender women of color, and that the intersections of racism, sexism, homophobia, biphobia and transphobia conspire to deprive them of employment, housing, healthcare and other necessities, barriers that make them vulnerable," the campaign wrote of the 2018 violence against the community.
The rally Cannon-Grant helped to organize, and which is set to take place Saturday on City Hall Plaza, is being called "Fight Supremacy: Hands Off Our Pride." Participating organizations include Black Lives Matter Cambridge, BAGLEY, Black and Pink, and Jewish Voices for Peace, she said.
There are a few other events planned in Boston in response to the parade, according to Cannon-Grant. One of which is a counter-protest titled "Straight Pride is Hate Pride," which plans to confront the parade in Copley Square.
Cannon-Grant said she opted for a stationary rally for "Hands Off Our Pride," rather than a march through the city, since she knows it's move-in day for students.
The event on City Hall Plaza, which will run from 9 a.m. to noon, will feature a series of speakers, she said.
About a thousand people have already indicated that they are planning to attend on the event's Facebook page.
The goal, Cannon-Grant said, is to outnumber the participation in the parade.
"I want the narrative to be that 'straight pride' day was overshadowed by the power of the LGBTQIA community, by the tenacity of that community," she said. "I think we show strength in numbers. I think the goal is to change the narrative, so they're not getting the press that they're getting because they don't deserve it."
Cannon-Grant said she doesn't have the option to ignore the parade and its message, just as she couldn't ignore the "free speech" rally in 2017.
"Even though that's not my identity, I have family members who identify as LGBTQIA," she said. "When we ignore something, nothing gets done. If we had ignored Question 3 for transgender rights, imagine what we would be… Ignoring stuff doesn't work. It never has. If there wasn't Marsha P. Johnson, Martin Luther King, and individuals like that, we wouldn't have some of the rights that we have today. So anyone who says ignore it — what happens when we ignore racism? We get Donald Trump."
According to Boston magazine, the organizers behind the "Straight Pride Parade" have been involved in other controversial rallies in Boston, including the 2017 "Rally for the Republic" and a pro-gun protest in response to the March for Our Lives last year.
The connection is not lost on Cannon-Grant.
"They changed their name and they're just finding something else to hate," she said.
That's why her message on Saturday is the same as that in 2017, Cannon-Grant said.
"The world is watching and how we deal with racism and how we deal with hatred and how we deal with discrimination is going to be recorded," she said. "And I think we have an obligation to stand up and fight, so that's what I plan to do."