Local
After 'Straight Pride Parade,' City Council president says Boston should review permitting process
Mayor Marty Walsh opposed the message of the parade, but says organizers had a "First Amendment right" to march.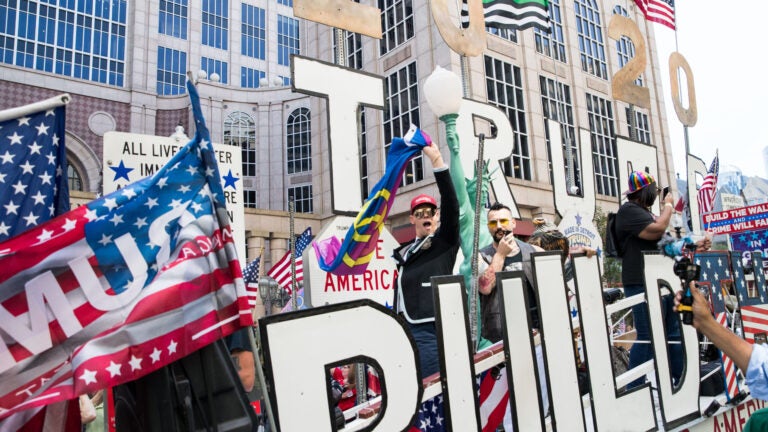 Boston City Council President Andrea Campbell says the city should review its process for approving public events following the weekend's disruptive "Straight Pride Parade."
The right-wing demonstration — promoted as pro-heterosexuality, but criticized as intentionally provocative and homophobic — attracted hundreds of marchers and thousands of counter-protesters to closed-off downtown Boston streets Saturday.
While the parade itself went without major incident, some protesters clashed after the event with the hundreds of police officers. The event resulted in 36 arrests and criticism of officers' use of force, including pepper spray, to disperse the crowd. Campbell says it could be an "opportunity" to look at how city officials deal with similarly divisive groups going forward.
"While I am a firm believer in free speech, I'm not okay with wasting tens of thousands of taxpayer dollars for a group to come into Boston from out of state to create chaos and spread hate," the District 4 councilor wrote on social media Tuesday.
Campbell — whose district includes Dorchester, Mattapan, and parts of Roslindale and Jamaica Plain — said she'd prefer the money be spent on community policing and violence prevention. The second-term Democrat added that she had received complaints from constituents who were "disturbed and upset by the way some officers responded" and planned to share their messages with Boston Mayor Marty Walsh and Police Commissioner William Gross.
https://www.facebook.com/andreajoycampbell/posts/2527009013989090
"This provides us with an opportunity to review our permitting process, especially with respect to organizations that are pretending to march under the guise of free speech but instead marching to promote hate, racism and bigotry, and thus incite violence," Campbell wrote.
In June, Boston Mayor Marty Walsh noted that permits for parades and other public events in the city are granted based on "operational feasibility," as opposed to "an organization's values." In an interview Tuesday, Walsh told WBUR that he personally would have preferred the "Straight Pride Parade" had not happened, but said organizers had a "First Amendment right."
"Unfortunately, I have no way to keep them out of Boylston Street and keep them out of marching here," the mayor said. "If I could, I would. I know if we went to court, that would have been thrown right back at me in about two seconds."
Walsh noted that the city had prior experience with controversial rallies, referring to the "free speech" rally on Boston Common in 2017 that was upstaged by more than 40,000 counter-protesters. The rally occurred in the wake of a white nationalist rally in Charlottesville, Virginia, which turned deadly.
In defense of the number of police present for the "Straight Pride Parade," Walsh referred back to the Charlottesville rally and said that the city's top priority was safety.
"I'll be second-guessed all day long, but, if somebody lost their life on Saturday, we'd be criticized for not having enough police protection out there and not having enough protection," he said. "Unfortunately, we needed it Saturday."
The three dozen arrests Saturday ranged from disorderly conduct to assault and battery on a police officer. And while Walsh said he didn't "necessarily blame" protesters who were looking to disrupt the "Straight Pride Parade," he added that "you can't do it violently."
Walsh said that he and Gross take any complaints about police misconduct seriously, but contended that video clips posted on social media often lack context.
"There's things that happen before that that lead up to that, so you just can't get a full assessment of what's happening," he said. "I do know that when you have 36 arrests at any type of protest, there's a lot going on at that particular time."
While the vast majority of protesters were peaceful, the mayor said he was most upset that the "Straight Pride Parade" organizers were successful in instigating "division between people."
"That's exactly what they're starting to see now," he said. "Our values in Boston are inclusion, acceptance, love. We need to make sure that we continue to do that and continue to pass that message along."
Walsh added that "one of the best" parades in the city was the Boston Pride Parade, which celebrates LGBT rights.
"We don't have problems in that parade," Walsh said Tuesday.