Local
State high court sides with Rachael Rollins in spat over 'Straight Pride Parade' protester arrests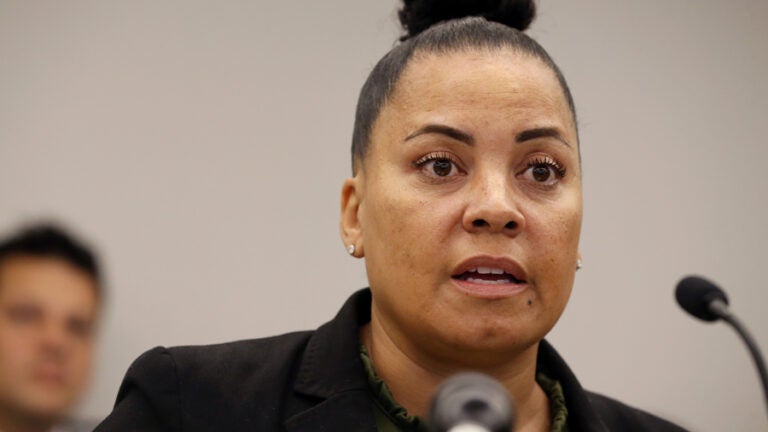 BOSTON (AP) — Massachusetts' highest court has sided with Boston's district attorney in a dispute over the prosecution of counterprotesters arrested during a ''straight pride'' parade over Labor Day weekend.
State Supreme Judicial Court Justice Frank Gaziano, in a single-justice ruling issued Monday, said Boston Municipal Court Judge Richard Sinnott had ''no authority'' to force Suffolk County District Attorney Rachael Rollins's office to prosecute Roderick Webber, a counterprotester charged with disorderly conduct.
The judge ordered Sinnott to recognize Rollins decision to drop the case and have it expunged from Webber's court record.
''The prosecutor's sole authority to determine which cases to prosecute, and when not to pursue a prosecution, has been affirmed repeatedly by this court since the beginning of the nineteenth century,'' Gaziano wrote. ''Such a decision, in which a prosecutor decides how to allocate her limited resources, is made countless times every day in courthouses throughout the Commonwealth.''
Rollins has argued that Sinnott overstepped his constitutional authority in refusing her bid to drop charges against Webber and other counterprotesters facing minor infractions following the Aug. 31 parade.
Eight others have been arraigned on more serious violent charges, such as assault and battery on a police officer, and Rollins' office is seeking to prosecute those cases. A total of 36 people were arrested. A spokeswoman for Sinnott didn't comment.
Rollins said she's pleased with the decision and is evaluating the other non-violent cases, as well as looking into complaints that police used excessive force.
''This was a colossal waste of time,'' she said of the public dispute with Sinnott. ''Anyone who has gone to law school knows that there's a separation of powers'' between the judicial and executive branches of government, Rollins said.
Organized by a group calling itself Super Fun Happy America, the downtown Boston parade was meant to be a counterpoint to gay pride parades. It featured floats supporting President Donald Trump and conservative and white nationalist speakers.
Rollins declined to say whether she thought Sinnott should be sanctioned further.
The Massachusetts Association of Criminal Defense Lawyers has called for the Administration of the Trial Court and the Massachusetts Commission on Judicial Conduct to review Sinnott's actions, which included handcuffing and holding in contempt a defense lawyer representing one of the counterprotesters in court last week.
''We all have our bad days,'' Rollins said of Sinnott. ''This wasn't his finest moment.''
But she suggested Sinnott's denials were part of a broader pushback against her policies, which have put her at odds with the state's judicial and law enforcement establishment.
The Democrat was elected last year on a campaign promise not to prosecute nonviolent offenses like drug possession, shoplifting and trespassing that she says disproportionally hurt poor and black communities.
''Change is really hard,'' Rollins said. ''But appointed officials don't get to infuse their opinions into matters where the people of Suffolk County have spoken.''