Local
Here's why the Fall River scandal reveals deeper concerns about the Massachusetts marijuana industry
"There's a problem here."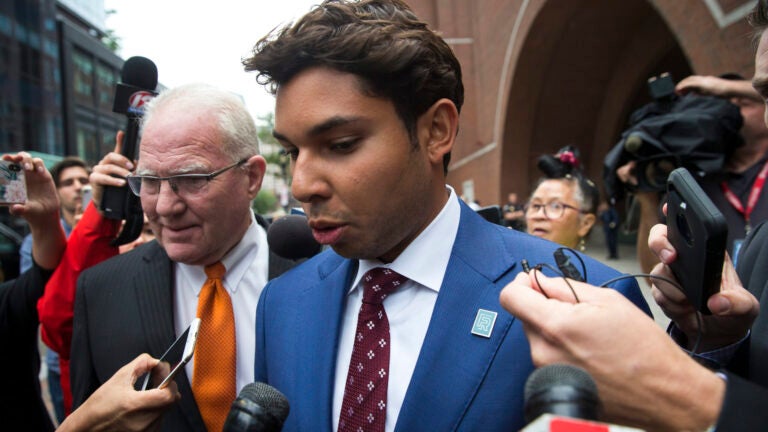 The new federal charges against Fall River Mayor Jasiel Correia are prompting renewed scrutiny of how marijuana businesses are approved across Massachusetts.
Correia allegedly used his position to extort hundreds of thousands of dollars from people hoping to open marijuana dispensaries in Fall River in exchange for his office's approval. Federal prosecutors say the 27-year-old mayor received under-the-table cash payments, campaign donations, and even a Rolex watch in the pay-to-play scheme.
The case has also highlighted an unusual alignment of two often-opposed groups: law enforcement officials and cannabis industry advocates.
The two sides share dovetailing concerns about the local approval process for marijuana companies in Massachusetts. While less overtly illegal, companies in the state are forced to make payments to cities and towns that some argue, in the absence of state oversight, amounts to "extortion and bribery in plain sight."
"I hope today's indictment will prompt the Cannabis Control Commission, the Legislature, and other stakeholders to evaluate what additional safeguards or reforms are necessary," Massachusetts Inspector General Glenn Cunha said in a press conference Friday announcing the charges against Correia.
"I hope that this egregious example does not eclipse the similar financial shakedowns on the cannabis industry present in nearly every Host Community Agreement signed to date in Massachusetts," Jim Borghesani, a cannabis industry consultant and the former spokesman for the state's 2016 legalization campaign, said in a statement.
Here's why they have similar concerns.
How the approval process currently works
Business owners in the Massachusetts marijuana industry have to complete a number of steps before they can open, beginning with local permits and ending with a license from the state's Cannabis Control Commission. But one crucial hurdle is something called the host community agreement.
Before they can apply for a state license, businesses are required to agree to a host community agreement with the officials in the town or city where they're located. The contracts are negotiated by the two sides and spell out the terms under which the new business will operate and were intended to ensure that communities had a say on any pot shops or cultivation facilities that wanted to open within their borders.
Host community agreements also set forth how much businesses will pay their local community in fees and taxes.
Cities and towns are allowed to tax marijuana sales up to 3 percent, as well as collect a "community impact fee"  from companies. State law says that community impact fees must be "reasonably related to the costs imposed upon the municipality" by the opening of a new marijuana business and cannot exceed 3 percent of the company's revenue. According to the CCC, those fees are supposed to cover things like police overtime or traffic design studies.
Host community agreements are not the same as non-opposition letters, which prosecutors say Correia used as leverage in his alleged pay-to-play scheme. However, such letters are not legally required for recreational marijuana companies and haven't been widely used in several years, at least in adult-use licensing, according to those working in the industry (according to the CCC, they're still required for medical dispensaries).
Kevin Conroy, an attorney at the Boston law firm Foley Hoag, who works with cannabis companies in the licensing process, says most municipalities require the local legislative body — town selectmen or city council — to sign off on host community agreements for both adult-use and medical marijuana companies.
"I haven't seen a municipality where a mayor or a city official can unilaterally approve a host community agreement," Conroy told Boston.com. "I do think, in most communities, there are checks and balances to ensure that the entering into a host community agreement is what's best for the community."
The concerns are twofold
The first issue is that, to a degree, those checks and balances end at the local level. And advocates say most municipalities are going beyond the spirit of the law when it comes to the fees they charge fledgling marijuana businesses.
Concerns have been raised since even before any marijuana dispensaries opened in Massachusetts. As The Boston Globe first reported back in August of last year, the host community agreements for the first nine companies to receive a provisional license from the CCC appeared to violate the agency's own laws.
All but one of the contracts included provisions calling for companies to make annual, lump-sum payments to their communities, in disregard of the law capping community impact fees at 3 percent of revenue. And according to the Globe, all of the agreements allowed municipalities to use the funds for any purpose.
In January, an industry study found that 79 percent of the state's 77 host community agreements at the time required payments exceeding the 3 percent limit. Virtually all of the deals also reportedly called for "voluntary" donations for third-party charities. While some legal experts say the law doesn't explicitly ban such payments, Shaleen Title, one of the five CCC commissioners, has abstained on nearly 80 percent of the panel's final license votes in protest of what she thinks are legally dubious host community agreements, as Commonwealth magazine reported last month.
Whether legal or not, cannabis industry members and advocates have argued that the agreements have slowed the statewide rollout of pot shops and exacerbated the lack of diversity in the industry.
"It squeezes the little guys out," Peter Bernard, the president of the Massachusetts Growers Advocacy Council, told Boston.com. "The people who are going for those smaller businesses are getting squeezed out because they don't have the money to compete with the deeper pockets and can't afford to pay those kind of ransoms."
And, currently, state regulators say they can't do much about it.
In a statement, a CCC spokesperson told Boston.com that the commission has "strong suitability standards for licensure." But for more than a year, the CCC has maintained that it does not have the legal authority to review host community agreements — an opinion that has been affirmed by at least one state judge.
The agency voted in January to ask state lawmakers to pass a bill giving them clear authority over the agreements.
"It has been a barrier to entry for some of the communities and the people that we've been trying to help," CCC chairman Steven Hoffman said at the time. "There's a problem here."
The second concern is more directly related to a more classic style of government corruption. Despite the local checks and balances, both law enforcement officials and cannabis industry advocates say the system is ripe for the type of "pay-to-play" abuse alleged in Fall River without state oversight.
Bernard says that the approval of a host community agreement can ultimately reside with a single official, whether it be a mayor or a council member with a deciding vote. Andrew Lelling, the U.S. attorney for Massachusetts who brought the charges against Correia, says the dynamic "invites this type of petty corruption."
"It creates an enormous amount of temptation," Lelling said in the press conference Friday.
"With marijuana legalization for recreational use having happened relatively recently, there's now a surge in these applications," he explained. "Many businesses, in a relatively short interval, are looking for permission to set up what they think will be a lucrative business. On top of that, at this point anyway, they are often a cash business because marijuana businesses can't use the federal banking system. So you have a situation where local authorities, local mayors could be sorely tempted in taking bribes in exchange for a letter. And that single letter can be the ticket to a marijuana dispensary opening a very lucrative business."
Lelling said the subject is a concern "more broadly than in Fall River."
So what happens next?
The episode in Fall River seems to have reenergized the debate around host community agreements just as Massachusetts lawmakers reconvened for the fall legislative session.
Gov. Charlie Baker told reporters Monday that he would support the CCC's recommendation with regards to changes to the current law. And in an interview with the Globe, the Massachusetts Republican suggested he was open to some form of state oversight of the local agreements. Though as the State House New Service noted, the governor and legislative leaders appeared generally unfamiliar with the subject.
The Legislature's Joint Committee on Cannabis Policy held a hearing in July on two bills related to host community agreements. One bill, introduced by state Sen. Julian St. Cyr, would give the CCC more explicit authority over the local deals, as the agency requested earlier this year. The other, backed by state Rep. David Rogers, would more clearly prohibit community impact fees that exceed 3 percent of a company's revenue.
"Requesting more than what is statutorily required is a distortion of the marketplace that we would not tolerate in any line of business," Rogers said during the hearing. "It's about what is fair."
St. Cyr told the Globe Monday that more urgent action on the legislation could at least be a "silver lining from the reprehensible actions of the mayor of Fall River."
Municipal representatives have opposed tighter oversight and regulation of the host community agreements. Geoff Beckwith, the executive director of the Massachusetts Municipal Association, which represents local city and town governments, says the group "strongly opposes" both of the aforementioned bills.
"The MMA believes that these bills are overreaches and would usurp local authority," Beckwith wrote in a July letter to legislators, arguing the policymakers should instead focus on programs to assist small players in the industry, rather than "undermining" communities' "ability to represent the public's interest."
Conroy cautions against overreacting to "one bad actor" in Fall River and thinks the vast majority of municipal officials are making good-faith efforts to represent their communities. Still, he thinks that lawmakers need to act to resolve uncertainty around host community agreements, both regarding the CCC's authority and the community impact fees.
"I think everybody in this industry right now is just looking for clarity," Conroy said. "I think municipal officials are looking for clarity. I think the Cannabis Control Commission is looking for clarity. And the private industry is looking for clarity."
He added: "We now need the Legislature to provide clarity.`