Local News
These businesses have weathered decades of change in Harvard Square. What their owners have to say about the ongoing transformation.
"There's no way it will ever go back to the way it was. It just needs to find its little niche again in the earth."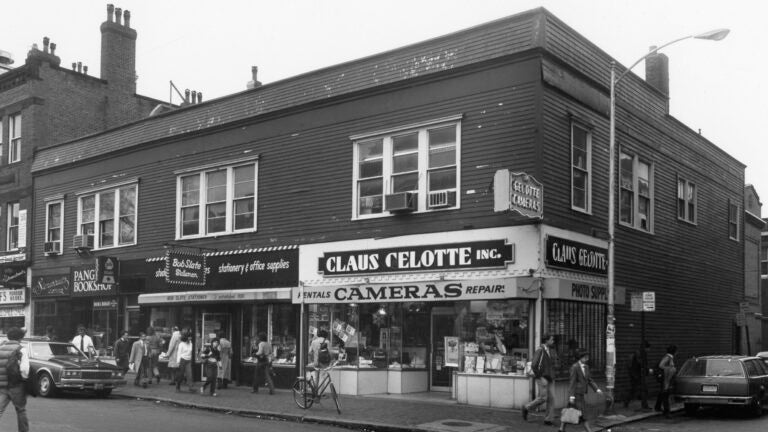 The fur of the cheetah is faded from the sun's rays.
But, perched atop the elegant wood that frames the windowpanes and entry to Felix's Shoe Repair, the aging stuffed animal still appears majestic, a watchful keeper to one of Harvard Square's oldest independently owned local businesses.
Shoelaces, belts, and handmade leather sandals line the walls inside the sunlight-brightened shop where Christos Soillis works alone each day, following a routine that has seen him fashion footwear and repair countless soles for Harvard students and locals alike for decades.
On a summer afternoon, Soillis, who emigrated from Greece in 1963 , held up the cardboard box that would usually hold the shoes due for repairs that day as an AM radio station reeled off the day's headlines.
It was empty.
"The old days were different," the 83-year-old said ruefully. "When I used to work for this guy —  and I worked for four other shoe makers nights and Saturdays — they had five boxes: Monday, Tuesday, Wednesday, Thursday, and Friday. … Full boxes. Today, like I said, my box is empty."
The "real Felix" founded the shoe repair shop in 1909, Soillis said. In those early decades, the shop offered newspapers and magazines for sale out front, while shoe repairs, shines, and hat cleaning was offered in the back.
Soillis said he didn't speak English when he arrived in the United States, so he looked for employment where his bosses or co-workers spoke Greek. He ended up splitting his time between Felix's and the Stride Rite factory in Boston where he worked nights and weekends.
In 1969, Felix's was slated to close, having changed hands from a father to a son.
Despite a lack of funds and the language barrier, Soillis was determined to take over the shop.
"I didn't have any other choice," he said. "I wanted to try because I liked the Square."
He bought the business in 1969, and for the next 33 years, he ran the shoe repair shop out of the building's basement space, surviving through the years as his competitors closed one by one.
Soillis noted that when he started out, there were four shoe stores in Harvard Square and six other cobbler shops.
Now, only Cambridge Shoe Repair, located between Harvard and Central on Mass. Ave., and Soillis remain.
There are no shoe shops in Harvard Square anymore.
'I don't know what's going to happen'
In recent years, Harvard Square has seen the departure or closure of dozens of businesses, from mainstays like John Harvard's and the World's Only Curious George Store to chains like Chipotle, driven in part by rising rents and the commencement of multiple construction projects set to take place over the next two years.  Most recently Black Ink, the vendor of "unexpected necessities" ranging from stationary and greeting cards to bento boxes and puzzles, announced it would close its location on Brattle Street by the end of the year, citing an "unsustainable" increase in the rent charged by landlord Asana Partners.
With construction detours and boarded up storefronts taking up the public's attention, the question of what will be left — and what will arrive — when the dust settles is being asked by city officials and business owners alike.
For Soillis and other longtime independent business owners, who have weathered decades of shifts in Harvard Square, there is both hope and trepidation about what comes next.
Inside Dickson Brothers Hardware, where hand-drawn numbers on cardboard hang from the tin ceilings to mark the aisles, owner Ned Ver Planck says his own business has evolved with the times to adjust to customer demands.
His father, Edward, bought the business from the original Dickson Brothers in 1962 and expanded it when he purchased the building in the early 1970s.
"There's been changes over time," the hardware shop owner said. "And you weather through it. This one, I don't know what's going to happen."
Ver Planck, who took over from his father 39 years ago, said he "grew up" in the store, coming in to clean and tidy up and later assist customers.
"The Square was completely different," he said. "It was very Mom-and-Pop-type stores. Nothing big time business-wise. The real estate values were less. It was just a completely different era."
Rising rents in the '80s contributed to the end of the Mom-and-Pop era in the Square, Ver Planck said of the transformations he's witnessed. Local retail businesses also weren't immune to developments at the national level in the industry — with the advent of the internet, big box stores, and online retailers like Amazon.
But they have found ways to remain connected and necessary to the community around them.
Laura Donohue, owner of Bob Slate Stationer, said small business owners do not shirk from change itself, knowing being nimble and adaptable to trends to survive is part of being an entrepreneur.
"You wouldn't own a small business if you were afraid of change," she said. "What you're afraid of is poor planning or bad assumptions. And being collateral damage from somebody else's big 'oops.'"
Ver Planck said the ongoing construction just adds to the perception that Harvard Square is changing even more than what might be considered normal.
"People are  — not boycotting Harvard Square — but they're kind of going, 'Oh, it's not the same. It's going to be one big mall,'" he said.
Soillis and Paul MacDonald, owner of Leavitt & Peirce, both credited their landlord, Harvard University, for being fair to them through the years, compared to the treatment other businesses have been handed. When Harvard bought and renovated the building that houses Felix's Shoe Repair in the '90s, Soillissaid the university moved him from the property's basement to light-filled space on the street.
The Mass. Ave. neighbors also agreed that over the years, the Square seems to have become more of a destination for nighttime eating and drinking, rather than a spot drawing people for its retail offerings.
MacDonald has run the iconic Leavitt & Peirce — vendor of tobacco products, gifts, and specialty toiletries — since 1985, when he took over for his father.
"If we move our trash barrel two feet, people get nervous," he said. "When we empty our front windows to put in a new seasonal window, people think we're going out of business. There's PTSD around empty windows, and there are plenty of them. It's a shame."
Ver Planck and the Leavitt & Peirce owner both said they've observed a revision in the way Harvard Square is talked about by other locals.
"I remember people [said], 'Oh, you work in Harvard Square? Oh, that's great, I love Harvard Square.' And they go on and on and on about," the owner of Dickson Brothers said. "Now it's, 'Oh, Harvard Square? I haven't been there in a long time. Is that still here? Is that still here?' There's not too many people who were here, say 30 years ago, who are still here."
Ver Planck acknowledged he's in a unique position in the Harvard Square business community since he owns his building.
"I don't think we'd still be here if we didn't own the building," he said, recalling when rents began to creep up.
Though he may be lucky in the sense that he doesn't have to worry about a landlord tripling his rent, Ver Planck emphasized he is still dependent on bodies coming into the hardware shop.
"No matter how much I own the building, if I don't have people coming in to buy stuff, it makes no difference," he said.
Students and tourists continue to frequent the Square in droves, the business owners said. But shoppers don't visit as much from surrounding communities, like Arlington, Belmont, and Watertown.
Seated in a balcony overlooking the main floor of Leavitt & Peirce, the shop's chess parlor, MacDonald pointed to the new reality that parking spots are easily found during the day on Harvard Square streets as evidence of the downturn in daytime foot traffic into the stores.
That's something he says never used to happen.
MacDonald said some of the Square's loss of character  — and its draw — stretches back to the end of rent control in the surrounding neighborhoods.
He recalled that Harvard Square used to be a haven for writers, poets, and musicians.
"The fabric of the Square was unique, thriving," he said. "And the stores matched that. They were quirky, funky. You never knew what you would find on another block."
Denise Jillson, executive director of the Harvard Square Business Association, said it is just the "reality of life" that people who visit the Square after a long absence will find it isn't the same.
"We have people that were here coming of age in the '40s or the '50s or the '60s or the '70s, they come back and they say, 'Oh, it's not what it used to be,'" she said. "Well yeah, because it changes. Because we all change, and you can't preserve it in amber. You just can't. That's not the way it works."
When you have businesses that hang and remain, like Felix's, Dickson Brothers, Leavitt & Peirce, and Bob Slate, that's something to celebrate, she said.
Donohue said she and other longtime businesses in the Square just want to "find [their] place" in the transformation of the Square.
She hopes that new tenants will recognize what makes the Square great and build on it.
"We have customers that we only see once a year, and yet they are regular customers," she said. "And they come in and they expect to see us and they expect to still see what they want. And it is their routine — it is our routine," she said. "Change exists but you still need an anchor through that change."
'There's something grounding about coming in here'
Donohue grew up in Milton, and she recalled hopping on a train as a teen with her friends to visit Harvard Square, drawn in by the distinctive and fun stores it offered.
"Harvard Square was a cool and funky place to visit and shop as burgeoning adults," she said.
What was once a fun destination to visit became home to her, first as an undergraduate student at Harvard and later when she moved back to the area.
But her relationship with the Square changed forever one day in 2011. It started as a bad day. She'd been struggling with an illness, and to pick herself up, she decided to visit her favorite shop, Bob Slate Stationer, to buy a pen.
For her, the essence of the stationery shop, which took up residency in Harvard Square in 1930, was a place where people could congregate and surround themselves with items that made them feel good.
When she arrived at the store that day, it was to learn that the owners had decided to close up shop. Customers were weeping in the aisles, and she felt spurred to act.
By the end of her visit, she'd bought her new pen. She'd also inquired about how she could go about buying the store.
"I wanted to maintain what I thought was a central part of the culture of Harvard Square, which is a place for people to come and socialize around something that is really important to all of us, which is writing," the Harvard and MIT alum said. "This is a writing environment — this is an educated environment."
There are many other spots in the Square like that — places that are essential to the lives of their customers, students and Cantibridgians alike, she said. The shops fulfill a need both for items of a practical nature — the perfect pen for a journal or basic housewares for a student kitchen — and something deeper.
While she was a student at Harvard, Leavitt & Peirce was a known hangout for students. The shop was where the daily practice was posted for rowing, so Donohue checked the store each day.
"We all congregated at Leavitt & Peirce every day even though none of us smoked," she said of the shop opposite Harvard Yard. "But Leavitt & Peirce was central to your daily life."
For the smoke shop owner, weathering the times has been coupled with carefully maintaining the slice of history his shop embodies. Founded in 1883, the shop — with its black and white checkered floor, forest green walls, and the distinctive aroma of pipe tobacco — has continued to vend smoking supplies, chess sets, and novelties over the years in the exact same storefront.
Walking into the shop is like walking back in time, with artifacts of Harvard's history — from old footballs to photos of university teams dating back through the turn of the century — lining the walls.
MacDonald, who also grew up in Milton, said he never really came to Harvard Square much during his childhood. It wasn't until he was sent over to Leavitt & Peirce by his father, who was managing several stores owned by the Ehrlich family, that he got to know the Cambridge neighborhood.
"I said, 'Oh Dad, please no, not Harvard Square, it's a bunch of hippies and crazies and liberals,'" the Milton native recalled. "And I came here, and I just realized, it's really cool. It's funky, it's quirky."
He was struck by the range of customers who frequented Harvard Square — from professors to townies to students to Nobel Prize winners — and fell in love with the shop's connection to history, which continues to this day. MacDonald's father ended up buying the store from the Boston tobacco family in 1979.
It remains the site of many a memory for former university students. WhenMacDonald first started at the shop, he saw customers — Harvard alums who served in World War II — who were in town for their 50th class anniversaries. Now, the alums coming into town for 50th anniversary reunions are "the hippies from 1969," he said.
"When they walk in, their shoulders just kind of slump down a little and they just relax," he said of his customers. "There's something grounding about coming in here, like, 'It's still here.' And they can just meander around and discover."
Like other mainstays, his shop is a refuge, he said, for both those who wander in and those who double park outside to rush in for their regular order.
'I don't think there's any better place than Harvard Square'
While the atmosphere of Harvard Square has evolved, MacDonald said he doesn't think the uniqueness of the brick-sidewalked center will ever fully be lost.
"It's a place where everything seems to be in proportion," he said. "The trees, the buildings, and the people. It's kind of cool. The winding roads and the river."
Where else, he said, can visitors go from taking in history older than the nation's founding with Harvard Yard to seeing the "poetry in motion" that is observing rowers on the Charles River.
"It's just what's in the buildings," MacDonald said of the uncertainty about what will come in after the construction. "That's all."
Jillson said whatever happens, the history steeped in the Square's stones will never be lost. That's why balancing a blend of unique shopping and dining experiences for residents and tourists is key for the HBSA.
"People come from across the country to visit Harvard Square for its history," she said. "That's really the most important component as far as we are concerned. Then once the people come here, what you're hoping is that they will patronize the stores and the restaurants and keep coming back so that places like Leavitt & Peirce and Dickson Brothers and Bob Slate can survive."
Donohue said the Square draws its essence from the people inside the shops.
"If I walk by Christos, I can see him working through that beautiful window and I can wave and he'll see me," she said. "I can then get to Leavitt & Peirce and I can see Paul behind the counter and I can wave. You just get drawn right into the door because of the quirky architecture, which is just funky storefronts that are a little bit this and a little bit that."
She emphasized the importance of bringing in businesses to the empty storefronts that will contribute to the life of the community, once construction is complete.
Next door, her neighbor Ver Planck said it's about making sure Harvard Square remains an enticing destination, offering an experience that other retail destinations like Downtown Crossing and the Seaport can't, by complementing what already makes it special.
After moving away for college, Ver Planck was himself drawn back to the Square and the hardware store by the singularity of the business — the "odds and ends" packed into the building and the way the merchandise changed with the seasons.
"It's a cool unique place," he said. "I don't think it's ever going to go back to the way it was. There's no way it will ever go back to the way it was. It just needs to find its little niche again in the earth. Just find it's little niche in the area."
Donohue said she hopes businesses owners can work together and teach newcomers about the community, in the same way that she learned from the previous owners of Bob Slate.
Before she bought the shop, she said she had no idea how tightly-knit — and supportive — the community of business owners was.
"It's the people," she said. "It is not the buildings. There is no life inside a piece of stone. The life is through the window — looking at Christos grinding your shoes."
The cobbler, who humbly refers to himself frequently as "not an educated person" during conversation, said that over the years he has persevered at his shoe repair shop with the help of the community.
There are a lot of good people in the world, he says. That's one of the reasons he continues to run his shop at 83 years old — why he says he cannot close.
"I like what I'm doing, and until the last minute, I'm going to work, I'm going to be here to give back as much as I can with people that helped me," he said. "They gave me a business and supported my family. I started with nothing and I have a house to live and I have a piece of bread and an apron to wear."
He said he feels responsible for his customers, and he knows that his dedication to quality and service has helped him weather changes.
Still, there are some changes he hasn't kept up with. Don't try looking for a phone number to call his shop — he doesn't have one. And as two customers were reminded during an afternoon, he only accepts cash or checks as payment for his work, which he will tally by hand on a piece of paper.
But whatever he repairs for you, he will hand it back, as one repeat customer noted, "better than when they were new."
And even though his own industry is facing a decline and he doesn't know what will happen to his shop when he can no longer run it, Soillis said he remains optimistic about the future of the Harvard Square he fell in love with in his '20s.
The students may no longer be wearing pants with creases pressed like a knife, or shoes shined like glass, but you can still find a mix of people, he said. Poor people, rich people, middle class people, and educated people.
"I don't drive a lot and I don't take vacations going around the world," Soillis said. "But to me I don't think there's any better place than Harvard Square. For everything — anything you put on your mind —  Harvard Square is a paradise."
 Even with the closures and construction projects, the 83-year-old said he's convinced there is no comparison.
"Today it's going down, but it will not be forever," he said. "It will change."