Local
250 pigs got loose at a Vermont farm. Now the federal government is helping to track down the stragglers.
"It's just not an ideal situation for anyone."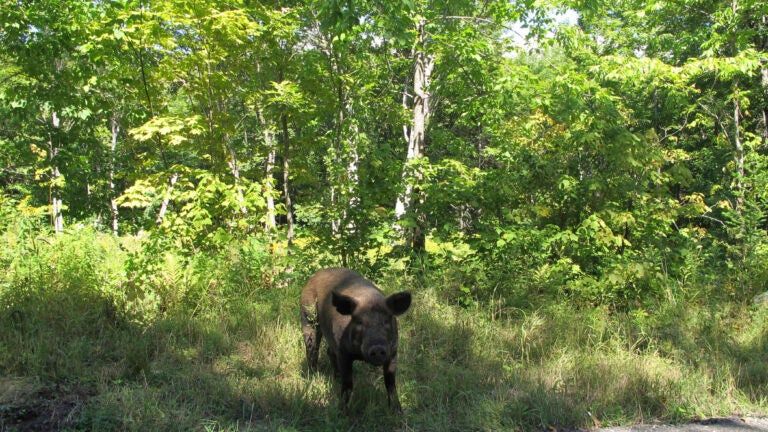 Of the 250 little piggies that got cut loose at a Vermont farm over a month ago, some stragglers that hoofed it still have yet to make it all the way home.
Now the federal government is helping to find them.
Walter Jeffries alleges the four-legged fugitives escaped from fenced pastures at his Sugar Mountain Farm in Orange, Vermont, on Aug. 11 after the fence was sabotaged by vandals.
Two hundred were piglets, the other 50 were adult pigs. The farm offers "fresh and smoked pastured pork" year round that it sells to restaurants, stores, and the public, according to its website.
Jeffries says most or "about 100 percent" of the pigs have made their way back — some with the help of hot dog buns guiding them — but for those that remain at-large, the farm is getting a helping hand from the U.S. Department of Agriculture, or USDA, and state authorities.
"I gave them permission to setup game cameras outside our primary farming area on my land (I farm about 70 acres of my 1,000 acre forest land) and to setup live traps for the pigs further out around the one mile mark in case any are that far," Jeffries wrote last week on the Sugar Mountain Farm Facebook page. "They'll let me know what they find. I haven't seen any signs of any pigs going that far."
The USDA's involvement comes after a Sept. 10 deadline state officials gave the farm to get the pigs in line amid local reports last week that some continued to wander the nearby roads and neighboring properties weeks after the outbreak.
Eric Holmgren, chairman of Orange's Select Board, drives past Sugar Mountain Farm daily to document how many escapees he says are hogging up the roadway and surrounding area.
He's personally seen pigs as far as a half mile away, he said.
"Some of them are two miles away," Holmgren said in a recent interview. "We've got one report today that one was three miles away."
'It obviously was an inside job'
Jeffries said the farm experienced other alleged crimes not long after the pigs got loose.
In posts on the farm's website and on social media, Jeffries wrote tools valued at thousands of dollars and meat were also stolen from the farm on Aug. 23.
Jeffries believes a former farm employee was involved in the incidents, he said.
"Someone sabotaged our fencing in order to cause trouble for our farm," he wrote on Facebook. "This is the second time it has been done about a year apart … I've been keeping pigs on pasture here for about 18 years, almost 19 years, and haven't had a problem before."
He did not respond to requests for comment from Boston.com.
Vermont State Police are investigating. Authorities have been able to recover many of the stolen tools, according to Jeffries.
"The police said … that it obviously was an inside job, that the thieves had inside info, based on their behavior," he wrote on Facebook. "The saboteur did too."
The farm is offering an undisclosed reward for information regarding the incidents.
In the meantime, Jeffries wrote in an Aug. 28 post on the website that the loose pigs had already cost him thousands of dollars and interrupted his meat delivery schedule.
"Dealing with this is taking our total focus to rebuild the fences and get the pigs back in," he wrote, adding though on Facebook that new barriers have been installed.
The town had fined him $136,000 as of Sept. 9, according to Holmgren, who said the total climbs each day a pig remains unaccounted for.
'It's just not an ideal situation for anyone'
The outbreak has been tough on neighbors, too, Holmgren said.
"They don't like to come out of their house when there is a pig 10 feet from their back door … it's just not an ideal situation for anyone," he said.
Orange Town Clerk Angela Eastman told NBC5 on Sept. 11 that six residents had reported pig sightings on each of their different properties.
Eastman said the pigs have been "rooting up their lawns and trampling their fences."
"The pigs have been allowed and remain to be allowed in the town right of way so cars are unable to pass, people can't walk on the road because the pigs chase them," Eastman told the Associated Press in late August, around when Jeffries said most of the pigs had already been wrangled.
He disputes officials' accounts that the pigs wondered far from home and caused a ruckus for traffic and pedestrians.
Jeffries said on Facebook "virtually all of the pigs stayed right here on our farm."
"They were not all over town contrary to the town clerk's claims and stories in the media," he added. "Two sows went to a neighbors and did a very small amount of rooting in their grass. This is an isolated valley and a long ways from anyone else."
'This has gone on long enough'
Vermont is among the states that do not have a feral hog population. (A lone, wild pig was, however, caught earlier this year after months of reported sightings.)
State officials have expressed concerns about that changing, however, if all the pigs from the farm are not rounded up.
"Domestic pigs, if they become feral or wild, they can be very destructive to the environment,"  Vermont Agriculture Secretary Anson Tebbetts told WCAX earlier this month. "They can destroy habitat, they can destroy crops, they can destroy lots of things in the environment as well."
Jeffries said fears that the pigs will go feral are "over sensationalized."
"These pigs will not go feral," he wrote on Facebook. "Wrong genetics."
"The pigs would die in the winter without the support structure I give them," he added."
Still, the USDA's Wildlife Services met with the Vermont Agency of Agriculture, Food, and Markets, Vermont Department of Fish and Wildlife Law Enforcement, and Jeffries last week to discuss next steps, a USDA spokesperson told Boston.com Friday.
"We understand it's a very difficult situation for him and we're sympathetic with that, but this has gone on long enough," Tebetts told WCAX on Sept. 6.
In an email, Tanya Espinosa, a public affairs specialist for the USDA's Wildlife Services, said that all parties have agreed Jeffries "would continue to complete fence repairs and then contain pigs on and near the road adjacent to the core area of his property."
"Concurrently, (Wildlife Services) has begun surveillance of neighboring properties and work to capture the more distant animals," she wrote. "(The Vermont Agency of Agriculture, Food, and Markets) will oversee the progress and monitor the situation while (the Vermont Department of Fish and Wildlife) will assist in surveillance and legal guidance."
Espinosa said that if or when Wildlife Services captures any pigs, the livestock will be humanely euthanized.
"The Vermont Agency of Agriculture, Food & Markets continues to work with Mr. Jeffries to analyze his farm enclosures and their ability to securely house all the pigs going forward," Scott Waterman, policy and communications director at the Vermont Agency of Agriculture, Food, and Markets, said in a statement Tuesday. "We are also working to identify and locate any pigs that are seen off the property so that USDA Wildlife Services can effectively implement recovery plans to return all loose pigs back to the farm."
Jeffries said on social media officials are set to re-evaluate progress on fences this week.