Local
MIT scientist Richard Stallman resigns in the wake of his Jeffrey Epstein remarks
"I am doing this due to pressure on MIT and me over a series of misunderstandings and mischaracterizations."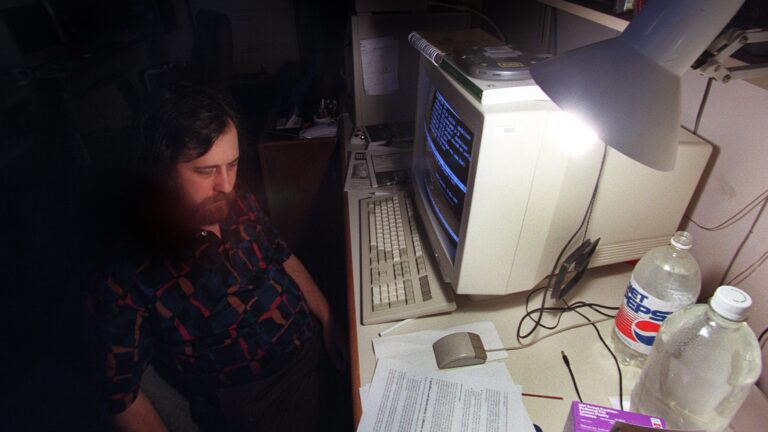 A prominent computer scientist at MIT's Computer Science & Artificial Intelligence Laboratory has resigned following recent remarks he made debating a former professor's alleged involvement in Jeffrey Epstein's sex ring.
Richard Stallman, a MacArthur genius grant recipient and Internet Hall of Fame inductee, wrote in an email to the MIT community Monday that he was "resigning effective immediately" from his position as visiting scientist at CSAIL.
"I am doing this due to pressure on MIT and me over a series of misunderstandings and mischaracterizations," Stallman said.
The 66-year-old leader of the free software movement, which promotes the freedom of developers to use and share their computer programs, recently argued in an email thread last week that Marvin Minskey, the late AI pioneer and longtime MIT professor, was unfairly accused of sexual assault and that one of the underage girls in Epstein's sex trafficking operation likely presented herself as "entirely" willing to have sex.
Last month, an unsealed deposition revealed that one of Epstein's alleged victims, Virginia Giuffre, had told prosecutors that one of Epstein's associates had directed her to have sex with the then-73-year-old Minsky, among other high-profile figures, while at the late financier's estate in the U.S. Virgin Islands in 2001. Giuffre was 17 at the time.
The day after the deposition was unsealed, Epstein was found dead in his jail cell from an apparent suicide while awaiting trial on new sex crime charges. In a discussion over email about the media coverage implicating Minsky in Epstein's sex ring, Stallman said the use of the word "assaulting" was an "injustice."
"The term 'sexual assault' is so vague and slippery that it facilitates accusation inflation: taking claims that someone did and leading people to think of it as Y, which is much worse than X," he wrote, adding that the word "presumes that [Minsky] applied force or violence, in some unspecified way, but the article itself says no such thing. Only that they had sex."
"We can imagine many scenarios, but the most plausible scenario is that she presented herself to him as entirely willing," Stallman added. "Assuming she was being coerced by Epstein, he would have had every reason to tell her to conceal that from most of his associates."
Others in the thread pointed out that sex between a 73-year-old and a 17-year-old amounted to statutory rape, aside from the fact that Guiffre said she was coerced, and that, additionally, debating definitions of "rape" and "sexual assault" wasn't a productive conversation.
"When this email chain inevitably finds its way into the press, the seeming insensitivity of some will reflect poorly on the entire community," one person replied. "Regardless of intent, this thread reads as 'grasping at straws to defend our friends' around potential involvement with Epstein, and that isn't a reputation I would like attached to my CSAIL affiliation."
The thread was written about on Medium last week by an angered MIT alum and a full copy was obtained and published by Vice's tech magazine Motherboard, which headlined their article: "Famed Computer Scientist Richard Stallman Described Epstein Victims As 'Entirely Willing.'"
Stallman also stepped down Monday as president and as a member of the board of directors of the Free Software Foundation, a Boston-based nonprofit group that he founded in 1985. The foundation said in a post Monday night that it would begin looking for a new president "immediately."
The renowned computer scientist is just the latest member of the MIT community to resign over the university's ties to Epstein, who donated at least $800,000 to the Cambridge institution and facilitated millions more in financial gifts.
Joi Ito, the director of the MIT Media Lab, resigned last week after a New Yorker investigation revealed how university employees worked to conceal the financial relationship to the disgraced hedge-fund manager and philanthropist. Two other Media Lab members also resigned last month in protest of Epstein's ties to MIT.