Local
Boston police officer placed on leave after students say he used racist slurs toward them at a McDonald's
Mayor Marty Walsh called the allegations "incredibly disturbing."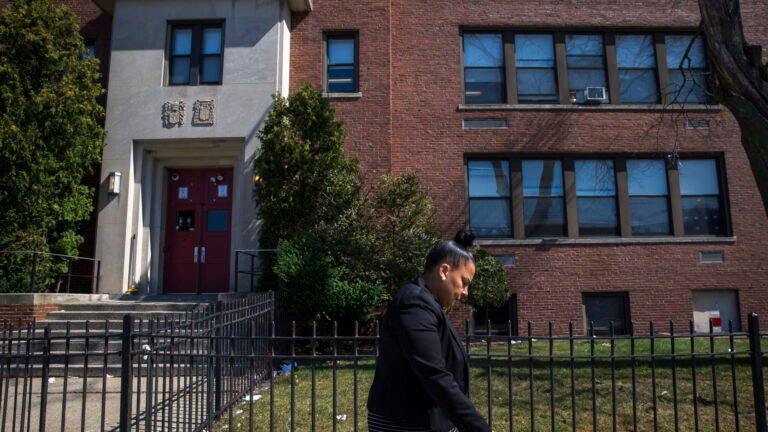 Boston police say they have placed a 16-year veteran of the force on administrative leave while they investigate allegations that the officer directed racist slurs toward high school students at a McDonald's in Hyde Park.
Joseph Lynch, an officer assigned to District E-18 in Hyde Park, was put on administrative leave after a report of misconduct from last Friday, Sept. 13, according to police spokesman Sgt. John Boyle, who told Boston.com on Friday that the department's internal affairs division is investigating the incident.
The Boston Globe reported Thursday that Lynch was called to a McDonald's in Hyde Park, where a group of ninth and 10th graders from Roxbury Prep High School's nearby lower campus were reportedly being disruptive and had been asked to leave. Parents and students told the Globe that, upon arriving at the fast-food restaurant, Lynch physically pushed the kids, used the n-word, and called them "monkeys."
Boston Mayor Marty Walsh called the allegations "incredibly disturbing," particularly so when made against a police officer.
"No one should experience racism or discrimination, not in a place of learning and not anywhere," Walsh said in a statement. "We have to be better. I commend Boston Police for taking action as soon as they were made aware of the allegations, and I am confident they will investigate this case to its full extent."
According to the Globe, Boston Police Commissioner William Gross and Suffolk County District Attorney Rachael Rollins even visited Roxbury Prep High School to apologize and hear from the students. While she was still waiting for the results of the investigation, Rollins reportedly said the students felt "attacked and racialized and dehumanized," adding that Lynch's alleged comments were "hate-filled and fuel distrust of law enforcement."
"My apology was that they had a negative interaction, and that could have caused them to not trust the police," Gross told the Globe.
One of the parents, Rafaela Martinez, said the students may have acted hostilely toward Lynch, but noted, "They're still kids."
"For me as a mom, I'm seeing both sides," Martinez told the Globe. "The kids were really loud, up in his face trying to record him. The police officer is still a human being. Sometimes we just have a bad day."
Roxbury Prep, a charter school whose students are almost exclusively black and Latino, has five campuses in Boston: three middle schools, a Hyde Park campus for ninth and 10th graders, and a Roxbury campus for 11th and 12th graders.