Local
The MBTA is adding 80 more double-decker cars to its commuter rail fleet
"Our customers have made it very clear that additional capacity is necessary."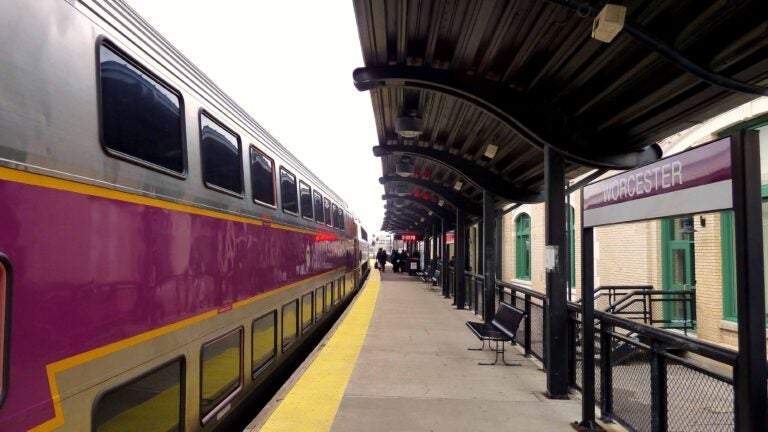 The MBTA is doubling down on double-decker commuter rail cars.
The transit agency's Fiscal and Management Control Board approved a deal Monday to buy 80 new bi-level coaches, as part of a plan to significantly increase the number of double-deckers cars in its fleet over the next decade in order to increase overall capacity. Commuter rail ridership increased more than 21 percent between 2012 and 2018, official said.
"As ridership on the Commuter Rail system continues to climb, our customers have made it very clear that additional capacity is necessary," MBTA General Manager Steve Poftak said in a statement. "This procurement method is the fastest and most efficient way to meet the growing demand and provide our riders with improved service."
The MBTA says it expects the 80 new trains will arrive September 2022 through June 2024, replacing 62 single-level coaches that are overdue for retirement, which will increase capacity by over 14,000 seats daily. Each double-decker coach has roughly 60 to 80 more seats than a single-level car.
The total cost of the state-funded project is $345,186,459, which includes a $278,589,000 contract with Hyundai-Rotem to build the new cars.
Officials say the new bi-levels include  improvements, such as LED lighting and the integration of positive train control, and are more reliable than its aging single-level cars. The MBTA also commissioned Hyundai Rotem to build its last batch of 75 double-decker cars, so workers are already familiar with the design and maintenance of the vehicles, officials said.
According to the board's presentation Monday, all of the commuter rail's single-level cars, which account for 260 of its total fleet of 474, are either overdue for retirement or are scheduled to be retired in 2020. The agency says 181 bi-level cars would be needed make up the equivalent capacity.
So, in addition to the order of 80 new cars, the MBTA says it requested bids from companies to build an additional 100 double-deckers this November, which would be delivered from July 2024 through June 2027. The request also includes options for up to another 100 bi-levels from 2027 to 2029.
According to the presentation Monday, officials project that more than 200 coaches will be need to support the expected near-term increases in commuter rail ridership.