Local News
'I feel violated': Massachusetts vape shop owners say sales ban will strengthen black market
"I think there should be proof before there's action."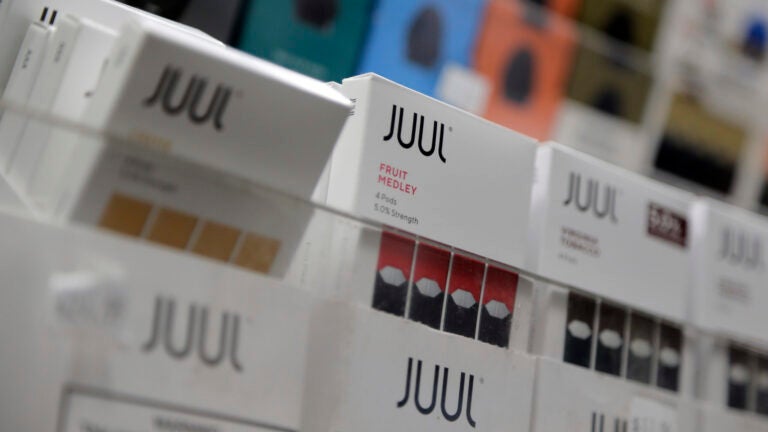 When Matthew Marcoux opened his vape shop four years ago, he saw a way to share a benefit — something he could do to help others.
After all, the same had happened for him.
The owner of Milford Vapes smoked for 15 years. Since he opened his doors, he switched to vaping like so many of his customers.
Once longtime smokers, they often rave about how their chronic cough dissipated after they made the transition.
But now Marcoux fears those changes could slip after Massachusetts became the first state to prohibit all sales of vaping products in a four-month ban announced Tuesday.
E-cigarette users will go elsewhere to get their nicotine fix, and, for some, it could mean a return to tobacco products or a turn toward the black market, Marcoux said.
"I feel violated," he told Boston.com Wednesday. "My customers are coming in crying. They don't know what to do anymore."
The ban immediately halted all retail and online sales of nicotine, flavored, non-flavored, and marijuana vaping products through Jan. 25, 2020.
Gov. Charlie Baker said the four-month window is intended to give state officials time to examine facts and potentially map out next steps amid a nationwide outbreak of vaping-associated lung illness.
The Centers for Disease Control and Prevention has found at least 530 confirmed cases of lung injury in 38 states related to e-cigarette use. Nine fatalities have also been reported.
In Massachusetts, health officials had received 61 reported cases of "unexplained vaping-associated pulmonary disease" as of Monday, of which three confirmed cases and two probable cases have been forwarded to the CDC.
Infuriated, frustrated, and confused, local vape shop owners decried the move to ban sales Wednesday, however, arguing the move will cripple small businesses while failing to address the root of the problem.
"The culprit for all the illnesses and deaths are black market marijuana cartridges that are sold by drug dealers," said Jonathan Lau, owner of The Vape Shop, which has two locations in Brighton. "Nobody is getting sick from any flavored nicotine that's being sold from my shops."
'There should be proof'
So far, the CDC has been unable to find a specific cause or product — from e-cigarette brands to vape liquids and other components — that can be tied to the health issues reported.
But initial data shows in most cases patients reported using Tetrahydrocannabinol or THC — an active chemical in marijuana — while many said they used both THC and nicotine, according to the CDC. In some instances, patients used e-cigarettes that contained only nicotine.
Vitamin E acetate, an oil often used to thicken illicit THC vaping products, has caught the attention of law enforcement investigating the ongoing outbreak. The substance has been found in products used by sickened patients.
Several vape shop owners in Massachusetts say the sales ban will now punish their stores while allowing that illegal industry to thrive.
"They can't prove (the cause of the illnesses), and I don't think that the government or the governor without proof should do this to people who are trying to survive," said Linda Vick, co-owner of Vick's Vape Shop in Medford. "I think there should be proof before there's action."
Vick, who opened the store with her husband, Jeffrey, in 2017, said the small, family business has been vital for the couple to support their 3-year-old son, Noah, who is autistic.
The flexibility of being their own bosses is a key part of how the Vicks can make sure their son's needs are met while still having a source of income, she said.
The shop, mobbed by customers Tuesday who wanted to stock up for the months ahead, also sells marijuana accessories, but it's unclear whether sales from those products alone will ultimately be enough to weather the four-month ban, according to Vick.
"Now the fact that one of us might have to go back to a corporate job, it's going to hinder (Noah's) ability to progress in life or get the services he needs," she said.
Lawmakers should have studied up before the ban, Marcoux said.
In Massachusetts, officials should be looking at regulations like developing a vape shop license program, Marcoux said.
Many stores already take the state's 21 and up law very seriously, he noted.
"I can't emphasize enough that I wish the politicians did some research and put in regulations that this industry needs to succeed," he said.
'We will be staying open until the Board of Health shows us actual papers from the courts'
In Brighton, Lau's shop was serving customers Wednesday and, like many other businesses, saw many clients rushing in over the last 24 hours.
"Everyone is in a panic," he said. "A lot of people don't have time to drive to New Hampshire or even — I spoke to one customer, they don't even have a car."
Announcing the ban Tuesday, state officials said enforcing the prohibition will fall on local authorities and municipal health departments.
Lau, Vick, and Marcoux all said, however, they planned on staying open as long as they could.
"We will be staying open until the Board of Health shows us actual papers from the courts," Marcoux said. "Then we will have no choice but to stop."
In a post on its Facebook page, Milford Vapes wrote to customers that the "next day or two will be our last few days of business."
"For now, I think we're just going to shut our doors and pay rent and hold out as long as we can," Marcoux said. "And however long that is…"
His voice trailed off.
"We'll try to make it through the four-month ban."