Local News
92-year-old woman crashes car she planned to buy into Maine dealership
"It was literally parked inside the business."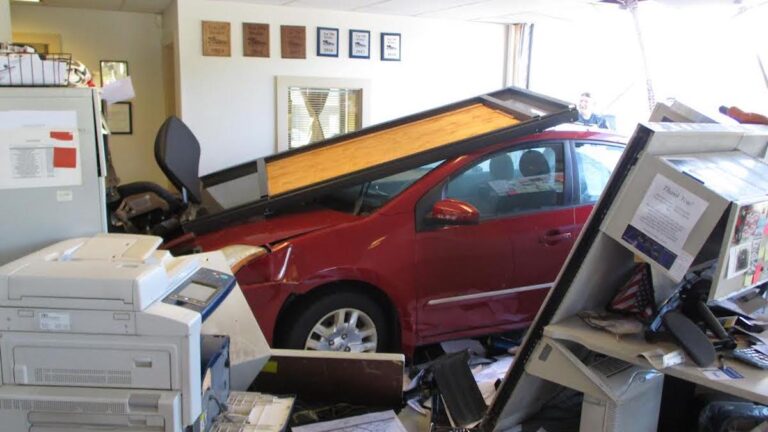 A 92-year-old crashed a car she was about to buy into a Maine dealership Tuesday, according to local police.
The front wall of Norm's Used Cars was almost completely torn down, and the dealership's office was demolished, but no one was injured.
Wiscasset police officer Cory Hubert said the woman was parking in front of the dealership after test-driving a 2010 red Nissan Sentra when she mixed up the accelerator and the brake.
The Nissan burst through the building's front wall, pushing filing cabinets across the room and plowing through desks, computers, and a large copy machine before stopping. Ceiling tiles and electrical wiring dangled from above.
"It was literally parked inside the business," Hubert said.
He said the woman must have panicked and continued to step on the accelerator after going through the wall.
"She was burning rubber when we arrived," he said.
Other drivers later told officers that she was driving "erratically." Hubert confirmed her license was valid and she was insured to be on the road.
"She was all legal for the road and everything, she's just an old lady," he said.
A report about the incident will be filed with the state, which could lead to a suspension of the woman's license, but Hubert said it's more likely she'll just be retested next time she tries to renew her license.
"Generally if someone is elderly and they have a situation such as this — where they drive through a business — it's something that gets reported to the state," he said.
Police responded to Norm's for a similar situation just weeks before, according to Hubert. A driver hit the building in "almost the exact same spot," he said, but caused far less damage.
Business owner Norman Sherman told the Bangor Daily News he plans to invest in guardrails to prevent this from happening again.
Norm's Used Cars declined to comment on the incident Thursday morning.