Local
How a debate in Cambridge over recreational marijuana turned ugly
"I am deeply saddened that anyone's greed would lead them to stoop this low."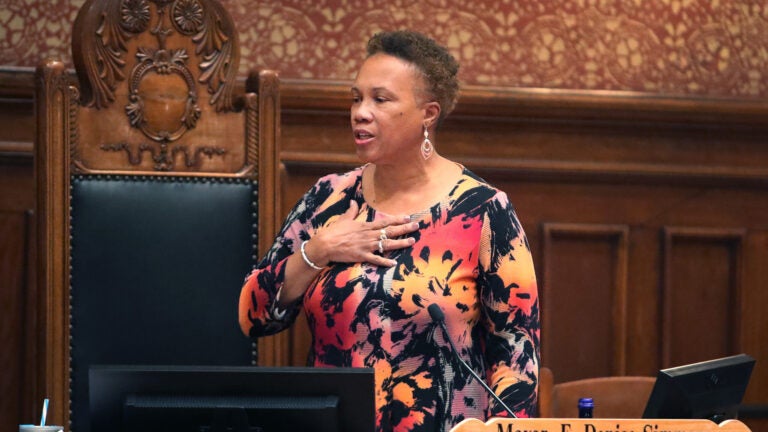 Cambridge finally has a plan to permit recreational marijuana dispensaries, roughly 10 months after the first adult-use pot shops opened in Massachusetts.
However, City Councilor Denise Simmons remains "deeply troubled," not due to any concerns inherent to legal weed, but because of how the process in Cambridge — a bitter, months-long fight that pitted existing medical marijuana dispensaries against local activists and entrepreneurs hoping to break into the industry — played out.
"The closer we came towards the finish line, many of us were alarmed to see civility and common decency sacrificed by those who sought to win at all costs, and the pursuit of the Almighty Dollar unquestionably poisoned our public discourse," Simmons wrote in a guest column Wednesday for the Cambridge Chronicle.
The Cambridge City Council approved their ground-breaking new ordinance on Monday. It creates a permitting process for retail pot shops, cultivators, and other recreational cannabis businesses looking to open in the city.
However, the root of the tensions in Cambridge was lawmakers' ultimately successful push for a two-year ban on the city's existing medical marijuana dispensaries (and most other businesses) from getting into the recreational marijuana business. The moratorium is a marked divergence from the approach that other cities and towns in Massachusetts have taken toward licensing recreational marijuana; the earliest retail stores to open in the state have predominantly been existing medical dispensaries.
The reason for the two-year ban on medical dispensaries selling recreational marijuana ties into one of the larger goals of the marijuana legislation movement.
One of the motivations behind the 2016 campaign to legalize marijuana in Massachusetts was to address the racial disparities resulting from the War on Drugs, which resulted in the disproportionate incarceration of blacks and Latinos (despite comparable rates of use across racial groups). Since then, the state's Cannabis Control Commission has enacted several initiatives aiming to provide opportunity to underrepresented groups in the new industry, but equity remains a concern; according to The Boston Globe, just two of the state's 184 marijuana business licenses are owned by people in the CCC's social equity programs.
So Cambridge is taking bolder action.
For the next two years, the city will only approve recreational marijuana companies in the CCC's "economic empowerment" program. That program gives priority review to applicants that are either owned by, employ, or benefit members of a community affected by particularly high rates of drug arrests; or are led by someone who has a past drug conviction or a spouse or parent with a drug conviction.
After two years, the city will then allow its existing medical dispensaries — as well as participants in the CCC's social equity program (which provides training and technical assistance to similar companies as the economic empowerment program), women- and minority-owned companies, and low-income Cambridge residents  — to apply for permission to open recreational marijuana businesses.
The idea was first proposed back in June by Cambridge City Councilors Sumbul Siddiqui and Quinton Zondervan. And as the Globe reported at the time, it did not go over well with the city's three medical marijuana dispensaries: Healthy Pharms, Revolutionary Clinics, and Sira Naturals.  The dispensaries reportedly threatened lawsuits, made appeals to state lawmakers, and hired a firm to help organize dozens of supporters to show up at City Council meetings. Not only would the companies miss out on two years in the lucrative recreational marijuana business, but they also argued that being barred from the industry would hurt their ability to keep prices low for their patients.
And here's where Simmons comes in.
As an alternative to the two-year ban, the longtime city councilor proposed a compromise amendment to the ordinance that would have allowed medical marijuana dispensaries to immediately get into the recreational business, under the condition that they collectively contributed $5 million over four years to an independent fund that would have supported economic empowerment applicants with grants, according to the Globe.
"We just want to be sure at least here in Cambridge that we are providing as much equity and continuity of service and care when we talk about the medical part of it as possible," Simmons said at the time, according to the Harvard Crimson.
The proposal had the support of the three medical marijuana dispensaries, but was opposed by a local coalition of entrepreneurs and people of color. The back-and-forth went on the entire summer — with supporters on both sides engaging in highly questionable tactics, "playing on peoples' passions, fears, and prejudices, and ultimately pitting neighbor against neighbor," according to Simmons.
Anonymous flyers were sent out in support of Simmons's proposal that included the Cambridge seal, which she and other local lawmakers blasted as duplicitous. Simmons said that neither she, nor the city, were responsible for the material.
Not impressive using #Cambridge official seal (looking) anonymously dropped with no acknowledgment of who paid for this does not make your case! This is a fight about #economicempowerment have the debate be transparent not duplicitous #canabis #marijuana #mapoli @MA_Cannabis pic.twitter.com/MtvANYE5JE

— Marjorie Decker (@MarjorieDecker) September 7, 2019
Furthermore, opponents of her proposal sent out a mailer accusing Simmons of backing a "slave amendment," arguing that her compromise would force minority-owned businesses into a "second-class relationship" with larger cannabis companies. As "a proud Black woman" with a civil rights background, Simmons called the mailer "the most personally offensive, disgusting smear I have ever seen in almost 30 years of public service."
"Those who were behind this unconscionable tactic – some of whom I've known, grown up with, worked with, supported, and socialized with for decades – should be absolutely ashamed of themselves," she wrote Wednesday.
Yesterday every #CambMA voter received this flyer in the mail about a #Cannabis equity vote taking place today. In it, the mailer accuses @E_DeniseSimmons of introducing a "slave amendment" into this process. Let me condemn this language in the strongest terms possible. Thread: pic.twitter.com/TR9WFKQxFp

— Alanna Mallon (@Ammallon) September 18, 2019
Simmons said the equating of her proposal with the "nightmarish practice of buying, selling, raping, beating, torturing, and literally working other human beings to death" was grotesque.
The flyer directed residents to the website of Real Action for Cannabis Equity (RACE), a Cambridge-based group that advocates for more opportunity for communities and people of color within the emerging cannabis industry. 
Richard Harding, a co-founder of RACE, noted that — unlike the group behind the mailer supporting Simmons's amendment — he signed his name on their flyer. Harding said he stood "100 percent" behind the piece.
"I understand the power of words," he told Boston.com in an interview Thursday. "But it was that much of an economic injustice that was about to happen that you had to speak with pointed and very strong words to make sure that the point was relayed in the right way."
Harding argued that the amount of money the medical marijuana companies were to commit under the compromise proposed by Simmons paled in comparison to the value of a recreational license in the emerging billion-dollar cannabis industry. The Cambridge native said it would have been virtually impossible for local residents to get a foothold if established medical dispensaries were immediately granted licenses.
"Why would you be letting these billion-dollar companies getting into recreational for $250,000, or even $500,000, right?" he said. "It's worth so much. For them to try to nickel and dime the poor, marginalized communities in Cambridge, mainly people of color, they ought to be ashamed of themselves."
Still, on the other side, Simmons said Wednesday that she was dismayed by Harding's tactics.
"I am deeply saddened that anyone's greed would lead them to stoop this low," she wrote. "And I am beyond concerned by any lingering negativity these cheap tactics may have left upon our community."
According to the Globe, by September, the proposed total contribution by the medical dispensaries under Simmons's proposal was increased to a total of $7.5 million, which would have been divided up between the city's ecomonic empowerment applicants. However, the amendment ultimately failed to muster the necessary support. This past Monday, the City Council passed the two-year ban, 7-0.
Simmons, who was one of the two councilors who abstained from the vote, wrote that she still feels her proposal was the most viable plan. With the city's medical marijuana dispensaries still threatening litigation over the recently passed plan (which Harding contests are empty threats), the city councilor was also worried that such legal action could impede the city's efforts. While she accepted that her amendment fell short and is ready to move on, Simmons reiterated her worries about the impact of the "vitriol and negativity" unleashed by the "slave amendment" attacks.
"Our national politics have already shown us that those who have no decency and no sense of shame can go far in winning legislative battles and working the system to line their pockets," Simmons wrote Wednesday.
"My question to my fellow Cambridge residents is: do we really want to bring the politics of smears and personal destruction to the public debates that shape our community?" she asked. "I accept that I shall sometimes lose important legislative battles – one cannot win every debate – but I fear for our community if the new template for our important public deliberations will now include the kinds of vicious personal smears and cowardly, deceptive mailings that we just witnessed in the debate around cannabis."
For his part, Harding believes his group will ultimately be on the right side of history and hopes the new ordinances will set "a precedent across the state and across the nation."
"We were on the right side of this issue from the beginning," he said. "We fought for our community. We believed in our community, and the community rallied around us to make sure that there was economic and social justice within the cannabis regulations of Cambridge. And the people on the City Council who supported us and made the right decision by voting for this new policy ought to be applauded. This is a historic vote."