Local
Here's why the new Orange Line trains are getting pulled from service for a few days
MBTA officials says they need to fix an issue with the doors.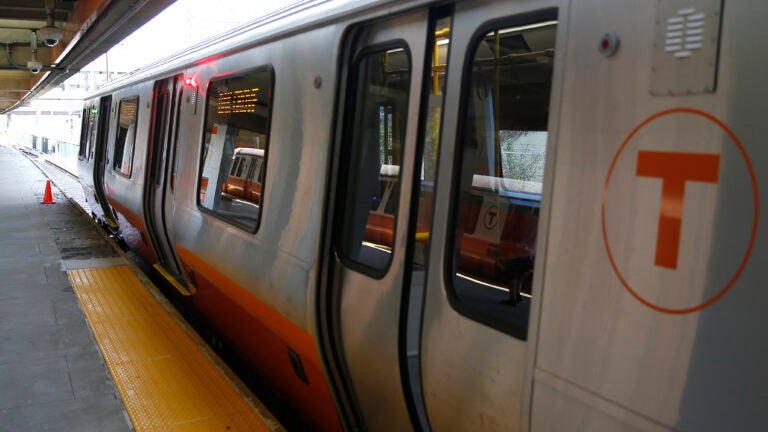 The good news is the Red Line is officially fixed.
The bad news is that the agency is taking the new Orange Line trains out of service — but only through the weekend.
MBTA officials say the two, new six-car trains — which first hit the Orange Line tracks last month — are being temporarily sidelined to replace a door component, known as a "bump stop," on all the cars with a new, modified version.
MBTA spokeswoman Lisa Battiston told Boston.com in an email that the new replacements, which will be provided by the doors' manufacturer, comes at no cost to the agency. She said the cars "are expected to be back in service no later than Monday."
Battiston said the agency expects no impact of service or capacity over the weekend.
The move comes after several riders reported issues with the new, automatic doors, including one incident in which a door opened while a train was in motion; MBTA spokesman Joe Pesaturo told the State House News Service that the affected train automatically stopped when it happened. The new "bump stops" will also reportedly be incorporated into the other 140 new Orange Line cars set to be delivered in the future.
"It will serve the trains well for the next 30 years," Battiston said.
Still in the early stages of the new Orange Line car procurement process (which will run through 2022), Battiston said that MBTA engineers have been closely monitoring the new trains' performance to identify areas for improvement. According to the agency, the new cars feature more spacious interiors, wider doors, more handrails, and LED lighting systems, as well as improved visual and audio communications systems.
The Orange Line news comes after the MBTA announced the completion of signal repair efforts on the Red Line, restoring normal service after a June derailment near the JFK/UMass station damaged the signaling system, resulting in debilitating delays and diminished service for weeks.
"While I'm pleased Red Line service has been restored, this event underscores the level of urgency we need to continue to build a better T," MBTA General Manager Steve Poftak said in a statement Wednesday.