Local
Everything you should know about the Friday morning Lawrence gas leak
Here's the latest on the evacuation efforts, school closures, and parallels to the 2018 Merrimack Valley gas explosions.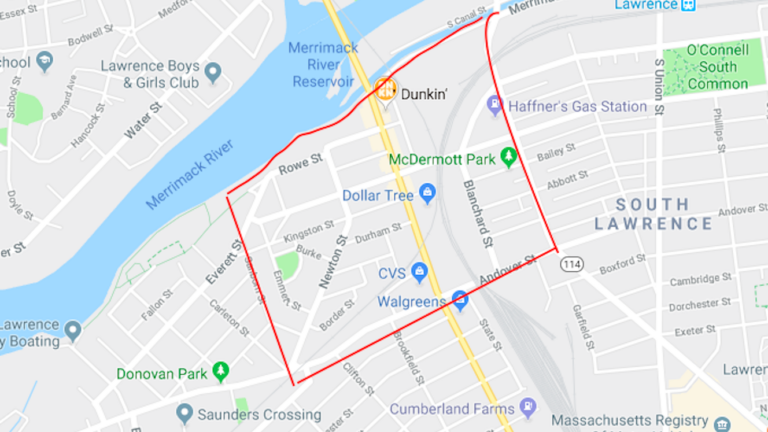 Around 400 people registered at an American Red Cross emergency shelter after being evacuated from their South Lawrence homes early Friday.
The evacuation was prompted by a gas leak that officials say came from a new pipeline installed after last year's Merrimack Valley gas explosions.
Friday's leak happened in the same general area of the 2018 incident, which killed one, injured dozens, and led to tens of thousands of evacuations just over a year ago.
Lawrence Fire Chief Brian Moriarty said at a press conference Friday morning that no injuries directly connected to the leak have been reported, though one person was hospitalized during the evacuation for an apparent heart attack.
"We've had no fires, no explosions," Moriarty said. "We were able to shut it off, isolate it, ventilate it, before anything tragic happened."
When and where was the leak?
The gas was first reported by a police officer around 3 a.m. in the area of Salem and Broadway streets, officials said.
The affected area is confined between Andover, Merrimack, Sandborn, and Parker streets, according to Lawrence Mayor Dan Rivera.
"Just because that affected area is small does not mean that this is less dangerous or less impactful," Rivera said.
He also said South Lawrence residents affected by last year's explosions should not be concerned unless they live in that area.
A tweet from the North Andover Fire Department around 7:15 a.m. said the department responded to three reports of the smell of gas. A release from Andover officials said there is no danger to the town, which neighbors Lawrence and was impacted by last year's leak.
Why is my power out?
Gas and electricity were shut off in the affected area to prevent any kind of fires or explosions, officials said.
The gas was shut off by 5:08 a.m., according to Mark Kempic, the president of Columbia Gas of Massachusetts.
About 5 percent of Lawrence, or 1,390 customers, were without power Friday morning, according to the Massachusetts Emergency Management Agency.
It is not yet known when power or gas will be restored in the area.
Where are the evacuees? When can they go home?
More than 100 people were evacuated from their homes, Rivera said. Columbia Gas crews and firefighters are going door-to-door to check on 146 customers and investigate.
Anyone in the area of the leak should evacuate immediately.
"If you are in that area, you should get out of your house," Rivera said. "You shouldn't be in your house."
A center for those residents is operating out of Arlington Middle School at 150 Arlington St., according to the Massachusetts Red Cross.
The Lawrence Public Library tweeted that it "welcomes any and all who need a place to spend the day" following the evacuation.
Rivera said it's important that anyone who left important medication or other crucial items behind tell emergency workers at the school instead of returning to their homes.
Moriarty said officials would do a "nice, slow, methodical" search of every building in the area to make sure there's no gas. He said the electricity would have to come back on "very slowly, one street at a time."
Officials declined to give a timeline of when evacuated residents might safely return home.
Asked how long it would take, both Rivera and Kempic said, "As long as it takes."
Were any schools affected?
Lawrence Public Schools closed Wetherbee School because of the power outage.
Due to a neighborhood power outage related to emergency utility work in the area, the WETHERBEE SCHOOL is CLOSED TODAY, Friday, Sept. 27.

This ONLY impacts the Wetherbee at this time. All other schools are open today.

— Lawrence Schools (@LPS_Education) September 27, 2019
Lawrence Catholic Academy is also closed, Rivera said.
Do we know what happened?
Kempic said Columbia Gas crews were not doing work in the area of the leak Thursday or early Friday.
"We don't know what the cause was yet," he said, "and it's very important not to speculate at this time."
He said any immediate concern has been eliminated since the gas and electricity were shut off.
Is this the same as the 2018 Merrimack Valley disaster?
Kempic stressed that this leak is different from the one that happened last year. He said new valves installed after the Merrimack Valley explosions allowed crews to quickly isolate the area of the leak.
As of Friday morning, the Lawrence leak seemed much less severe than the 2018 gas explosions, which ripped through more than 100 houses and caused numerous fires.
The National Safety Transportation Board announced just days ago that last year's disaster was caused by weak management and poor oversight, the Boston Globe reported.
The findings, which were presented out during an NTSB hearing in Washington, D.C., indicated the tragedy could have been prevented.
Friday morning, Massachusetts Sen. Ed Markey tweeted that "we need to know how a major leak in the same area could have happened just a year after the @ColumbiaGasMA disaster."
https://twitter.com/SenMarkey/status/1177548575707934721