Local
'60 Minutes' went to Cape Cod to learn more about great white sharks. Here's the report.
"On Cape Cod this summer, shark sightings and beach closings were about as common as lobster rolls."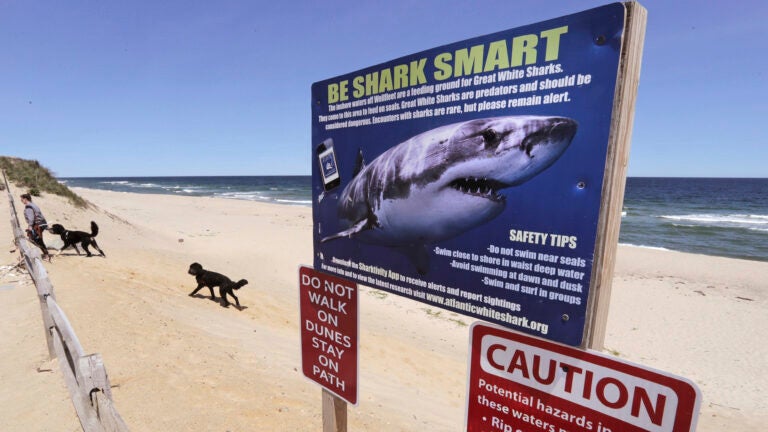 The CBS News program "60 Minutes" took a recent trip over to Cape Cod to learn more about a local phenomenon: the great white shark.
The visit was part of a segment that aired Sunday about how the population of the predators in the Atlantic Ocean has rebounded over the last two decades, especially near Massachusetts.
"On Cape Cod this summer, shark sightings and beach closings were about as common as lobster rolls," correspondent Bill Whitaker said.
Whitaker had a front row seat to see how local scientists track every movement of the sharks, from their feeding frenzies on grey seals off the shores of the Cape to their travels up and down the East Coast.
On board with Greg Skomal, of the Massachusetts Shark Research Program, and researchers from the Atlantic White Shark Conservancy, Whitaker observed how the team locates sharks to tag with their monitoring devices: a plane flying high overhead guides the boat to the group's next subject.
"You can see it right at the base of the dorsal. See it?" Skomal says, moments after pinning a gadget on a shark in the waters below him. "Now we're going to learn about that fish for the next nine, 10 years."
Cape Cod is now one of the world's white shark "hot spots." Scientists are attaching electronic tracking tags to as many sharks as they can figure out just how many sharks there are in the area. https://t.co/abLBV5IXXW pic.twitter.com/RzNAdEv3kY

— 60 Minutes (@60Minutes) September 30, 2019
For the nearly 200 sharks they're already following, the scientists have confirmed the sharks are loners who return to the same hunting locations each year, Whitaker reports.
The deep-diving segment comes just over a year after 26-year-old Arthur Medici, of Revere, died when he was attacked by a shark off a Wellfleet beach.
Whitaker noted how the attack triggered fear across the Cape — how warning signs and emergency first aid kits are now common sights that greet beachgoers.
"We can't bury our heads in the sand when it comes to shark attacks, and so that's in my face every day now," Skomal said.
Asked by Whitaker about how he advises his own family about the sharks swimming along the Cape's shores, Skomal said he tells his kids not to go out farther than waist-deep water.
In a separate "60 Minutes Overtime" segment, Whitaker said he learned a few shark safety tips, including staying out of murky water, swimming in groups, being aware of one's surroundings, and keeping a distance from schools of fish.
Flailing one's limbs while riding a boogie board also mimics the appearance of a seal — welcome prey for hungry sharks, according to Whitaker.
Skomal said, however, the probability of a person being bitten by a shark is "incredibly low."
"We basically got to undo everything that 'Jaws' did," said Chris Fischer, founder of OCEARCH, which was tagging sharks in the waters off Nova Scotia, Canada, when "60 Minutes" stopped by. "I mean, we've got half the people on the eastern seaboard terrified about something that almost never happens."
Skomal said the most interesting thing he has learned about great white sharks over the past decade is how they travel south to Florida and parts of the Gulf of Mexico after they leave Cape Cod.
Still, though, there are other habits that remain a mystery, even for experts.
"Some of these sharks move out into the open Atlantic Ocean, and, when they're out in the middle of the Atlantic, they dive down to depths as great as 3,000 feet every day," Skomal said. "And there's not a scientist on Earth that can tell you why they do that."
Watch the full segment: