Local
This local cat's story has made her an Instagram celebrity. Now her owners have started a nonprofit promoting inclusion.
"So many people are excited because they can now buy stickers with Maya's face on them."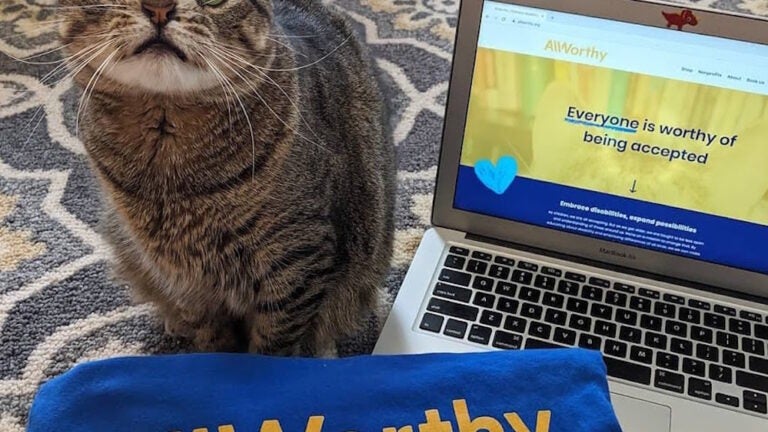 Maya the cat may look slightly different than the rest of her species, from her asymmetrical eyes to her short legs and big feet. But her human mom, Lauren Beader, says Maya is just a typical cat, minus sometimes walking into things due to a lack of peripheral vision.
While Maya is probably unaware of her fame, it's her unique looks that have made her an Instagram star — she has over 404,000 followers — and Beader, along with fiance Harrison Makofsky, who live in Salem, have used Maya's story to drive awareness for people with disabilities.
That mission led to a children's book last year and, springing off from that success — Beader said the book raked in $11,000, all donated to Odd Cat Sanctuary MA and the Special Olympics Massachusetts — the couple has now started a nonprofit to further that effort.
"It's been really cool," Beader said of starting the nonprofit. "We had been talking about maybe starting a nonprofit, and then, yeah, we just decided to make it happen."
Found by a restaurant dumpster
Before Instagram made her a star, Maya was nearly euthanized in a Virginia shelter. She was found next to a dumpster behind a Chinese restaurant, according to Beader.
"She was in a crate so she wasn't able to go find shelter or warmth, or anything like that," Beader said. "And by the time she was brought to the shelter she was pretty sick and frail."
Maya was born with an extra chromosome, Beader explained, which gives her her different appearance. After three months at the Virginia shelter, she was placed on a euthanasia list. That's when Odd Cat Sanctuary MA scooped her up.
"We saw her post on the Odd Cat Sanctuary website and fell in love immediately," Beader said.
From the animal shelter to Instagram star
When Beader and Makofsky adopted Maya, Instagram fame wasn't something they initially sought. But Maya had become popular online via her adoption page.
"People all over the country were sharing it," Beader recalled. "But it was after we had already adopted her."
Someone at Odd Cat Sanctuary asked Beader what her Instagram handle was with the hope of following Maya in her new home. Beader decided to make Maya her own account, and she and Makofsky uploaded a picture of their new family addition.
The couple went for a hike. When they returned, they were surprised to find that Maya already had a couple thousand followers.
"It just kind of happened, and it just kept going from there," Beader said.
Though she was hesitant at first, the account has helped the couple meet people, and they actually headed to a cat convention at the end of this past week. 
"Now it's just part of our lives, I guess," Beader said of the Instagram fame.
Starting a nonprofit
Creating the new Maya-inspired nonprofit, AllWorthy, stems from the success of the children's book, "Meet Maya Cat: A story about acceptance."
Through an easy to read book about Maya, featuring the cat's cartoon likeness, drawn by Makofsky, children learn that even though someone may look different, they deserve acceptance and treatment as anyone else.
While Maya is the face of the new organization, disability inclusion and acceptance is dear to Beader. She's coached a Special Olympics team just about every Saturday for the last 15 years, she said.
Along with the book, AllWorthy includes T-shirts for toddlers, kids, and adults, onesies for babies, mugs, stickers, and other products. Seventy-five percent of the proceeds are donated to a nonprofit of the customer's choice — there are eight different selections when adding an item to an online shopping cart — while the remaining 25 percent stays with AllWorthy to help pay for the website, book donations, and other operating costs.
"So many people are excited because they can now buy stickers with Maya's face on them," Beader said.
As for Maya, who appears blissfully unaware of her differences from other felines, her Instagram account shows her living a typical cat's life — hanging out with her sister Dragon, who is paralyzed in her back legs, meowing for food, or lounging in a cardboard box.
Though just 10 pounds, Maya has a big personality, Beader said. When the couple has people over, Maya is the life of the party.
"She also doesn't really have a sense of fear," Beader said. "She doesn't like to be touched, but she'll just walk up to anyone. She loves to be looked at."