Local News
The MBTA's unprecedented closures begin this weekend. Steve Poftak says they're worth it.
"The T has never done closures on this scale."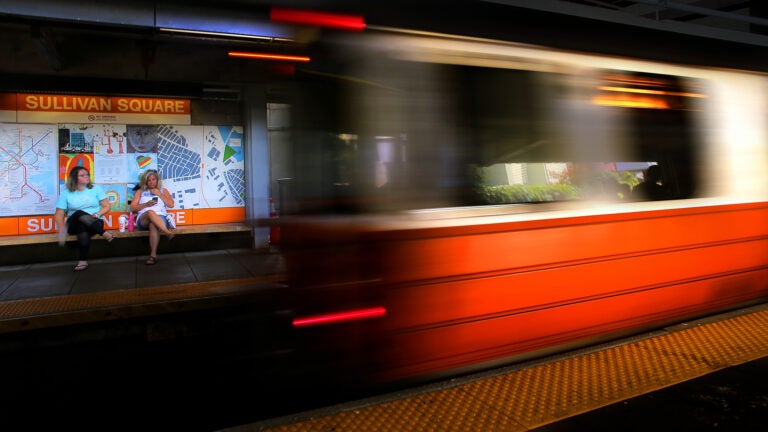 The MBTA's weekend service is about to get a bit patchy.
This weekend marks the beginning of a series of Orange Line station closures through downtown Boston. Steve Poftak, the MBTA's general manager, says it's the first in an unprecedented streak of weekend service disruptions this fall, which will also hit the core of the Red Line next month.
"To my knowledge, yes, the T has never done closures on this scale," Poftak told WGBH in an interview Wednesday afternoon.
But he also says it will be worth it.
The weekend station closures are part of the MBTA's plan to accelerate improvements to the historically underfunded transit system, in the wake of a Red Line derailment in June that resulted in cascading delays and diminished service through the summer.
As a result, swaths of downtown stations will be shut down every weekend through mid-December, in addition to a number of planned closures on the Green Line's western branches. The closures begin Friday night at 8:45 p.m. (and last through the end of service Sunday) between Sullivan Square and Tufts Medical Center stations on the Orange Line and will occur every weekend through Nov. 10. Then, the Red Line will close between Kendall/MIT and Broadway stations every weekend from Nov. 16 to Dec. 15 — with the exception of Thanksgiving weekend (Nov. 30 to Dec. 1).
The MBTA says alternative transportation options, such as shuttle buses, will be provided for riders on those weekends. Poftak acknowledged the likely frustration from riders, who complain that shuttle buses are slower and less comfortable than their usual subway commute.
"The bus shuttles do take longer and they are less convenient than the subway service," he said Wednesday.
"But it's also really important work for us to get done," he added.
The weekend-long repair projects were originally scheduled to occur overnight, which Poftak says would have constrained the time workers had for the actual work. Each individual work window consists of two to three hours of preparation and clean-up work, which would have left only a few hours in between to work on the actual project. With a weekend-long closure, the window widens significantly.
"That two to three hours of mobilization and two to three hours of demobilization only happens once, and then you've got, depending on your timeframe, a 40- to 50-hour window where you can work continuously," Poftak said. "So it makes a big difference."
Not only is the MBTA upgrading Orange and Red line stations with new lights, paint, signage, and other infrastructure, but the repairs also consist of replacing downtown rail tracks, which Poftak says is another reason the closures affect so many stations.
"We are replacing track in the core," he said. "And you can't bring track and other construction materials up and down the stairs at Downtown Crossing, for instance. You've got to bring it in from a surface entrance."
With the new weekend-long closures, Poftak said the MBTA will be able finish the improvement projects earlier than originally planned.
According to the MBTA, the weekend projects to improve Downtown Crossing, Haymarket, and State stations on the Orange Line will condense the project timeline by 11 months, with completion now scheduled for this December instead of next November. Upgrades to the Red Line's Downtown Crossing and Park Street stops are also now on schedule to be finished by December instead of next November and April, respectively.
On the Green Line, which is in the midst of regular D Line weekend closures this fall, Poftak said riders have already experienced the benefits of upgraded tracks and interchanges. And with several new weekend closures on the B and C lines, MBTA officials say they also expect to finish their Green Line intersection upgrade project by this December 2019, instead of next May.
"This is necessary work for the T to be reliable and to provide the type of service that we want to provide our customers," he said.
However, the scheduled closures won't end this fall. The MBTA said in August that it was "in the process of preparing an aggressive schedule of shutdowns for the 2020 construction season that may include weekday shutdowns in addition to a greater frequency of weekend shutdowns." The agency said it would announce the details sometime this fall. And on Wednesday, Poftak acknowledged that weekday closures remain a possibility.
"It is not something we're going to do this fall, but it is something we're exploring for 2020," he said. "We'll learn from this experience, and we'll also have more lead time to think about what would be the most effective diversion and also let folks know far in advance, so that they can plan for it as well."