Local News
Somerville has a plan to improve Davis Square. Or does it?
"There are no simple problems in urban planning."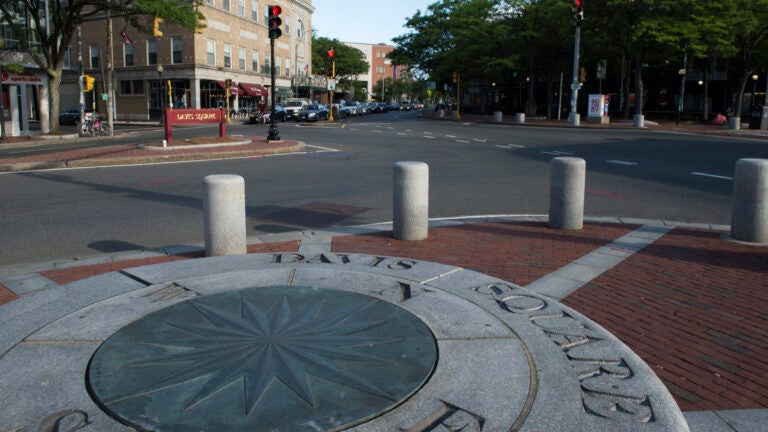 Davis Square might be the only place in the Boston area that doesn't want to become the next Kendall Square.
Moreover, as Somerville presses forward with a plan to "enhance" the vibrant neighborhood, city officials and residents insist they don't even want to become another Harvard Square, a euphemism for what happens when homegrown business are displaced by rising rents and generic chain stores.
But officials say changes are needed.
Since 2013, Somerville has been working on a plan for the future of Davis Square. This summer, city planners released a 104-page document outlining their vision, which would transform the predominately red-brick plaza, reconfigure the unconventional, six-point intersection, and encourage taller buildings in the heart of the square. There are even mentions of creating an indoor market hall and permitting beer gardens.
"Our goal is to ask the Planning Board to vote to approve this plan, so we can move forward with implementation," George Proakis, the planning director for Somerville, said during a public hearing last week.
It's still a work in progress.
The plan has two overall goals: Support growth for more housing and jobs — with a slight emphasis on the latter — and make the square more friendly to pedestrians and cyclists. For as much as Somerville has become an attractive home for young professionals, Davis Square has seen relatively little development since the 1980s, when the MBTA first extended the Red Line through the neighborhood.
Supporters of the plan say that creating more housing and jobs immediately in the square would make it even more vibrant and capitalize on its prime position on the Red Line.
"When we make more room for that, we make more opportunity," Jeff Byrnes, a Davis Square resident, testified at last week's hearing. "And we have more people in the square to support those opportunities."
Exactly how to advance that goal is a bit more contentious.
The 1980s-era zoning rules underestimated how much demand would rise for housing and office space and are now constraining growth in the neighborhood. Davis Square is currently zoned to allow buildings up to four stories, but the majority are not; even in the square's core, there are a number of one-floor properties. The zoning rules have also resulted in underutilized parking lots, according the city planners.
The new plan recommends adding "mid-rise" buildings up to six stories in the center of the square, under certain conditions designed to preserve its culture and character.
Officials suggested that any development over four stories could be required to allocate space for affordable housing and arts-related businesses. The updated plan also includes a special permit with additional rules for "formula" businesses (aka chain stores and restaurants).
Several residents applauded the city for mapping a course for "responsible growth," arguing that change is inevitable one way or another. Somerville resident Emily Warren testified that there's no way to "preserve [the neighborhood] in amber."
"More and more people want to live in Somerville and Davis Square," Warren said at the hearing. "And if we do nothing to add additional housing, we will simply become inaccessible from a cost perspective for renters to live in this area — and its character will change, because the people that live here now will no longer be able to live here."
Still, many residents expressed concern, if not outright opposition, about the prospect of taller buildings. In addition to anxieties about how six-story buildings would impact the square's sunlight, they also said buildings that tall would inherently diminish Davis Square's unique charm.
The purchase of several Elm Street buildings, including one that has been the longtime home The Burren, by the British student housing developer Scape recently raised the alarms of fans of the popular Irish pub (city officials stress that Scape has yet to file any plans for the buildings, which would be subject to municipal approval).
Colleen McKiernan was one of several attendees at the public hearing that argued any redevelopment should occur within the square's current four-story rules, as has happened on the site of the former Davis Square institution Johnny D's.
"It's completely unclear to me how the zoning board could say, 'Yeah, we'll allow things up to twice as tall as what's in Davis Square and somehow that would maintain its character,'" said McKiernan, who described herself as "vehemently opposed" to increasing height limits.
Melissa Woods, the author of the Davis Square neighborhood plan, says some of the pushback has been misplaced.
Somerville is also currently in the midst of a citywide overhaul of its somewhat arcane zoning rules. The proposed overhaul includes a recommendation that five- and six-story buildings be allowed in Davis Square. The neighborhood plan only suggests a "density gradient," where higher heights are allowed in the middle of the square. Specific heights would be under the purview of the new zoning rules, according to Woods, who works as a planner for the city of Somerville.
"I didn't hear anyone say they were against the concept of more height in the middle of the square; they were commenting on the height proposed in the zoning map," she told Boston.com in an interview.
"If you take Davis Square's neighborhood plan in a vacuum, I think people are generally supportive of the plan," Woods said. "But things don't happen in a vacuum, and so I think a lot of the testimony on Thursday reflected other projects and proposals happening in Somerville."
One thing that did receive near-universal support during last week's public hearing was the plan's proposal to increase space for pedestrians and cyclists.
Several residents testified that Davis Square's big, complex intersection — which consists of six streets, most of which do not have bike lanes, — is treacherous for cyclists, particularly given the frequency of double-parked delivery trucks and ride-sharing drivers.
"It is terrifying, frankly," Somerville resident Matthew Applegate testified.
The neighborhood plan envisions making the intersection a four-way, with two-way streets in all directions (rather than the current mix of both one- and two-way streets). Each of the four streets would also get a bike lane in at least one direction. It would also close off Dover Street to vehicles and close the Highland Avenue-Elm Street "slip lane" in front of Mike's restaurant, tripling the amount of pedestrian space in the square and creating room for moveable chairs, food trucks, and potentially a beer garden.
The city will even look at potentially pedestrianizing Elm Street, an idea for which several hearing attendees voiced support.
Somerville also plans to incrementally replace Davis Square's brick sidewalks — which officials say pose accessibility problems — with a concrete surface that would include a brick accent strip to maintain some of the square's character.
Still, Woods stresses that the plan is not set in stone.
During last week's hearing, she presented a few updates based on the feedback the city received during the plan's public comment period, including new initiatives to help small businesses. After hearing "a lot" about the proposed intersection design and its apparent loss of parking, Woods also said the plan's renderings of the proposed four-way would be changed to hand-drawn sketches.
"This plan is not for construction," she said, adding that the takeaway from the proposed redesign should be the objectives of more public space and "improved facilities for all uses."
However, some residents are getting restless.
The hearing last week was originally scheduled, and then rescheduled, for Aug. 22 and Sept. 5, respectively. And the Planning Board declined to vote on the proposals Thursday, opting instead to extend the public comment period again until Nov. 1.
During the hearing, Applegate said he thought the plan was a "great vision for Davis Square" and urged the city to move more quickly.
"I'm quite shocked that this has been a six-year process and this is where we are," he said. "It sounds like we haven't made much progress."
According to Woods, neighborhood plans inherently take time, both to develop and implement.
"There are no simple problems in urban planning," she said.
Based on the next month of public feedback, city planners could make additional changes to the plan before presenting it to the Planning Board. A vote of approval by the board would be the final formal step in the development process. From there, Somerville would work to implement the plan incrementally over 20 to 30 years.
Woods says the initial changes could be simple. Before any major overhauls of the intersection, city officials could work to address the delivery truck issue through designated loading areas or increased enforcement of rules against double parking. The plan also calls for the consideration of a bus priority lane on Holland Street leading to the square as something that could be implemented in the near-term. And there's an entire section on improving the maintenance of the square as it currently exists, touching on things as basic as litter control and lawn reseeding.
"It's not like we're going to blink and see a four-way intersection or a market hall or a bus priority lane," Woods said. "All of these steps require more outreach, and more planning."