Local
'Every one of us wants justice for her': Friends remember Revere 19-year-old killed outside of Providence nightclub
Berta Pereira-Roldan was celebrating her birthday when she was fatally shot.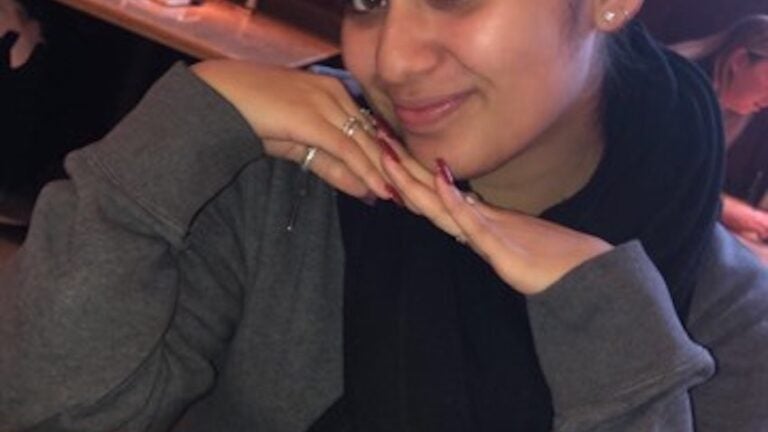 Berta Pereira-Roldan's friends wanted to make her 19th birthday special, so they drove her out to a Providence, Rhode Island, club to go dancing. As the club closed down around 2 a.m. Sunday and the group spilled out onto the street, they made plans to head to a chimi truck for some late-night Dominican food.
"It didn't end up going like that," Berta's friend Eugene Jimenez said Tuesday.
Eugene, 20, was one of the friends who had driven from Revere, where Berta lived, to Providence to go to a club called Noah Lounge. At the end of the night, the group split in two and walked toward their cars. The women headed one way, the men another.
He got to his car and waited for Berta to meet him like they had planned. He didn't think anything of it when he saw the cop cars flying down the street.
Then, his phone rang. Berta had been shot.
He ran toward her car, but police wouldn't let him near the crime scene. Eugene spent the night showing nurses a photo of Berta and asking if they'd seen her. He described her long nails and dark hair to hospitals over the phone. He sat in a trauma center's waiting room until the friends he was with couldn't stay awake anymore. No one had seen her.
"I didn't find out she was dead until the morning," he said.
Alexis Chafin, 18, found out after police interviewed her. When Berta first fell down on the sidewalk, Alexis didn't realize what had happened. But then she moved her best friend's hair and saw the bullet hole near her shoulder.
Berta and Alexis had spent nearly every waking minute together for the past few years. In high school, they would switch classes to make sure they were in all of the same ones. After school, they would go home together and wait for the bus to take them to work. After work, they'd meet back up again.
They were practically sisters. Berta died wearing a pair of Alexis's heels.
Another woman who had just left the club, 38-year-old Crystal Peloquin, was seriously injured in the shooting. Police think two men that Peloquin was talking to outside the club might have been the intended targets. No arrests have been made.
Berta's friends say she didn't know what she wanted to be yet. She graduated from Revere High School in May and was waitressing full-time at The Kinsale in Boston to put herself through North Shore Community College. She had just started classes there.
Her friends and family called her "bird," and she often wore a necklace bearing the nickname. She loved iced coffee — almost always a medium from Dunkin' with caramel swirl and a hot cup. "If she didn't have her hot cup, it was a problem," Alexis said. When the two went out to eat, Berta always ordered Alfredo pasta.
The past few days, Eugene has been making sure he takes care of Berta, placing her favorites from Dunkin' and McDonald's among the growing forest of candles and teddy bears outside her family's home. Tuesday, he brought her roses and a McChicken.
Jenise Jimenez, 18, had almost gone to Providence with the group that weekend. When she heard Berta was killed — she remembers the exact minute, 11:51 a.m. — she didn't believe it, so she texted Berta's phone, asking "How was your night?"
She had gone to Berta's senior prom last year, and Berta had plans to go to hers this spring. When the two met through Eugene, Jenise's cousin, they clicked instantly. It wasn't hard to see why, Jenise said. Berta dazzled every room she walked into.
People could just feel that Berta was a good person, she said.
Eugene chuckled, remembering how it was impossible not to smile back when Berta beamed at him. Her smile could turn bad days good.
All three friends said they would remember Berta with that smile on her face.
"Every one of us wants justice for her, and I hope she gets it," Jenise said. "She deserves it, you know?"
A GoFundMe organized by Berta's brother to support her family had raised nearly $18,000 as of Thursday morning. Friends said her funeral was planned for Thursday afternoon.