Local
'Mustache puppy' Salvador Dolly finds forever home in Mass., preps for Puppy Bowl
"She's been recognized on the street when I've walked with her a few times."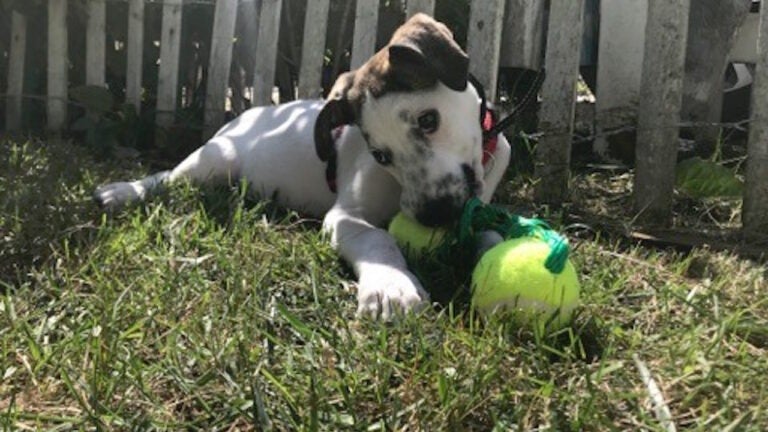 Over the summer, a puppy with a Salvador Dali-esque mustache tugged at heartstrings all over the nation.
That puppy, named "Salvador Dolly" after the legendary artist, was seeking her forever home, and she found it with a couple that lives in Provincetown. Plus, Dolly's set for her television debut – Animal Planet's 2020 Puppy Bowl.
And, not to worry, Dolly's mustache has stayed prominent as ever as she's grown, recent photos from her new owners show.
Ryan Landry and Scott Martino, who live part of the year in Provincetown and part of it in New Orleans, and operate The Gold Dust Orphans theatrical troupe, didn't know they would end up Dolly's adopters. In fact, they thought she'd already been scooped up by someone else.
"We were told that someone else had adopted her, so we were kind of heartbroken," Landry said in an interview with Boston.com. But as fate would have it, that potential adoption fell through, and Hearts and Bones Rescue, which had Dolly, soon contacted Landry.
He decided to pick Dolly up while on a planned trip to New York, and bring her back as a surprise for Martino. Their friends gathered at their home and began singing "Hello Dolly," as he walked her in. He then asked Martino if he knew about the surprise.
"I'm really bad at keeping secrets, and I worked so hard on this," Landry said. "He's like, 'Yeah, I knew.'"
Blown surprises aside, the couple said Dolly, who is now 12 weeks old, is settling in nicely to her new home, and is bonding well with her canine sister, Violet, a Jack Russell terrier.
My most adorable interviewee ever? You bet. #SalvadorDolly, or #MustachePuppy from @hbrdogs, gets a new home in #Provincetown w/Ryan Landry & Scott Martino @GoldDustOrphans https://t.co/DOHAMpGYvD pic.twitter.com/VQG8abDQpG

— KathiScrizziDriscoll (@KathiSDCCT) September 29, 2019
"She has spurts of energy where goes for like 10 minutes and then she just wants to sit in your lap," Landry said.
Dolly is off to New York City this month for the 2020 Puppy Bowl, Animal Planet's annual football-themed event that airs on Super Bowl Sunday. The couple said it's filmed early, well before the Super Bowl.
Other than that and her early internet fame, Dolly has been appreciated by those who have seen her with Landry and Martino.
"She's been recognized on the street when I've walked with her a few times," Martino said. "The mustache, I have a feeling it's going to get more pronounced as she gets older."

https://twitter.com/nbcchicago/status/1160668489088196609