Local
Stress and uncertainty are daily burden for Haitians in Boston with temporary protected status while courts weigh program's future
"I'm scared for my three kids if they send us back."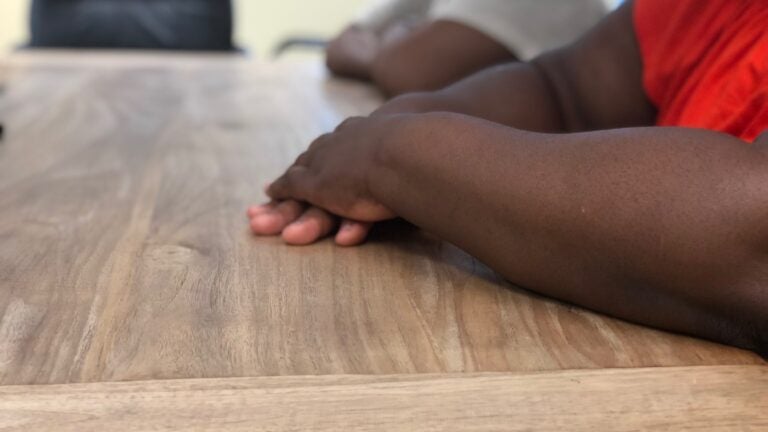 Venise was in her Port-au-Prince home with her two children when the shaking began.
Pregnant with her third child, she huddled together with her daughter, then 13, and son, then 8, as the 7.0 magnitude earthquake struck Haiti on Jan. 12, 2010.
As Venise recounts the experience almost a decade later from a conference room in Boston, she hugs herself.
"I thought, 'I can't survive,'" she said. "The whole house was shaking."
She, her children, and their home survived the deadly tremors and following aftershocks.
But around them, Port-au-Prince was devastated. The epicenter of the quake was just 10 miles away from the country's populous capital city. More than 200,000 people were killed, and authorities estimated in July 2010 that 1.5 million people had been displaced by the disaster.
Venise says her younger brother was among those killed. He'd left the house that day and never came home.
Sponsored by a sister-in-law in Boston, she came to the United States with her two children in 2010. She is one of the more than 58,700 Haitians who are in the U.S. with temporary protected status, or TPS, which gives provisional residency and work permission to people whose home countries are experiencing conditions — such as a natural disaster or civil strife — that would prevent them from being able to return safely. The Massachusetts Immigrant and Refugee Advocacy Center estimates that of the 435,048 TPS holders in the United States, from 10 different countries, about 12,326 reside in the Bay State.
Venise, who requested to be identified by her first name due to her immigration status, hasn't been back to Haiti since she fled with her children in 2010. She gave birth to Vanessa, her third child, in Boston. And over the last nine years she has renewed TPS for herself and her two older children every 18 months, a measure that costs $500 for each family member, each time.
Boston is home now for her family, she said.
She learned English. Her older daughter, Britinie, is taking online college classes, studying health care management. Her son is in his senior year of high school, due to graduate in the spring.
But in late 2017 and early 2018, the Trump administration announced it was ending TPS protections for Haiti, El Salvador, Sudan, and Nicaragua. Multiple lawsuits were filed to try and stop the terminations. A preliminary injunction in October 2018 forced the extension of TPS through Jan. 2, 2020, while the matter is weighed by the court.
In the meantime, Venise and her family have been left in limbo, trying to go about life's demands of work and school with the uncertainty of not knowing how long they will be able to stay in the U.S.
"I can't sleep," Venise said. "It makes me cry. Sometimes, Vanessa says, 'Mommy, why you sad?' I say the problem — the president said they don't want us here."
'I am working [so] they can be better in my country'
When Venise first arrived in Boston, she and her two children lived with her sister-in-law.
They came to the United States with nothing, she said, and she only spoke Haitian Creole. Sometimes, she cried, she said. Massachusetts was so cold, and she'd never seen snow before.
"It was really hard for me, with two kids plus another one in my stomach," the 49-year-old said. "It was really hard — I didn't have anybody to ask for anything."
On top of the isolation of being alone with two young children in a new place, she was experiencing post-traumatic stress from living through the earthquake.
Waiting for a train in Boston, she would hear the approaching rumble and a flash of fear would consume her. When she went to sleep, she was constantly worried that an earthquake would happen again.
"I feel shake all the time," she recalled.
After her daughter Vanessa was born, Venise went to Boston Medical Center for help. Other Haitians participated in the counseling, she said, and she felt better afterward.
Rebecca Minahan, associate director of legal services at the Irish International Immigrant Center, said post-traumatic stress disorder was not uncommon in the city's Haitian community following the earthquake.
"There were so many, especially children, who were traumatized, who were injured, who needed medical care," Minahan told Boston.com. "A lot of post-traumatic stress syndrome. A lot of serious psychological impacts from having lived through that horrifying earthquake."
Over the years and through the TPS renewals, staff at IIIC have gotten to see the children grow up, with parents and kids learning English, she said. For the last round of TPS renewals, the center didn't have as big of a need for interpreters for their clients.
"Now everyone is speaking English fine and prefers to speak English and are going to school and working and buying homes," she said. "The transformation over these eight or nine years is kind of amazing."
After Vanessa was born, Venise also decided to go to Rosie's Place, a women's shelter in Boston that offers support ranging from housing to food to educational services to women in need, to take English classes. When she first arrived in the United States, she was referred to the shelter for services. She said she continues to visit the organization's food pantry for help.
"That's been my home," she said of the nonprofit.
After a few years, Venise said she started to feel less isolated. She and her children moved into their own apartment, for which she pays market rent, and she started working as a home health aide. Her partner, who stayed in Haiti, sends money when he can to help her pay the bills.
Whenever Venise has anything to spare, she sends it to her mother in Haiti.
Like Venise, 45-year-old Ginette came to the U.S. after the earthquake in 2010. Her home in Port-au-Prince was destroyed, and one of her daughters was injured — left physically disabled — in the quake, which is why they came to America, she said.
Now, living on the North Shore, Ginette has custody of her grandson, who is an American citizen, working as a personal care assistant to support the 4-year-old and her five children who stayed behind in Haiti.
She sends the money to her oldest daughter, who is going to school.
"School is very expensive in my country," Ginette said. "Very, very expensive."
The money she sends twice a month goes towards the rent, school, and food — sometimes clothes — for her children who are 28, 25, 17, and 10-year-old twins.
She wishes she could bring them to Massachusetts, where they could go to school and have more opportunities than in Haiti.
"[It's a] very bad feeling," she said of the separation. "It's my first time — being separated by my kids."
Ginette hasn't seen her children since she left with her daughter after the earthquake. She talks to them three times a day — morning, afternoon, and night.
"I am working [so] they can be better in my country," she said.
'I've never seen this level of fear and anxiety and panic in the immigrant community'
For both Venise and Ginette the uncertainty over the future of TPS — whether they will be forced to return to Haiti with its termination or be allowed to remain — is a daily source of stress and worry.
"All the time," Venise said. "We think about that all the time."
Both women said they have heard rumors that they could be sent back to Haiti without their U.S. citizen child or grandchild.
"It got me scared," Venise said.
Minahan said a U.S. citizen child cannot be forced to remain in America when their TPS-holder parent or guardian returns to their home country.
"A parent who is facing deportation really is faced with the decision of, 'Do I bring the child with me if I'm forced to leave? Or do I leave the child behind in the care of another relative?' So it's pretty awful," Minahan said. "The government can't make that decision for someone. But it's a pretty awful position and decision to have to face as a parent."
Since the government cannot deport a U.S. citizen child, a parent with TPS returning to their home country would need to buy the plane ticket for their child's return, though they themselves could be deported at the government's expense.
Minahan said the fear both Venise and Ginette expressed is a misunderstanding she and her colleagues have heard frequently at IIIC — one of many rumors spreading with the fear and uncertainty in the community.
"I've been an immigration attorney for almost 20 years, and I've never seen this level of fear and anxiety and panic in the immigrant community here in Boston," Minahan said.
Clients with TPS have showed up with documents — from drivers licenses to work permits — with expiration dates of July 22, 2019 — even though the program has been extended till January.
"A lot of employers aren't really accepting that information easily and causing problems with employment," Minahan said. "But also people are just really scared about what's going to happen. It's not very reassuring now to say, 'Well you can stay till Jan. 2, but we don't know what's going to happen after that.' People have their homes and jobs and their kids. And things in Haiti are still pretty devastating. The economy, the security, the health care system. We have kids who need to be here for medical reasons."
For El Salvador and Nicaragua, TPS has been in place going on 20 years. Haitians with TPS on average have been in the U.S. for 15 years or more, Marion Davis, director of communications for MIRA, told Boston. In Massachusetts alone, there are an estimated 4,735 Haitians with TPS.
"These are people who are extremely, extremely well-established in the community," she said. "Very large numbers of them have kids who were born and raised in the United States, lived their entire lives here. They are people who got married here, who bought homes here, who bought cars here."
The Haitian population in particular is heavily represented in the home health care industry and in nursing homes, but TPS holders are embedded in the Massachusetts economy "across the board," she said. So much so, that a study found that without TPS holders from Haiti and Central America alone, the Massachusetts economy would lose $645.8 million a year.
"It would be a very dramatic impact, and it would be very harmful to the economy," Davis said of the Trump administration's move to end TPS for the four countries. "Not to mention it would be very harmful to communities that count on these members to be completely involved in every aspect of the community life. Whether it's church or businesses or schools. They've been here for so long that they belong here completely."
Davis argued that there is "no question" that the countries are not in positions to safely take back all the people who are now living in the U.S. with TPS.  MIRA supports the lawsuits challenging the Trump administration's move, and the group is also backing the Dream and Promise Act, which would provide protections and offer a pathway to citizenship for more than two million immigrants, including TPS holders.  A local group, the Massachusetts TPS Committee, helped facilitate the introduction of the bill to the House of Representatives. The committee was founded in 2017 with the goal of protecting TPS holders and their families and to push for a path of permanent residency for program beneficiaries.
Part of the problem with TPS, Davis said, is the program does not grant participants the ability to apply for green cards if they've been in the U.S. for a long time.
"That's a fundamental problem," she said. "And that's what the Dream and Promise Act would at least do on a one-time basis. It wouldn't do it permanently, but it would help a lot."
While TPS designations have ended for countries under prior administrations, Minahan said what is happening now is "totally unprecedented" given the number of people who would be impacted. There are more than 250,000 Salvadorans alone in the U.S. with TPS, according to MIRA.
The hope right now, the immigration lawyer said, is that by November there might be an update from the courts to provide some clarity on what TPS holder should be expecting.
"I think realistically that the hope is that there is going to be another extension," Minahan said. "And the hope is that the extensions are just going to buy people time until a new administration. But we don't really know."
'There's nothing there'
Before the earthquake, Venise said she never thought of leaving Haiti. She'd even visited the U.S. with her children before the disaster for a vacation and then returned home.
"Haiti is my country, I miss it," she said. "But if I have a choice to choose one country, I choose America. It is a good country."
Both Venise and Ginette said that if they are forced to return to Haiti, they will bring their U.S. citizen child and grandchild with them, respectively.
But they don't want to go back. Haiti still isn't safe for them or their families, the women agreed, and the opportunities for education and health care in the U.S. are much better.
Ginette said she doesn't know how she would be able to help her family if she returned to Haiti — finding work would be difficult. In the U.S., Venise said, she doesn't have to worry about her children when they go to school.
"Going back, there's nothing there," she said. "They kill people every day. Every day they kill people. There's no food, nothing, in my country. I'm scared for my three kids if they send us back."
Both women said they have faith — and pray every day — that they will be able to stay in their Boston homes.
"After God, it is the [safest] place," Ginette said of the U.S.
The federal government currently advises U.S. citizens to reconsider traveling to Haiti, citing the level of "crime, civil unrest, and kidnapping" and warning that "emergency response, including ambulance service, is limited or non-existent."
Venise said if she got the chance, she would tell President Donald Trump that her country is not a good place for her children.
"Don't look at me, look at the children, their future," she said. "They don't have anything in my country. I can tell him, 'Let us stay here to go to work and then the children go to school and learn something.' After that, if he don't want us here — but for now, I don't have a country to go to."
Later, while she's waiting for a photo to be taken, Venise holds onto her 9-year-old daughter's hand.
The gesture — holding onto her child — brings her back to 2010.
"That happened when the earthquake came," she says with a sigh. "It was a bad, bad, bad experience."