Local News
City of Boston releases plan to address the public health and safety impacts from the opioid epidemic
"We know we need to improve the situation."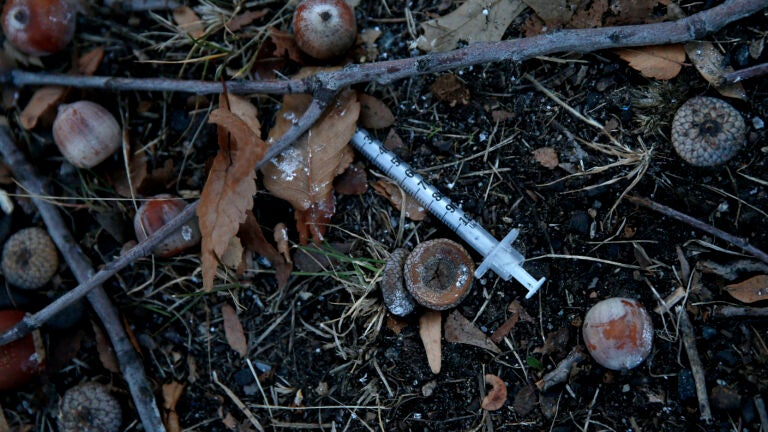 Boston Mayor Marty Walsh released a strategic plan on Friday that aims to address the public health and safety impacts of the opioid epidemic in the city's Newmarket Square and surrounding neighborhoods. 
The approach, being titled the "Melnea Cass/Mass Ave. 2.0 Plan" by the city, includes the addition of more city staff assigned to working in the area of Melnea Cass Boulevard and Mass. Ave., funding for new programs and initiatives, and improved coordination between the existing services in place across multiple departments. 
"What we have on our hands is an opioid epidemic of historic proportions that is taking hold of too many lives, and tearing apart families in every city and town in our nation," Walsh said in a statement announcing the plan. "As a society, we will never turn our backs on people who are at the most vulnerable time in their life. Through this plan, we are focusing on the area of Melnea Cass/Mass Ave to make the needed improvements for those who are struggling: those with a substance use disorder, and the residents impacted by this epidemic throughout Boston's neighborhoods. There is not one perfect solution to dealing with this crisis, but we are committed to doing everything we can."
The move to evolve and formalize the city's approach to the epidemic comes on the heels of a summer which saw residents in the South End and surrounding neighborhoods raise concerns about the impacts they were seeing outside their homes, near their schools, and in their parks. The police department came under fire for an effort it undertook, "Operation Clean Sweep," with a series of arrests in the area sometimes referred to as "Methadone Mile," the stretch of blocks surrounding Mass. Ave., Melnea Cass Boulevard, and Southampton Street that are home to shelters and substance use and behavioral health services. 
During a meeting to discuss the plan Thursday, city officials said crime has increased 37 percent in the area from Jan. 1-Sept. 29, compared to the same period in 2018. More than 832 Boston residents have died from opioid-related overdoses since 2014, and the city has spent more than $64 million on fighting the epidemic since that same year, they said. 
Marty Martinez, chief of the city's Health and Human Services, said during the meeting that the plan aims to strike the right balance between public health, public safety, and quality of life issues while improving coordination and alignment of services. 
"The plan lifts up decreasing criminal activity and it lifts up engaging the people into care and treatment," he said. "Will there be a police presence? Absolutely. But it's part of this larger plan and not just an isolated dedicated effort."
In the plan, steps are laid out and divided between four priorities: connecting people struggling with substance use disorder with services; enhancing public safety by reducing criminal activity; improving quality of life for residents and businesses in the neighborhoods; and improving both the internal and external communications about the services and efforts.  
"Probably about 70 percent of what's in the plan, we are already doing," Martinez said. "And we are actively doing it. This plan coordinates it better, aligns it better, and connects it to goals and metrics that can be reported on. There's about 30 percent of the plan that is expansion, more boots on the ground, more resources."
Included in the "boots on the ground" and expansion of services, the city will increase its Street Outreach Team from eight to 14 outreach workers, hire four new public works employees assigned to keeping the Melnea Cass/Mass. Ave. area clean, and add four new members to the city's mobile sharps team that is dedicated to picking up discarded syringes. 
The city is expanding the sharps team and its street outreach with a $750,000 investment from the state Office of Health and Human Services. 
"The idea is to make sure that we engage people to give them care, that we build trust and relationships, and that we do what we need to do to improve quality of life," Martinez said of the resources that are being added or redirected to the area from departments ranging from police and EMS to public works. "Anything that we do that's counter to that, we don't want to be doing. This plan is meant to lift up the balance of all those pieces and making sure that one doesn't become the dominant." 
The plan also stipulates the creation of a task force, comprised of 24 members, that will meet monthly over the next two years to track the ongoing efforts in the area. A public webpage for the city's efforts around the opioid crisis, as well as a centralized dashboard to track all the progress and metrics of the 2.0 plan, will also be created. 
While there is a focus of investment of resources in the area of "Mass. & Cass," as city officials refer to it, with the 2.0 plan officials are also looking at opportunities outside of the immediate neighborhood to help decentralize some of the challenges being experienced. That can be done, they said, through efforts like increasing clean syringe distribution and disposal in other areas and partnering with other programs serving the homeless that are based in other neighborhoods.
"We're seeing a lot of increased activity in this neighborhood, and we're going to focus on that, but we're really invested in looking at where can we provide other services outside of this immediate area that will help people get their needs met," Martinez said. "We're seeing in this area — Melnea Cass and Mass. Ave. — this is the epicenter of the issues that we're seeing. But substance use disorder is hitting every neighborhood in Boston. It's on every corner and every neighborhood, even if you don't see it. It's happening in people's homes, it's happening in people's basements." 
The Health and Human Services chief emphasized that he and his colleagues know there is "no singular answer" to what the neighborhood has been experiencing. 
But the plan, he said, creates "greater intentionality" in how the city balances addressing public safety, public health, and quality of life impacts from the crisis.
"Every major city in the United States is dealing with some version of this issue in different ways and in different situations," he said. "This is not a silver bullet — this doesn't solve every single issue that we've seen. What it does do is show that we are dedicating more resources, we're dedicating more programs and efforts in this area, and we're also making sure that it's strategic and aligned and that we're tracking our successes and our progress. That's what we're trying to do because we know we need to improve the situation."