Local News
Photos: Irish navy's LÉ Samuel Beckett arrives in Charlestown
Public tours of the vessel will be offered Saturday.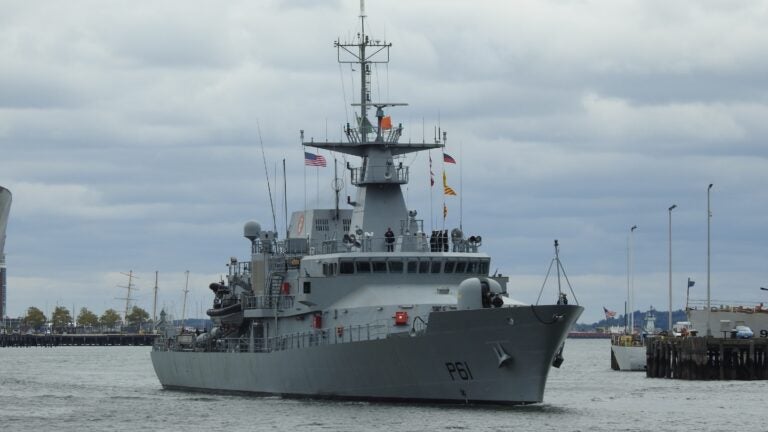 An Irish Naval Service Fleet patrol vessel reached Boston's shores Thursday, settling alongside the USS Constitution where it will remain for the rest of a five-day visit ending Monday.
The LÉ Samuel Beckett arrived in the Charlestown Navy Yard's Pier 1 by way of New York City and was promptly berthed next to Old Ironsides.
Yesterday LÉ #SamuelBeckett arrived in #Boston. #P61 will be open to the public today & Saturday 10:00 – 17:00 at Charlestown Navy Yard in company with the historic @USSConstitution. @GlobalIrish #MeetTheFleet ☘️ ???? @IrelandBoston @defenceforces pic.twitter.com/Yf1fTsKDMZ

— Irish Naval Service (@naval_service) October 4, 2019
The LÉ Samuel Beckett is one of four offshore patrol vessels in the naval service fleet's P60 class, according to the National Park Service.
Each vessel takes its name from one of Ireland's many literary luminaries, with the other three: LÉ James Joyce, LÉ William Butler Yeats, and LÉ George Bernard Shaw. ( The "LÉ" stands for "Long Eireannach" meaning "Irish ship.")
"The primary mission of the P60 class vessels is fisheries protection, search and rescue, and maritime protection operations, including vessel boardings," the park service said in a statement last month.
Free public tours of the LÉ Samuel Beckett will be offered on a first-come, first-served basis Friday and Saturday between 10 a.m. and 5 p.m., according to Boston's Irish Consulate.
The L.É. #SAMUELBECKETT #P61 has shipped up to Boston!!!☘️ Visit Charlestown Navy Yard this Fri & Sat from 10am to 5pm for public tours! ? ⚓️ @naval_service @GlobalIrish @USSConstitution pic.twitter.com/EXuPBfqIaE

— IrishConsulateBoston (@IrelandBoston) October 3, 2019
https://twitter.com/naval_service/status/1179821732200361985