Local
Marty Walsh says improving this MBTA line could be a 'game-changer' for parts of Boston
"Our residents and workforce are speaking loud and clear."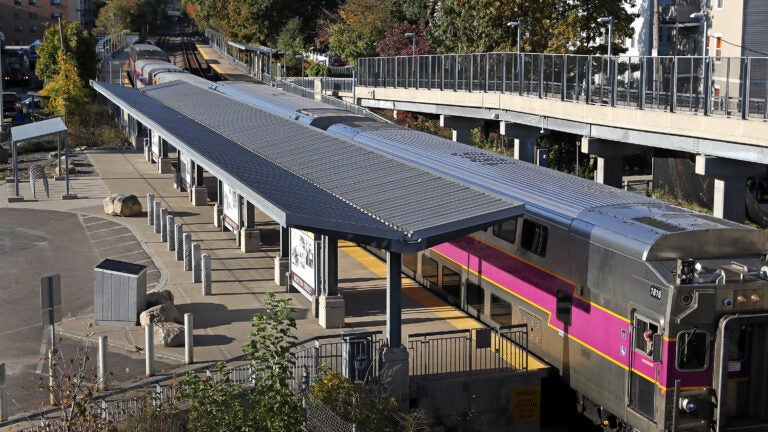 It's not hard to see what parts of Boston are underserved by the MBTA. Mayor Marty Walsh says that all you have to do is look at a map.
"It's Dorchester, Roxbury, Mattapan, and Hyde Park," Walsh said Monday afternoon at the MBTA's Fiscal and Management Control Board meeting. "It's the Fairmount Line."
The MBTA's shortest commuter rail line runs nine miles from South Station through Boston's expansive southwestern neighborhoods to Readville, serving a corridor that is untouched by the sprawling arms of the T's subway system. Those communities also happen to be among city's most diverse and least prosperous. Walsh says expanding service on the Fairmount Line is an issue of equity — and potentially a "game-changer."
"One-fifth of Boston's population lives along the nine-mile route of the Fairmount Line," the mayor said Monday. "Eighty-three percent of those residents are residents of color. They need and deserve better service. They've been fighting — quite honestly — for better service for decades. And we have an opportunity now to make sure that becomes a reality."
For years, community advocates have called for turning the Fairmont Line into the MBTA's fifth subway line, prospectively dubbed the Indigo Line, with high-speed urban subway cars running at five- to 10-minute intervals just like the Blue, Green, Orange, and Red Line. Walsh's proposal doesn't go that far; transit officials have said the Indigo Line concept is a long-term goal that would cost hundreds of millions of dollars.
In the short term, Walsh is backing a number of intermediary improvements.
In July, he announced a joint plan by the City of Boston and MBTA to add eight additional weekday trips on the Fairmont Line, which currently runs at 45- to 60-minute intervals and experiences "significant" ridership during off-peak times. According to Walsh's office, the additional trips would be tailored to support early-morning and late-night shift workers, as well as students along the corridor. The plan would also allow riders to use CharlieCards, rather than forcing them to buy commuter rail passes for an intra-city trip.
Walsh says increased and more accessible service would unleash the full economic potential of communities from Newmarket to Uphams Corner to Mattapan Square to Readville, which are also targeted for other economic and transportation investments. His office says the plan would cost an additional $830,000 to $1.5 million a year, but is more than justified by the significant increases in Fairmont Line riders in recent years. Since 2012, the line has added four new stations, including the Blue Hill Avenue station, which opened in February.
"Our residents and workforce are speaking loud and clear," Walsh said. "They want the service. They need the service. They will use the service."
Rep. Dan Cullinane — a Dorchester Democrat who has introduced legislation to increase Fairmont Line service to 30-minute intervals — argued that the recent ridership increases may even be underestimating demand given the existing hurdles.
"The fact that you need to buy two separate passes is an obstacle, even if it's the same price," Cullinane said at Monday's meeting, adding the MBTA should adopt technology to integrate CharlieCards on the Fairmont Line as soon as possible.
While it remains the least-ridden commuter rail line, the Fairmount Line's ridership more than tripled from 789 in 2012 to 2,652 in 2018, according to a MBTA report this past January. Cullinane says it would further spike if CharlieCards could be used and if the schedule is synced with other local bus and train systems, which would in turn position advocates to argue for additional investments.
Later this month, the MBTA will begin testing regular commuter rail service to Foxborough along the Fairmount Line, which some fear could negatively affect service for local passengers in Boston. MBTA officials say the pilot will "not reduce existing Fairmount Line service, stops, or frequencies," though Fairmount Line advocates worry about potential delays or overcrowding. According to CommonWealth magazine, MBTA officials said last month that they would reserve seats for Fairmount Line passengers if crowding became an issue.
In 2016, the Fairmount Line experienced such a disproportionate number of train cancelations that federal transit officials launched a civil rights investigation.
During the meeting Monday, members of the Fairmont Indigo Transit Coalition voiced support for the plan to increase service in the near term — as well as hope that it would be approved to begin as soon as next spring.
"Right now, the peak-hour trains that run 45 minutes apart are not OK and are not providing the reliable and frequent service that is necessary," Staci Rubin, an attorney for the Conservation Law Foundation, said. "These neighborhoods have been overlooked for far too long."
In his remarks, Walsh also advocated for better commuter rail service across the region, particularly in the Boston area.
"We see the need every day," he said. "Our worst congestion is at the points where people are trying to get in and out of our city. Drivers want, and would use, better transit options."