Boston City Council
Michelle Wu wants to abolish the BPDA. Here's what to know.
"The stakes are too high to preserve the status quo."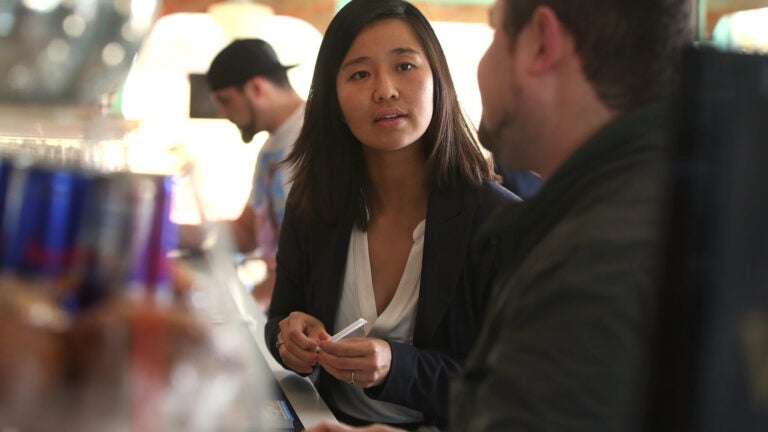 City Councilor Michelle Wu called for sweeping change to Boston's development review process Monday by proposing that the Boston Planning and Development Agency be abolished — overdue action needed to address the city's pressing problems, she said.
Wu, detailing the proposal in a 54-page report, said the agency has only served the well-connected in an outdated system designed 60 years ago that lacks accountability and transparency.
Meanwhile, Boston's modern day problems have continued on, unchecked, she says.
"Instead of delivering the resources to address our most urgent challenges, Boston's development process is making our problems worse," Wu wrote in the report, titled, "Fixing Boston's Broken Development Process: Why and How to Abolish the BPDA."
"We're more and more anxious about rising home prices and rents, frustrated daily by increasingly awful commutes, and scared about the flooding and extreme heat that intensify every season."
The stakes are too high to preserve the status quo. The BPDA is woefully unprepared for the challenges facing this great city. The people of Boston deserve better. #AbolishTheBPDA pic.twitter.com/qKlCF9Tzni

— Michelle Wu 吳弭 (@wutrain) October 7, 2019
The report comes after BPDA official John Lynch pleaded guilty in federal court last month to accepting a $50,000 bribe to influence a 2017 Zoning Board of Appeal vote.
ZBA member Craig Galvin, a Dorchester real estate agent, also resigned from his post in September following a Boston Globe report that he was a sales agent for a condo project Lynch built in 2018.
But Wu, who's eyed by some as a potential challenger to Mayor Marty Walsh in 2021, says her ideas to dismantle the agency came before prosecutors brought Lynch to court.
At the helm of the City Council's Committee on Planning, Development, and Transportation for the last two years, Wu says the report — intended to be a jumping off point for conversation — comes following her conversations with everyone from across the city's spectrum, from residents to developers.
"The corruption case is more a symptom of what's wrong than the problem that we need to fix," Wu told WBUR Monday.
'The stakes are too high to preserve the status quo'
Indeed, Wu says the modern issues with the BPDA can be traced back over six decades, to its inception as the Boston Redevelopment Authority in 1957 as the mechanism for the city to clamp down on and manage federal funding aimed at spurring private development through "urban renewal."
Speaking on WGBH's "Boston Public Radio" Monday afternoon, Wu said that as other cities disbanded their groups in time, however, Boston officials centralized powers to the agency. The BPDA now operates mostly under the purview of the mayor.
Developers have not been held accountable for unfulfilled promises to the city, she said. And Boston's antiquated zoning code, last reformed in 1964, leaves officials to approve exceptions and variances on a project-by-project basis, according to Wu.
"Every new development is writing its own zoning code," she said.
Still, changes to the system must go beyond reform, Wu's report says, noting that "little has changed" after two critical audits in 2014 and 2015 found the agency was burdened in procedural and cultural issues, such as low accountability and organizational problems.
The BPDA "continues to exist because it's a concentration of political power," Wu said.
"The stakes are too high to preserve the status quo," the report says. "The BPDA is woefully unprepared for the challenges facing this great city. The people of Boston deserve better."
'Mere reform is not enough'
Wu's report, published on AbolishtheBPDA.com, details the BPDA's history, its lingering problems, and steps to how the city could restore a Planning Department and create a Planning Board, thereby putting the agency under city government control.
Furthermore, Wu argues, among other points, the city must follow in the footsteps of other municipalities by updating its zoning code and by creating a citywide "master plan" for development that can guide longterm planning and zoning regulations.
It's time to abolish the Boston Planning & Development Agency. We can't afford to maintain a complicated system that only the powerful & privileged can navigate. Learn more: https://t.co/OeVB3raGg1. #AbolishTheBPDA #bospoli pic.twitter.com/20mjaGKlg9

— Michelle Wu 吳弭 (@wutrain) October 7, 2019
"In most other major cities, comprehensive master planning is an ongoing process," the report says. "Entire teams focus on this work, often supported by a master plan advisory committee or consultant."
Wu also proposes ending "urban renewal areas," which would remove the BPDA's power to demolish homes in areas the agency deems "blighted" and to select a "developer, tenant, or purchaser without public process," the report says.
"In 2015, as part of an effort to rehabilitate the BRA's tarnished image, Director Brian Golden issued a formal apology for the Authority's role in demolishing the West End," the report says. "Golden was correct that 'although the destruction happened decades ago, the scars still remain.' However, an apology is not enough. Boston must ensure that the power to raze hundreds of homes and whole neighborhoods is never used again."
The overall effort to abolish the BPDA will require votes and approvals from the City Council, Walsh, and the state Legislature.
Wu said she is collecting feedback on the proposal both online and through a series of community meetings, the first of which was planned for Monday evening in the South End.
"Mere reform is not enough," Wu said on Twitter. "If Boston will be a city for all, then all should have a say in shaping it."
'Proposing to abolish the BPDA ignores the reality of the present day community-based planning agency'
In a statement Monday, Walsh, who renamed the BPDA in 2016, said his administration has improved public engagement with the agency, among other improvements.
The BPDA, during Walsh's tenure since 2014, has overseen the rollout of the "Imagine Boston 2030" vision in 2017, the unveiling of a new website complete with agency-related documents for each project, and the creation of transparency and engagement reforms in the agency's land disposition and urban renewal processes.
"When I first ran for Mayor, I had serious concerns about how decisions were made at the then-Boston Redevelopment Authority," Walsh said. "I immediately ordered an outside review of the BRA and put in place significant reforms to bring transparency, integrity and accountability to our development and planning processes across the city. We launched Boston's first citywide plan in 50 years that, through the input of more than 15,000 residents, now serves as a framework to preserve and enhance our city.
"And it's through Imagine Boston 2030 that the now-Boston Planning and Development Agency is running an unprecedented number of planning studies citywide where the community is our most important partner," he added. "Today, we have an agency that, for the first time, uses community engagement to guide growth that is inclusive and respects the history of each of our unique neighborhoods."
Golden, director of the BPDA, said in a statement Imagine Boston 2030 is being carried out every day in neighborhood planning studies and strategic plans to guide future development.
He noted that in the last five years, BPDA-approved development has generated almost 6,000 income-restricted housing units in the last five years.
"While there is still more work to do, I am proud of the progress that has been made to not only improve the development and planning process within the agency, but modernize outdated operational functions internally and externally," Golden said in the statement. "Proposing to abolish the BPDA ignores the reality of the present day community-based planning agency, and discredits the hard working staff who are in our neighborhoods every single day engaging residents on how we prepare for Boston's future."