Local News
3 things to know about Boston's updated 'Climate Action Plan'
"Implementing this plan is a major undertaking, and it's one of the most important challenges we'll face as a city."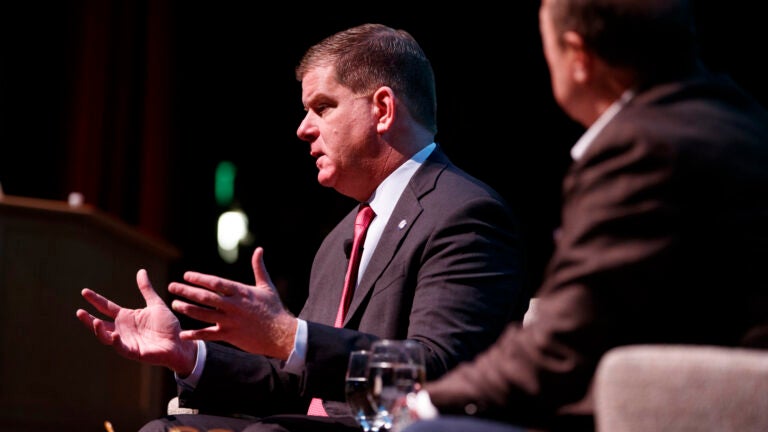 Updates to Boston's climate plan released Tuesday call for all new city-owned buildings to be built carbon neutral — one of several changes needed for the city to reach its goal to be carbon neutral by 2050.
The latest additions to the "Climate Action Plan" focus on initiatives to cut down carbon emissions in Boston's buildings and transit networks, among some of the priority steps the city can take within the next five years.
"Implementing this plan is a major undertaking, and it's one of the most important challenges we'll face as a city," Mayor Marty Walsh wrote in the report. "It will require courageous solutions and creative teamwork. We must make our buildings and our transportation systems much more energy efficient. We must invest in clean energy and job training. We must rise to the occasion, because our city's future depends on it."
The plan update comes just as Walsh is slated to head to Copenhagen Wednesday, where he'll participate in the C40 World Mayors Summit. Leaders from cities around the globe will meet to discuss how each is working toward eliminating carbon emissions.
Under the latest plan, in Boston, that undertaking will include creating zoning requirements to meet carbon-neutral standards and upgrading public transportation infrastructure, among other efforts.
Here are three takeaways from the plan update:
New municipal buildings will be carbon neutral
Boston's largest buildings, some 2,200 of them, make up only 34 precent of the city's total floor area, but account for nearly half of the city's total carbon emissions, according to the plan.
And in general, most of Boston's emissions, about 71 percent of them, come from its buildings.
It's why officials see tremendous potential for major emission reductions if the city can roll out and require more energy-efficient facilities: ones that are carbon neutral, meaning they have no net carbon dioxide emissions because emissions are balanced with other efforts to remove carbon, like planting trees.
Walsh is expected to sign an executive order requiring new municipal buildings be built carbon neutral once he returns from Denmark, The Boston Globe reports.
"We want to be designing buildings for the next generation of Bostonians," Boston's Chief of Operations Patrick Brophy told reporters Monday. "If we don't do this now, then who? … If not now, when? So we need to start looking at ways to build new buildings, and set a standard for others to follow."
City officials are also looking to create guidelines for standards geared at making new, publicly funded affordable housing developments carbon neutral.
"These guidelines will increase the baseline requirements for new construction to a net-zero emissions standard in 2020, and extend it over the next few years to the retrofit of existing buildings," the plan says.
Private owners of large buildings will be required to retrofit properties to become carbon neutral
The overwhelming majority — or 85 percent — of the floorspace that will be around in Boston in 2050 has already been built, according to the plan update.
So to reduce carbon emissions, many existing buildings will require "deep energy retrofits," such as swapping in electric heating and hot water systems for those currently powered by fossil fuels, the plan says.
"Four out of five buildings in Boston will need to implement deep energy retrofits and electrification by 2050," the report says. "Deep energy retrofits can reduce citywide emissions by up to 40 percent using commercially available technologies."
While the city will retrofit its properties, officials are looking to require that owners of large, private buildings do the same, potentially through financial incentives or by fines, the Globe reports.
"The standard will require that all buildings larger than a certain threshold meet fixed carbon targets that decrease over time," the report says. "Performance standards specific to different building typologies will ensure that buildings make steady progress on emissions reductions, while allowing building owners to develop solutions that are cost-effective and appropriate for the building's use."
The city wants to accelerate switching its fleet over to zero- and low-emission vehicles
The plan updates call for a faster timeline in the shift from gas-guzzling, official City of Boston vehicles to zero- and low-emission cars and trucks in the municipal fleet.
"Although costs have gone down, the City remains constrained by the high price of some electric and hybrid vehicles," officials say in the plan. "Currently, 30 percent of municipal vehicles in the Central Fleet are electric vehicles or hybrids."
Still, the city plans to have all of its passenger vehicles transitioned by 2035; its medium-duty vehicles by 2050; and its heavy-duty vehicles by 2060.
The updated plan says officials will also create a "roadmap" for zero-emission vehicle deployment, expected to detail how Boston will create more electric vehicle charging infrastructure and get more fossil fuel free vehicles on the road.
"To reach carbon neutrality, Boston must transition all remaining vehicles on the roads to electric or other zero-emission vehicles over the next 30 years, in addition to maximizing mode shift from single occupancy vehicles to shared and active modes," the plan says.
The report also states the city will work toward promoting alternative forms of transportation and continue advocating for rail and bus projects. Those include increasing service on the Fairmount MBTA Commuter Rail line, working with the MBTA for a Red-Blue Line connector, and "advancing bus priority infrastructure installation."
"I believe that we will be successful, because Bostonians are known for pursuing what is right and just even in the face of adversity," Walsh wrote of the plan. "We know what's at stake if we do not act with urgency."