Local
What the 'Mass. & Cass' 2.0 plan means for cleaning up encampments
"Everybody thinks that getting arrested is going to fix the problem."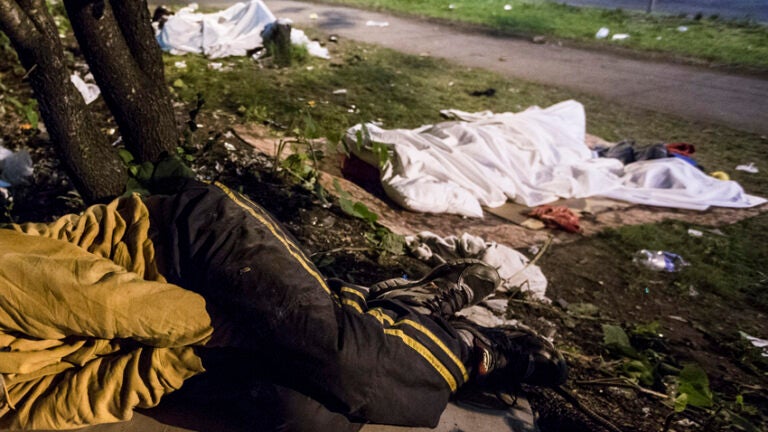 Boston officials say the city is strengthening its approach to how it deals with homeless encampments in the city, a move that is one of several outlined in the new "Melnea Cass/Mass Ave 2.0″ plan aimed at tackling the impacts of the opioid crisis.
The effort by Mayor Marty Walsh's administration to evolve and formalize the approach to an ever-changing and shifting epidemic focuses on balancing addressing public health, public safety, and quality of life issues in neighborhoods, while improving the coordination and alignment of city services.
The Friday launch of the 2.0 plan followed a summer that saw residents of the neighborhoods abutting the area of "Mass. & Cass," sometimes referred to "Methadone Mile," raise concerns about the impacts of the epidemic on the streets in their communities. The situation came to a boil in the South End after the police department undertook an effort it called "Operation Clean Sweep" following the assault of a Suffolk County corrections officer in the area, which is dotted with shelters and services for those struggling with issues of substance use disorders and homelessness. During the police action, officers made a series of arrests, and city workers followed behind the arrests, clearing the street of belongings and trash left behind.
South End residents said the move by police pushed people struggling with substance use and homelessness further into the surrounding neighborhoods, causing greater disruption to the quality of life in the neighborhood than what was already being experienced.
"There's no question that our neighbors and our neighborhoods are being impacted by this epidemic, and we are placing an emphasis on that in terms of some of the issues they are experiencing on the ground," Marty Martinez, chief of the city's Health and Human Services, said during a meeting with reporters last week about the strategic plan for Newmarket Square and surrounding communities.
To improve quality of life, the plan puts forth goals for reducing discarded syringes, trash, and drug paraphernalia on the city's streets through a number of steps including putting more Department of Public Works resources into the area, upping the number of syringe drop-off locations, and increasing the size of the Mobile Sharps Team.
It also puts forward the development of a citywide protocol for the redirecting and cleanup of encampments.
"We clean up encampments already," Martinez said. "If there's an encampment or tents or things in place, we clean them up because one encampment leads to two leads to three leads to more. So we know it's an important issue."
The city will be implementing training for the procedure — Homeless Encampment Liaison Protocol, or HELP — across city departments.
Martinez said with a coordinated response team, city personnel responding to an encampment will assess the situation, learn what the needs of the people on site are, work to refer them to services, and then focus on the cleanup of the camp.
The formalized protocol aims to ensure the city's response is coordinated as much as possible across the agencies — from police to DPW — who are involved with the process.
It is also focused on obtaining a more long-term solution by determining the needs of those at the encampment, Martinez said.
"Going there to just clean it up and throw everything away might deal with the immediate issue for a moment, but it doesn't deal with the long-term issue that those folks might be dealing with or the fact that they may come back to that park once its gone," the Health and Human Services chief said. "So what we're trying to do with this approach and strategy from a public health perspective is figure out why people are there, how we get people other resources, how do we make sure there's a protocol to do that, and how can we still clean it up. Because neighbors and others in different neighborhoods are saying, 'Hey, we have this park and now there's someone living in a tent there.' And it may not be safe, and it may not be the right access point for folks. We want to make sure to deal with that."
Police Deputy Superintendent Michael Stratton said on the issue that arresting people for trespassing at encampments is a "last resort approach."
"There's going to be times where we're going to let you stay for three days, a week," he said. "I know that some people might think the police aren't doing anything, but we're working on a long-term solution."
Simply telling people they have to move, or arresting them only for them to be released later, means the encampment is likely to be re-established, he said during a discussion of the 2.0 plan.
"Everybody thinks that getting arrested is going to fix the problem," he said.
Stratton said he prefers to go in with the team through HELP, offer services, and work to get people the resources they need.
"We would rather do that, and if it means sometimes letting people remain for three to five days so you can get documents signed, so you can get the voucher process completed, then we're going to do that," Stratton said. "Because after that week, they're gone and they're not coming back."
That doesn't mean police will let everyone who is trespassing remain where they are, Stratton said, emphasizing that the individual circumstances will dictate the city's response. No one will be allowed to keep a tent in someone's backyard, he said.
"Our role is we're going out into the community, we're meeting this population where they are, and we're trying to provide the resources that get them off the street long term," he said. "When people are breaking the law and need to be arrested, that's going to happen. But what we have to do is find out what can we do to get them the services they need, so that they are not reoffending, coming back to the same location."
Martinez said by formalizing HELP, the aim is to make the cleaning up of the encampments happen quicker.
"The goal is to definitely do what Deputy Stratton said, but what this protocol will do is make sure that's done in a coordinated way so that he's not going and trying to figure out the resources — the resources and the cleanup and all of that is collaborated and together," he said.