Local
'Any one of us could be one of them': Suffolk DA Rachael Rollins pens letter in support of safe injection sites
Two bills related to supervised consumption sites are being considered by the Massachusetts Legislature.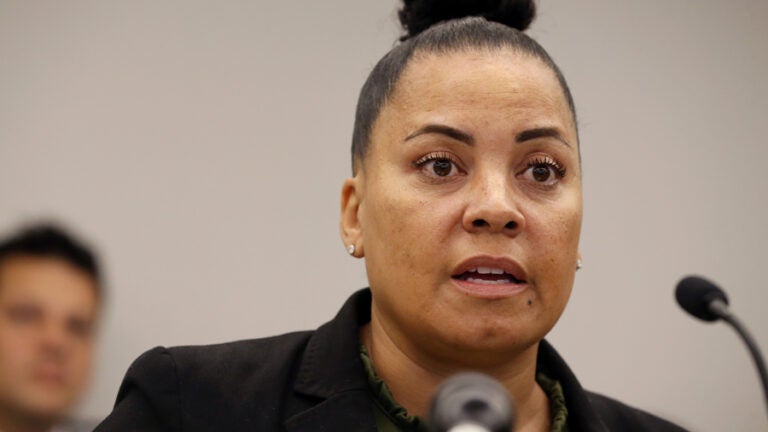 The ruling by a federal judge last week in favor of a nonprofit that wants to open a site in Philadelphia where people can inject drugs under medical supervision is a "historic turning point" in the movement for safe consumption sites, Suffolk District Attorney Rachael Rollins said this week.
The Suffolk DA penned a letter to Massachusetts lawmakers on Tuesday in support of two bills being considered by the Legislature related to supervised consumption sites. In it, she urged the chairs of the Joint Committee on Mental Health, Substance Abuse and Recovery to take up the recommendation from the state's Harm Reduction Commission that lawmakers weigh a pilot program for the sites, where people struggling with addiction could more safely use heroin and other illegal drugs under medical supervision.
"As the Suffolk County district attorney, I, more than most, recognize that substance use disorders are one of the most pervasive public safety issues in the state of Massachusetts," Rollins wrote in the letter to Sen. Julian Cyr and Rep. Marjorie Decker. "This crisis touches every segment of my jurisdiction. It does not discriminate based on race, wealth, age or orientation. Everyone is impacted."
This isn't the first time Rollins has expressed support for the sites. She said earlier this year that she was prepared to go up against U.S. Attorney Andrew Lelling over the issue.
A day after the ruling from District Judge Gerald A. McHugh, which found the section of the Controlled Substances Act aimed at closing crack houses did not apply to the Philadelphia plan for a safe injection site and would not violate federal law, Lelling issued a statement reiterating his opposition to the sites.
Any efforts to open safe injection sites in Massachusetts "will be met with federal enforcement," he wrote.
Statement from U.S. Attorney #Lelling re drug injection sites: pic.twitter.com/04964e5ByR

— U.S. Attorney MA (@DMAnews1) October 3, 2019
Gov. Charlie Baker has also expressed opposition to the sites, calling them a "non-starter."
In the days after the federal ruling, the City of Boston released a plan to address the public health and safety impacts of the opioid crisis in the area of Melnea Cass Boulevard and Mass. Ave. During a meeting to discuss the plan with reporters, city officials reiterated Mayor Marty Walsh's stance on supervised injection sites, saying he understands their "value" for addressing the epidemic but that other efforts at harm reduction, including the work in the "Melnea Cass/Mass Ave. 2.0 Plan," should happen first.
Rollins wrote Tuesday that "lives depend" on safe consumption sites moving forward in the Bay State:
Public safety begins with public health. As I've long made clear, we cannot arrest our way out of a health and resource crisis. People who suffer from substance use disorder cannot simply be "swept" away in order to create the illusion of safety. Investing resources in evidence-based solutions, such as Safe Consumption Sites, isn't just the right thing to do; it's the smart thing to do. Clearing the streets will not clear up the underlying problems, and in the end will cost us much more money and we will lose more lives. Passing this legislation will provide an opportunity for cities and towns to begin the work of implementing lasting change.

I reject the implication that public safety and public health are mutually exclusive. We must be willing to make the long-term investment in addressing the underlying problems. The individuals struggling with substance use disorder are our mothers, husbands, daughters, friends, grandchildren, and colleagues. These are people. Any one of us could be one of them. I am firmly committed to improving and expanding access to substance use disorder treatment through a coordinated public safety approach.
The Suffolk DA isn't alone in her support for the sites. Last week, advocates, medical professionals, and bereaved family members urged lawmakers to implement the sites at a public hearing.
Among them was Michael Botticelli, executive director of the Grayken Center for Addiction at Boston Medical Center.
He told Boston.com there are two elements that "make the case" for the benefit of safe injection sites. First, while Massachusetts has seen some progress in reducing overdose deaths, he said the impact of the opioid epidemic remains "really significant," with nearly 2,000 overdose deaths seen in 2018. Over 90 percent of those deaths reported the presence of fentanyl, he said.
"Fentanyl has really challenged our response in one clear way — it's so much more powerful than heroin that it really precipitates an onset of overdose and death in very, very quick fashion," he said. "So we know it really dramatically shortens the window with which we have to intervene in an overdose and prevent someone from dying."
The increase in fentanyl, coupled with an increase in Massachusetts of people injecting drugs alone in bathrooms or at home alone, challenges the public health messaging and approach of equipping potential bystanders with the opioid overdose-reversal drug naloxone, he said.
Secondly, Botticelli argued the evidence of the benefits from safe injection sites is clear from research and evaluations of the existing facilities in other countries.
"These are really effective interventions for reducing overdose deaths, for reducing infectious disease, of creating opportunities to engage people and have them create a glide path to treatment," he said. "The need is high, and the evidence is pretty robust in terms of supporting safe injection facilities."
The court case over the Philadelphia proposal sets an important precedent, he said, giving credence to the argument the programs are not necessarily illegal.
Botticelli urged those who are unsure or skeptical of safe injection sites to look at the science and evidence and consider how they might feel if they had a loved one impacted by the epidemic.
"If I had a son or daughter who hadn't found their path to recovery who was continuing to use and inject, would I want my loved one in a safe supportive place, surrounded my medical professionals and caring adults? I think the answer for me is a resounding 'yes,'" he said.
Read the full letter from Rollins below: