Local
3 takeaways from Cape Cod's shark mitigation study
"There is no one solution that's going to allow people to be safe should they choose to enter the water."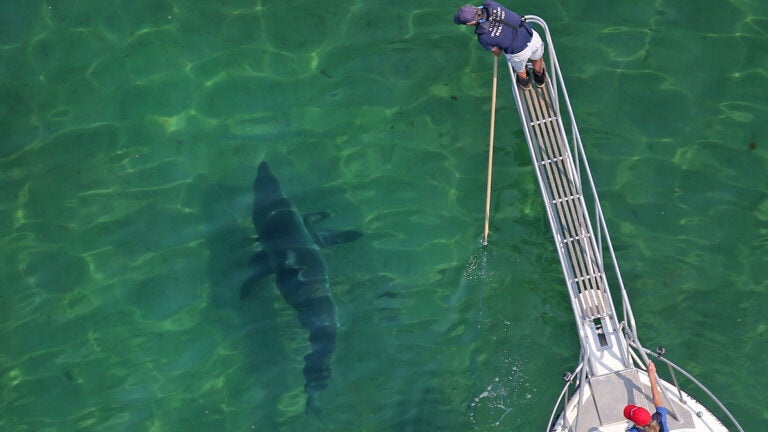 There are no "silver bullet" solutions for dealing with the sharks swimming close to the shores of Cape Cod.
So says a $50,000, long-awaited report by the Bourne-based Woods Hole Group, released Wednesday, that analyzed different, potential efforts to mitigate shark and human interactions.
The 106-page study, commissioned by six outer Cape towns, the Cape Cod National Seashore, and the Atlantic White Shark Conservancy, took a deep dive into various technologies and methods to spot, deter, and block sharks from the popular waters beachgoers and tourists flock to every year.
"We've been meeting and working regularly as a group to try to formulate solutions to help people stay as safe as possible — emphasis on that: safe as possible," Brian Carlstrom, superintendent of the Cape Cod National Seashore, said during a press conference Wednesday. "There is no one solution that's going to allow people to be safe should they choose to enter the water."
Shark sightings frequently closed Cape Cod beaches over this past summer as officials worked to take precautions in the wake of the death of 26-year-old Arthur Medici, who was killed in Massachusetts's first fatal shark attack in over 80 years off a Wellfleet beach last year.
A regional group of local officials and organizations have been researching various mitigation strategies used around the world for several years, according to Cynthia Wigren, CEO and co-founder of the Atlantic White Shark Conservancy.
The study is the first time those efforts were brought together and analyzed for the Cape's specific environments, she said.
"It's really a significant document that can be used not only on the Cape but across the coast of Massachusetts," Wigren said.
Shark education and safety awareness remain essential tools for handling the issue, according to the report, which also stresses the need for continued research of the various technologies.
"Since no mitigation alternative can provide 100 percent safety, reducing chances of unprovoked attacks on humans requires a strong commitment to education and outreach, which can result in the adoption of behaviors that may reduce the risk of a shark-human interaction," the report says.
Carlstrom reiterated Wednesday that officials will continue their safety messaging.
"We are going to be very aggressive with that, and we want to keep people coming here to enjoy it as best as they can," he said.
Other suggested approaches, meanwhile, are simply not feasible, according to the Woods Hole Group review.
Culling, contraception methods, and indigenous harvest for gray seals — the preferred prey of great white sharks — are all illegal under existing regulations, as is the culling of great white sharks, the report notes. Plus, there's no empirical evidence that shows culling or applying contraception to the seal population would be effective in keeping the sharks away, the report says.
Here are a few other takeaways and conclusions from the report:
Sonar shark detection technologies have 'not yet lived up to their potential'
Of the 573 responses to a public survey for the study, the majority, or 50.1 percent, said they wanted to see technology-based alternatives, such as remote detection, tagging, bottom-mounted sonar, and personal deterrents.
Tagging is effective in detecting sharks, but officials say only a small portion of the shark population is tagged. Visual detection measures meanwhile require ideal, clear conditions, the report says.
And even acoustic detection, while handy in alerting swimmers, does only that, and whether or not its effective in reducing shark attacks remains to be seen, according to the report.
Specifically, the report analyzes the "Clever Buoy," an acoustic detection device that uses sonar to create images that are analyzed by a shark-detecting algorithm, the study says. In the event of the presence of a shark, an alert can be sent in real time.
But the Cape's shallow waters present a challenge to using this kind of technology, the report indicates. Most close-to-shore areas along beaches do not exceed a depth of 10 feet, limiting the range of the sonar beam.
Tests cited in the report showed the buoy inaccurately reported a shark was present 10 percent of the time when in fact the predator was not. The study notes however that "there would be no independent way to confirm it was a false alarm" if the buoys were deployed.
When sharks were present, the buoy only detected them approximately 40 percent of the time, according to the report, which notes that while the approach seems promising in the long term, it doesn't appear to be feasible in the near future.
"Sonar detection systems have not yet lived up to their potential," the report states. "They may have a role in improving public safety at beaches that meet certain characteristics, but must not be allowed to justify or rationalize unsafe behavior by swimmers. Even if the system does provide an accurate real-time alert, the shark is already in close proximity to the swimmers."
'Semi-rigid barriers' have worked in Australia, but could be costly in Massachusetts
According to the report, flexible exclusion nets — used to keep sharks out of a given area — carry the "significant risk" of entangling and killing other fish and marine life.
Similar nets made with stiffer material, or what the study describes as "rigid exclusion barriers," reduce those risks, but present other problems.
"Rigid exclusion barrier deployments have had modest success on protected beaches with relatively low energy wave environments, but have failed in more energetic wave environments due to scouring of moorings and lack of flex in the rigid plastic mesh," the report says.
A hybrid design between the two, with nylon mesh, however, has replaced those models in Australia, according to the report. And it seems to be working.
But the barriers also pose significant challenges to install locally.
The nets could cost over $300,000 in the first year alone, according to the report, which adds the permitting process needed to install them is complex.
"Barrier-based alternatives have been deployed elsewhere in the world. In quiescent environments, barriers have generally performed well. However, in more energetic, ocean environments, the performance of barriers is more limited," the report concludes. "Further it will be critical to consult with local, state, and federal permitting agencies to determine if the risk of unintended bycatch and entanglement of marine life can be overcome."
Carlstrom said barrier technology has been successful in small coves with hardened shorelines when its been deployed elsewhere.
"We simply do not have that on the outer Cape," he said. "We essentially have 40 miles of open sand beach with a really dynamic shoreline, with high energy waves … Trying to anchor anything down there that would be reliable is highly unfeasible."
In terms of other potential shark barriers, the report puts forth two possibilities that were not eliminated from consideration based on evaluation criteria such as cost and environmental and human impacts.
But there is evidence that sharks could eventually acclimate to those measures, electromagnetic deterrents and acoustic barriers, in time, according to the report.
Biological measures are not entirely feasible (or effective)
Both great white sharks and gray seals are protected under Massachusetts and federal laws, making culling, as well as other potential population management practices, illegal for both species.
"Biological-based alternatives including cull nets, (smart) drum lines, seal culling, seal contraception, indigenous harvest, and electric shock were removed from consideration as they are not currently permittable given existing regulations prohibiting such alternatives," the report says. "Exemptions to state and federal protections for great white [sharks] and gray seals may be sought, but it is likely that the timeline for pursuing such exemptions would be exceedingly long and the likelihood of securing an exemption would be very low."
Several of those measures would also be either expensive or likely unsuccessful if put into practice, according to the study.
Only two biological-based alternatives were not eliminated in the report: scent/smell deterrents and modifying human behavior.
"There is evidence to suggest that such (deterrent) measures are only effective over a short range, and sharks may develop a tolerance for the measures over the course of time," the report says. "Modifying human behavior may be the most effective form of mitigating shark-human interaction."
Officials said Wednesday that the study is intended to help guide their decision making.
Carlstrom said the group is continuing its research.
"There is some hope for some technology into the future, and when we can show that it's going to be (a) responsible allocation of very limited tax dollars, we'll pursue it," he said. "But we're not quite there yet."