Local
'I'm leaving Boston kicking and screaming': Affordable housing policy remains out of touch, advocates say
"This is not a poor people problem, this is ... everybody's problem."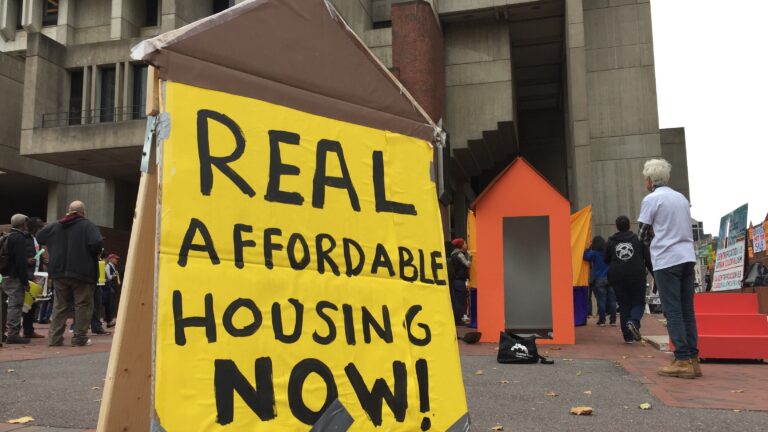 Janis McQuarrie was going to school and working full time at a CVS when she found she could no longer afford to pay $1,250 a month to keep her two-bedroom apartment in Brighton.
That was in 2002.
McQuarrie, her children grown, moved into a Brookline rooming house before rising rents eventually pushed her out and into a homeless shelter in downtown Boston.
A year later, she was able to start living in a one-bedroom unit with her daughter, who at the time had recently been diagnosed with bipolar disorder and lost her job.
When their landlord later sought to up the rent after completing renovations, McQuarrie said it was a miracle the pair got approved for a Boston Housing Authority apartment, even after years of waiting.
"The only reason I got in there with only a four-year wait was because (my daughter) was on disability," McQuarrie, of Lower Roxbury, now 66, told Boston.com. "For people who are just poor and trying to get in, you can wait 10, 12 years."
Her story is one McQuarrie, a board member for the Mass Alliance of HUD Tenants, says she hears a lot these days.
As rents continue to skyrocket in a city inundated with the cacophony of new construction, those like McQuarrie — longtime residents with full-time employment or working several jobs to make ends meet — are still being priced out of their homes.
Over two dozen resident and housing organizations united as the Coalition for a Truly Affordable Boston rallied to drive home the point to officials outside City Hall Wednesday. Colorful signs read "Build for families who live here" and "Build housing we can afford." Demonstrators even built a small house in the plaza.
It was all to keep the pressure on as city leaders show signs they're listening, activists said.
Specifically, advocates say the city's Inclusionary Development Policy, or IDP — the regulations that require developers to build a certain number of income-restricted units in qualifying development projects — fall far short of meeting the challenges plaguing low-income and middle-class tenants.
"This is not a poor people problem, this is … everybody's problem. This is not just a renters problem, this is a homeowners problem," Markeisha Moore told the crowd of approximately 40 people. "We all need to stick together against these developers."
Under the IDP, developers must set aside 13 percent of the units in a proposed market-rate project as affordable if the project contains 10 or more units and is seeking zoning relief.
But activists say the current parameters are simply not enough; that developers should be required to create at least a third, or 33 percent, of their projects as affordable housing. Metrics used to determine what's considered affordable, such as area median income, or AMI, are also out of touch with reality, they argue.
Most housing being built isn't helping those who need it most, they say.
"We've seen the impact," Kathy Brown, coordinator for the Boston Tenant Coalition, which anchored Wednesday's rally, said in an interview. "It's not trickling down to us … The mayor's doing a lot of good affordable housing work, but we don't kind of buy just build, build, build, (that) it floats down to low- and moderate-income people."
Moore told the crowd developers are "not building these houses for us."
"I know there's people that probably could afford them, but I don't know those people," she said. "I don't know those people, and the people I do know are having to move because we can't afford it."
McQuarrie and others said they feel city leaders are taking heed of the issue, though.
Last week, City Councilor Michelle Wu unveiled a sweeping proposal to abolish the Boston Planning and Development Agency, reshaping the city's development review process. Earlier this month, City Councilor Lydia Edwards put forth a proposal to amend the Zoning Board of Appeal, including measures to get more affordable and fair housing experts onto the board.
According to officials, the BPDA has approved nearly 6,000 income-restricted units in the last five years.
And in February, Mayor Marty Walsh's administration announced $26 million would go towards creating over 459 affordable units, among several ongoing efforts aimed at creating 16,000 income-restricted housing units in Boston by 2030.
Last week, Walsh called for creating new housing for the city's middle class.
"I understand that investors want to maximize their profits," he told the Greater Boston Chamber of Commerce. "But there has to be a balance between profit and impact."
McQuarrie said local meetings with city leaders now attract crowds that stretch "wall to wall."
"The main thing that comes up time and time again? Gentrification. 'What are you going to do for us? How are you going to save our homes?'" she said. "I think that's what's getting to these people over here at City Hall."
Moore said she personally doesn't agree with abolishing the BPDA, but she does think the body is in need of an overhaul. She said the group is too sympathetic to the financial concerns of developers instead of the impact projects have on communities.
"We're talking about billionaires as opposed to people who are working two and three jobs just trying to pay their rent and they still have to figure out how to keep their lights and gas on and take care of their kids," she said in an interview.
Residents, facing ever-higher rents, are left waiting for prices to drop, to no avail, she said. Her neighbors have moved away, squeezed out by the market, she said.
She doesn't want that for her three children.
"My mother raised me here, her mother raised her here, I've raised my children here, and I want them to have the choice to raise their kids here," Moore said. "If they want to stay, I want them to be able to make that choice to stay. If they want to leave, I want it to be their choice that they want to leave.
"I'm not going with the tide — not easily," she added with a laugh. "I'm going to make a lot of noise and I'm leaving Boston kicking and screaming. That's it."