Local News
Calls for congestion pricing in Boston are growing. Charlie Baker hasn't changed his mind.
"I think it's unfair to the people who are probably least able to afford to pay for it."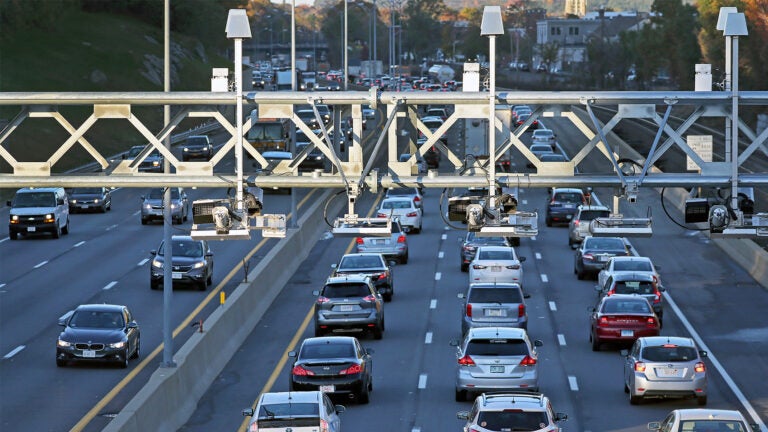 Earlier this week, Massachusetts state lawmakers and transportation advocates gathered on Beacon Hill to explore the possibility of congestion pricing in Boston.
With the region facing costly and worsening traffic issues, the concept — charging higher tolls to get drivers off the road in congested areas during peak travel times — has gained traction among local leaders.
"I feel like the support is there," Rep. Joe Boncore, a Winthrop Demcorat and chair of the Senate Transportation Committee, told reporters after a joint hearing Tuesday, in which several congestion pricing bills were discussed.
"The Boston area is No. 1 in congestion across this country," Boncore said. "Of the 10 largest metropolitan cities in America, we're the only one that doesn't have a policy similar to congestion pricing."
However, the guy who would likely have to sign off on any such proposal, Gov. Charlie Baker, remains virtually unmoved on the subject.
During an interview Thursday on WEEI's "The Greg Hill Show," the Massachusetts governor reiterated his belief that the idea unfairly hits those without flexible schedules, which he suggested tend to have lower incomes.
"The people who would be hit hardest by that would be the people who have the least control over their schedule, which tend to be people who work for an hourly wage, have to show up at a certain time, can't leave until a certain time, are typically interacting with customers throughout the entire time they're at work," Baker said.
"The people who this would affect the least would be the people who can, you know, work from home or leave early," the Swampscott Republican said. "So no, I don't support that; I think it's unfair to the people who are probably least able to afford to pay for it."
Baker also contested the effectiveness of congestion pricing, pointing to London, which has a zone-based congestion charge of £11.50 — the equivalent of nearly $15 — to drive into the inner core of the city between 7 a.m. and 6 p.m.
"It's completely cordoned off. And their congestion, they're a top two or three in the world player when it comes to congestion," he said.
According to a study earlier this year, the British capital still had the sixth-worst congestion in the world, two spots ahead of Boston. However, government studies have found that congestion pricing significantly reduced traffic in London (and increased use of public transit) since it was implemented in 2003 and that cities with more modest charges have also found success with the model.
Boncore says congestion pricing isn't a "silver bullet" when it comes to the local traffic crisis. However, he has introduced two bills that would look to use the state's electronic tolls to get drivers to shift their habits.
One proposes a statewide program reducing toll rates by at least 25 percent during off-peak driving hours while raising tolls by up to 25 percent during peak hours, in the hopes of incentivizing drivers to shift their commutes or take public transportation. His other bill more narrowly proposes a temporary pilot program in Boston's Sumner, Callahan, and Ted Williams tunnels, offering off-peak toll discounts of at least 25 percent. Baker vetoed a similar, discount-only pilot program last year.
As an alternative to congestion pricing, Baker's administration says it is studying the idea of "managed lanes," or high-occupancy toll (HOT) lanes, in which a separate, tolled lane would be created to run parallel to high-congestion roadways, which would remain un-tolled. The separate lane would also be free for buses and carpools.
Having been implemented with measurable effects in several other states, Baker said Thursday that managed lanes were a "pretty effective way to give people, on a voluntary basis, a way into their most congested areas," without the equity concerns of subjecting all drivers to a regressive toll.
Proponents of all-out congestion pricing point out that lower-income commuters would disproportionately benefit from improved public transit service, due to faster bus commutes and, potentially, increased revenue from the tolls. However, as Baker has argued, there would still be individual commuters who — whether due to inflexible schedules or lack of immediate public transit access — would bear the brunt of an all-lane congestion pricing program.
"Fairness and equity are something we're talking about and it's often brought up, but I think what's unfair is that people who have to be at work at certain hours are sitting in traffic," Boncore told reporters this week. "That is unfair, and that's something we can begin to do about."