Local News
Activists say proposed Boston mask ban could put protesters in danger
"There are people who want to obscure their identity because their livelihoods or their safety might be at risk."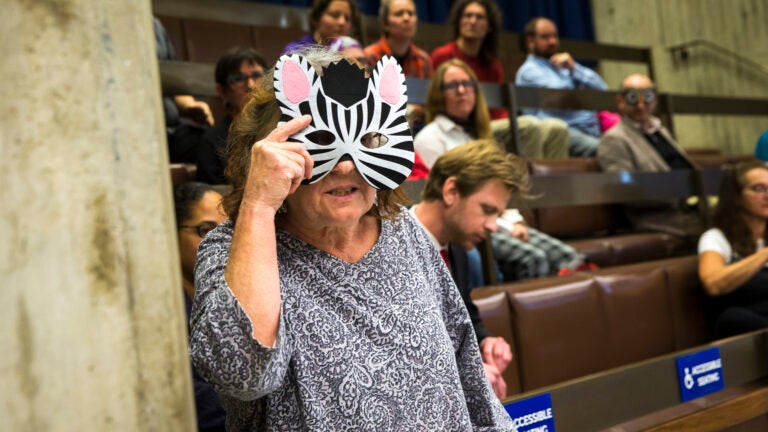 Boston police and local activists sounded off at a City Council hearing Monday over a proposed mask ban that takes aim at the face-covering tactics often used by public protestors.
Councilor Tim McCarthy filed the measure last month in the wake of August's Straight Pride Parade, where counter-protesters clashed with authorities.
Three dozen were arrested, including nine for allegedly assaulting police, and four officers were injured. Prosecutors later dropped charges against those accused of nonviolent crimes.
"Let's be honest: This counter-protest was not peaceful protest," McCarthy said, pointing to groups like Antifa, the anti-fascist protest movement.
"What they're doing is not speech," he added. "They are using force and violence that is not protected."
McCarthy said the proposal would ban mask-wearing in public places and is needed, "common-sense" legislation. The law would include certain exemptions, such as for religious wear and medical masks.
Police have seen protest groups become more organized — carrying equipment like handheld radios and batons — and combative with law enforcement in recent years, said Boston Police Superintendent William Ridge, of the Bureau of Field Services. Masks embolden people to act out in ways they otherwise wouldn't, he added.
"When we are doing our job, we are becoming a target," Ridge said.
But authorities have also drawn criticism from protestors who say officers were overly aggressive in handling crowds, using pepper spray at one point to clear protestors from downtown streets after the Aug. 31 parade.
And critics of the ban say not only would such a measure infringe on civil liberties, the rule would endanger protestors, who, unmasked, would run the risk of becoming the target of threats from extremist groups if identified in photos posted on the internet.
"I am 60 years old and I wore a mask on Aug. 31," said a Boston resident who declined to provide her full name to Boston.com out of fear for her safety. She told councilors she was "doxxed" — targeted after her private information was shared over the internet — within the past year by conservative groups.
"I did not attend the protest itching for a fight as Councilman McCarthy would have you all believe," she added. "I don't have the temperament for fighting and my slightly arthritic joints would make such behavior ill-advised … I wore a mask to keep me safe."
The mask ban, if passed, would join similar laws in other states, including Virginia, which McCarthy has cited as an example to model. That law prohibits anyone over the age of 16 from wearing a mask, hood, or "any device whereby a substantial portion of the face is hidden or covered" to conceal their identity on public property.
In Massachusetts, state law already criminalizes wearing a mask or disguise to obstruct the law or prevent an officer from doing his or her job. Councilor Annissa Essaibi-George said she worries about replicating a state law in a city ordinance rather than making sure it's properly enforced.
Ridge said state law has not been an effective deterrent, but he could not provide information on whether anyone arrested at the parade received that charge.
Police understand that somebody simply wearing a mask is not a criminal, he said. However, masks make it difficult for police to track down suspects who assault officers or commit other crimes at protests, Ridge said.
"We're not able to identify them because we've got a lot of different people with their masks on," he said. "So it's an ongoing problem. It's an officer safety problem and it's of great concern to us."
The proposal has the support of the Boston Police Patrolmen's Association.
"It is absurd to suggest that the counter-protesters that day wore masks in furtherance of their right to free speech …. They wore masks to facilitate lawlessness and escape justice," said association Vice President Larry Calderone.
Several activists who spoke against the proposal brought masks to the hearing but were told by City Hall security they could not wear them.
Alex Marthews, of Belmont, didn't let it stop him.
"Anonymity in public is legal," Marthews said, while wearing an owl mask. "Not identifying yourself to police at a protest is legal. Wearing a mask with the intent of committing violence in public is already illegal under state law. So let's be very clear about what we're considering here: We are only considering whether in the City of Boston we should make illegal people wearing masks in public who do not have the intent of committing violence."
Several others who spoke during public comment agreed that masks are a necessary protective measure for protestors to exercise their free speech rights while keeping their identity safe from aggressive political opponents.
"There are activists who because of their sexuality or their gender identification or color of their skin are more likely to be targeted for abuse or doxxing by trolls," said Mary Landale, an activist from Watertown. "There are people who want to obscure their identity because their livelihoods or their safety might be at risk."
Councilor Kim Janey raised concerns about whether the measure could be used to harass communities of color under the law.
"I worry that our young people who are athletes or who jog or play sports, or whatever they're doing could get caught up in such a law," she said, pointing to language in the hearing request referencing the wearing of hoods.
McCarthy said his proposal will head to a working session with input from city departments.