Local News
Boston City Council candidates were asked about 'Operation Clean Sweep.' Here's what they said.
The eight candidates for four at-large council seats offered potential solutions to the impact of the opioid crisis.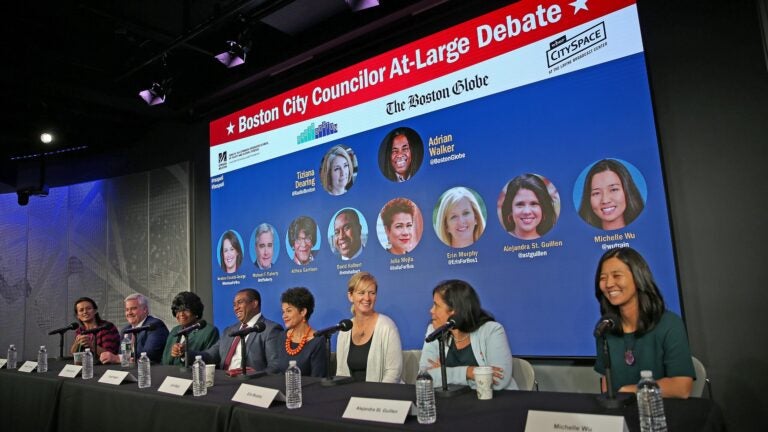 Squaring off Tuesday, eight candidates for four City Council at-large seats offered how they would steer Boston towards needed solutions to combat the crippling opioid crisis, from safe injection sites to building recovery beds inside and outside of the city.
In a long-ranging debate, several candidates said a controversial police operation in August in the area known as "Methadone Mile" around Melnea Cass Boulevard and Massachusetts Avenue in the South End was a stark reminder about the role equity plays in how the city handles substance abuse, manages those necessary resources, and balances neighborhood needs.
"I… believe it was really unfortunate that it took this incident to really help people understand what's going on at Melnea Cass right now," candidate Julia Mejia said.
"People are getting pricked by needles every single day but it took this incident and the response to show who is really being paid more attention to," she added.
Local debate erupted following the two-day police action known as "Operation Clean Sweep," where authorities arrested 34 people, with charges ranging from drug possession and police assault to many arrests made on outstanding warrants for individuals from different parts of Massachusetts and other states.
The so-called "Mass and Cass" area is abundant with shelters and recovery services for people struggling with addiction and homelessness.
Activists condemned the initiative, rallying around photos online showing crews throwing wheelchairs into garbage trucks. Officials have said the chairs where damaged and abandoned, and police have defended the sweep as necessary to address increased crime in the neighborhood.
"It just has been a problem for a long time," Erin Murphy said. "It's been bubbling up and I want to say oftentimes in the city we react, we're not proactive, so I think this was a good example of the city reacting to something that had been an issue and not listening to the neighbors, the school, the businesses. We have to look at all of those affected."
David Halbert said the incident was a "textbook example" of where the city must invest more resources. He offered that creating supervised injection sites — facilities where drug users can use substances under medical supervision — could potentially help take hypodermic needles off the streets.
"Every time I take my daughter to a park, one of my gravest concerns is that she's going to prick herself on a needle and it's going to change our lives," he said. "No parent in the City of Boston should have to live under that kind of fear."
Incumbent Althea Garrison said police acted appropriately and called for more drug law enforcement.
"When they raided and arrested those people it was a very just cause," Garrison said, of "Operation Clean Sweep." "There's a lot of people who pay taxes in that area … and they get a very bad deal with all the drug addicts over in that area."
Tuesday's debate, moderated by Boston Globe columnist Adrian Walker and Tiziana Dearing, host of WBUR's "Radio Boston," was held at at the NPR station's City Space studio and theater and was hosted by The Boston Globe, WBUR, and UMass Boston's McCormack Graduate School of Policy and Global Studies.
Under the umbrella topic of addiction and policing, moderators peppered candidates with questions about whether city officials should rebuild the Long Island bridge and reopen addition facilities there, and whether they would support supervised injection sites as a response to the epidemic.
"This is a human issue above everything else and that's how we should address it," said Alejandra St. Guillen, who supports the facilities.
Mejia, who said that her cousin died from a heroin overdose, also voiced her support for supervised injection sites, which are currently illegal under federal law.
Incumbents Annissa Essaibi-George and Michael Flaherty said more substance abuse and addiction recovery beds are needed across the state to keep pace with the crisis.
Essaibi-George said the Commonwealth needs at least 2,500 additional beds.
"The work to rebuild the Long Island bridge will bring additional recovery services including about 500 recovery beds to that campus but that is years away," she said. "We need a regional approach to recovery. We need more than just Boston."
Flaherty, too, pointed beyond the city limits for relief, calling on suburban lawmakers "to step up to the plate and meet us half way."
"It pains me to hear a suburban legislator to come out and start to cheerlead for safe injection sites but when you ask if they're willing to lead the effort in their own community, you hear (the) three stooges," he said.
Incumbent Michelle Wu also said the city must look towards finding those regional partners.
Rebuilding the bridge to Long Island, meanwhile, which could cost the city up to $100 million, could also take years while the problem rages on, according to Wu.
"I have deep concerns about whether this is the most effective and immediate way to address the opioid crisis," Wu said. "We need solutions at the scale and urgency of the problem."
Murphy, whose son was in the substance abuse recovery program on Long Island when the facilities there closed in 2014, said however she would look to rebuild the bridge.
"I am 100 percent in support of rebuilding it," she said. "I know it will take some time so we need to do something before then, but I'm in support of it."
The general election is Nov. 5. The top four candidates with the most votes will secure the seats up for grabs.