Local
'We're hurting real bad': Emerson faculty, students mourn the loss of journalism professor Moses Shumow
"He was one of the most dedicated and passionate humans, who lived his work."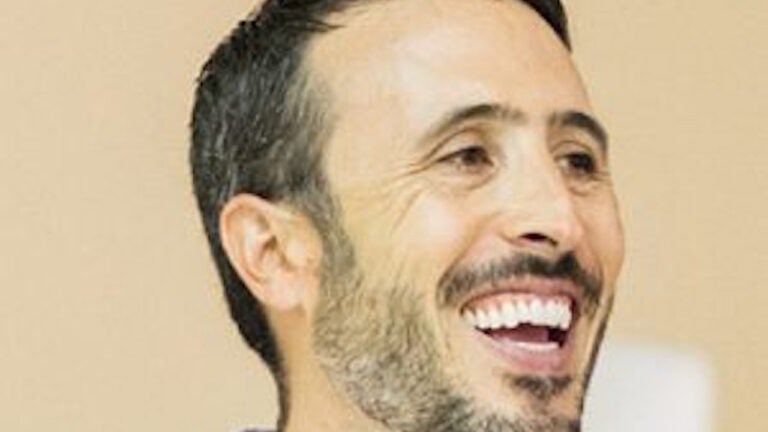 Moses Shumow dedicated much of his professional life in the media to community engagement, particularly in Miami's diverse urban areas and marginalized populations. Outside of his work life, he enjoyed time with his wife and three children.
Shumow, 42, a journalism professor at Emerson College, died Tuesday when he was struck by a commuter rail train in Beverly while riding his bicycle.
Though he had just joined Emerson this fall, Shumow first attended the college as a student, earning a master's degree in broadcast journalism in 2001, according to Emerson Today. He also left an impression on faculty and students during his short time as an associate professor teaching digital design.
"In those months I knew him, he was really great," Kayla LaRosa, a senior and news director for the college's news station, WEBN, told Emerson Today. "He was really friendly … he was really innovative and ready to try out new ideas with us."
She noted that he was "super excited" to work with WEBN and that he was "really friendly."
All WEBN shows have been paused through the week, according to the Berkeley Beacon, the college's student newspaper.
"We're hurting right now, we're hurting real bad,"Angel Salcedo, a WEBN news director, told the newspaper. "[Shumow] was only with us for a month and a half but the effect he had on the organization was immediate. He was more than just someone who had just taken over the organization. It had gotten to the point where we were comfortable in confiding in him."
Paul Mihailidis, an associate professor at Emerson, had known Shumow for 11 years, and the two were working on a book together titled, "Media Literacies of Persistence: Higher Education and the Rebirth of Radical Pedagogies," according to Emerson Today.
"Moses was my best friend and a colleague," Mihailidis said in a statement to Emerson Today. "We traveled the world working in communities, collaborating on dynamic pedagogies, research papers, and book projects. He was one of the most dedicated and passionate humans, who lived his work."
Prior to coming to Emerson, Shumow taught at Florida International University for nine years, according to a letter to the community from Emerson's president, Lee Pelton, and Michaele Whelan, the college's provost and vice president of academic affairs, on Tuesday. Shumow also received his Ph.D. in communication from the University of Miami. Those who knew him in Florida are also mourning his loss.
"He was the kind of scholar we should all be," Sallie Hughes, a professor at the University of Miami, told the Miami Herald. "I don't know anyone who was so dedicated. He made his life's work about making his community better."
Shumow was motivated to return to Emerson after meeting Raul Reis, Emerson's dean of the School of Communication, according to the letter from Pelton and Whelan. The two met at FIU — Reis worked there as the dean of the School of Journalism and Mass Communication.
"Moses was passionate about the role of media in vulnerable and marginalized communities, and he was deeply excited to return to Emerson and to engage his students in this important work," the letter said. "The fact that his life and his work were cut short this morning is an unimaginable tragedy."